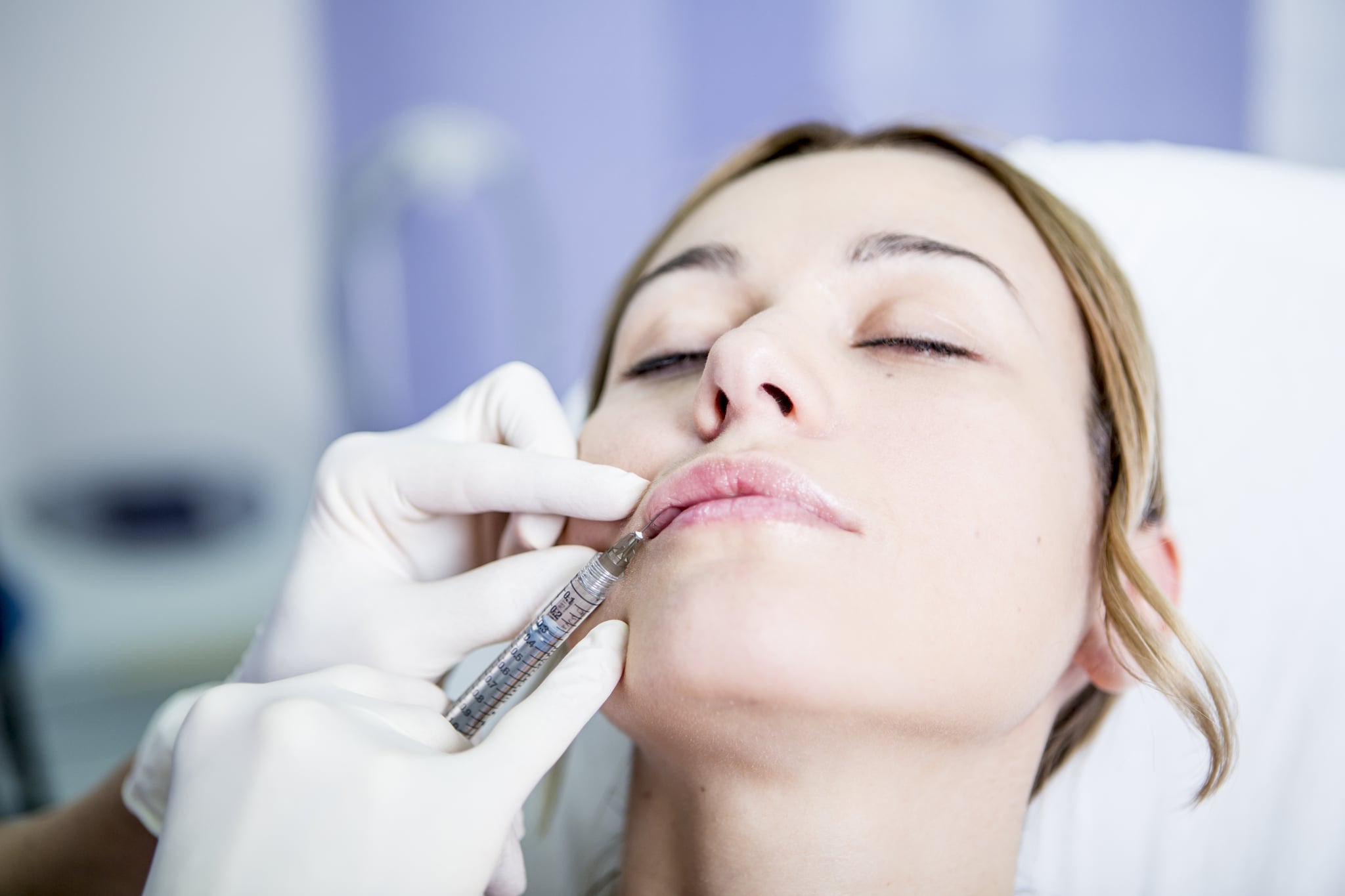 Image Source: Getty / Westend61
Lip filler has become one of the most in-demand "tweakments" over the last few years, mostly thanks to celebrities like Kylie Jenner championing it. As with any beauty trend, once it begins to gain mainstream attention, it's bound to undergo some modifications as people try to achieve different aesthetics. Case in point? The creation of "butterfly" lips.
The lip-filler technique has been gaining traction on social media as a means to get lips in a similar shape to the insect's silhouette. "This is a lip-filler method that draws upon the 'Russian' injecting technique where the filler is added vertically to give the lip height and define the Cupid's bow," Jaimie DeRosa, MD, founder of DeRosa Center Plastic Surgery & Med Spa, tells POPSUGAR. Some are lauding it as the best way to get "perfectly" shaped lips, but others are skeptical. As with any treatment, there are pros and cons. Ahead, Dr. DeRosa breaks down everything you should know about the butterfly lips technique, from how it differs from traditional lip filler to potential side effects.
What Are Butterfly Lips?
Aside from the overall shape of the lips, there's another aspect of the technique that differs from the traditional method. "Butterfly lips often involve injecting filler dissolver prior to the injection and also taping the borders of the lip at or just outside of the vermillion border with a surgical tape," Dr. DeRosa says. "This can happen either prior to injecting or right after, but this tape is typically left in place for a few days to try to maximize the lip augmentation and eversion of the lip and prevent lip-filler migration." If you already have lip filler and want to get butterfly lips, you'll need an additional round of injections to remove any existing volume, in addition to the dissolver and tape that will actually help shape the lips. In short: for what can already be a pretty painful procedure, there will be a lot of physical manipulation of the area in a short timeframe.
Pros and Cons of Butterfly Lips
This technique doesn't come without a few cons. Of course, the pro is that in the end, you can get the lip shape you desire. However, Dr. DeRosa is not personally a fan. "Taping the lip and lip border does not guarantee that the filler will stay in the right position," she says. "Instead, the best way to avoid filler migration is to go to a well-trained practitioner who understands the various compartments of the lip complex and what depth and position to inject the filler."
Additionally, putting tape around a freshly injected area can cause you to miss potentially catastrophic warning signs. "This could increase the risk that one misses symptoms of complications such as vascular compromise, which is when dermal filler is injected into or around an artery, which causes blood flow to be reduced or stopped," Dr. DeRosa says. "Injectors may not see blanching or skin discoloration, or even if they do, they can accidentally chalk it up to the tape itself."
Butterfly Lips Before and After
https://www.instagram.com/p/ClWruX8qdO5/
Side Effects of Butterfly Lips
While all the usual side effects of filler still apply when getting butterfly lips — this includes bruising, possible migration or vascular occlusion, and swelling — you do still want to err on the side of caution. "It's more important to note that the technique does not really guarantee the aesthetic results desired by using this taping method," Dr. DeRosa says. "One thing that also can happen if filler dissolver is injected right before injecting more filler is that there can be more filler that is dissolved over the following day or two, so the degree of lip augmentation may be less than one thinks."
The choice to get any type of beauty treatment is entirely yours, but do note that any transformation, especially one that requires injectables or any type of surgery, should require an extra-heavy dose of scrutiny. Always do your due diligence and consult with a certified professional prior to getting any work done. In the case of butterfly lips, you want to go to an injector who abides by the philosophy of less is more. And if someone tells you that you can achieve a complete lip transformation in a single session, do yourself a favor and find someone else.
Source: Read Full Article