May the Force Be With Your Fingers: 7 Easy Star Wars Nail Art Ideas

One of the easiest ways to show off your devotion to Star Wars is with nail art around themes from the out-of-this-world movies. For megafans, that means plenty of R2D2 thumbs, lightsaber index fingers, and Chewbacca pinkies. Don't know where to start? Luckily, lovers of the films have been practicing their skills and showing off their exceptional designs so you can get inspired for some looks of your own. To perfect your art, pick up a skinny paint brush, a dotting tool, and even a toothpick to draw on Leia's famous buns.
Check out the intergalactic nail art ahead, and may the force be with you.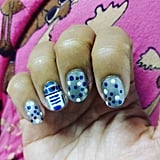 Source: Read Full Article