One might assume that Prince Harry and Meghan Markle knew about one another before they met, but the couple has maintained that their knowledge of one another was minimal. They revealed that they had been set up by a mutual friend during their interview with BBC after getting engaged. "It was a blind date. And it's so interesting because we talk about it and now and even then, I, you know, because I'm from the States, you don't grow up with the same understanding of the royal family and so while I now understand very clearly, there's a global interest there. I didn't know much about him," Meghan admitted. 
Harry sort of echoed those thoughts, admitting that he'd never even heard of Meghan Markle. "I'd never, never even heard about her until this friend said 'Meghan Markle.' I was like right, 'OK, give me, give me a bit of background. Like what's going on here?' So no, I'd never, I'd never watched 'Suits,' I'd never heard of Meghan before," he explained during the BBC interview. However, we now know that there may have been a little more to it, and it's possible that the "blind date" wasn't completely blind. Keep reading for more.
Prince Harry had a secret Instagram account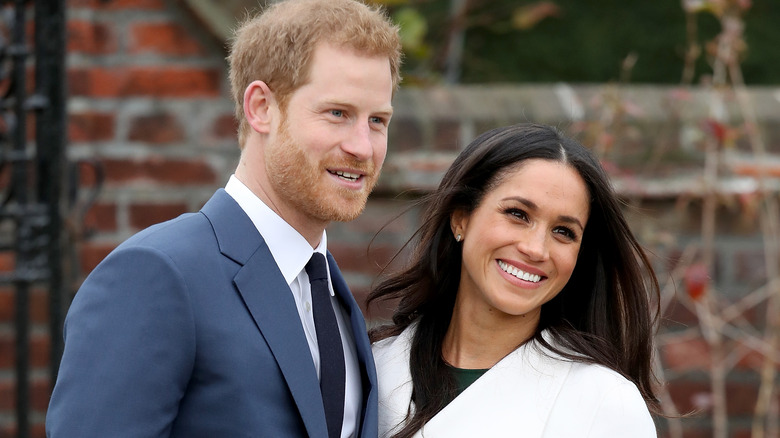 It seems as though Prince Harry and Meghan Markle did a small bit of internet stalking, if you will, before they were set up on a date. "Amazingly for a royal romance, it started on Instagram," royal expert Katie Nicholl told Express back in August. Evidently the pair had a good look at one another's accounts before their very first date. Interestingly, however, Harry didn't have a public account. Instead, he had a secret account with the handle "@SpikeyMau5." This was revealed — and fleshed out — in the book "Finding Freedom." 
According to co-authors Omid Scobie and Carolyn Durand, Harry made his Instagram handle by combining a few things. "A big house music fan, he crafted the pseudonym by using part of the name of one of his [favorite] DJs, DeadMau5." As for "Spikey," well, "Spikey came from a Facebook alias that Harry used for an account he had under the name of Spike Wells. 'Spike' was a nickname sometimes used for the prince, particularly by Scotland Yard officers," the book reveals, according to Express.
The rest, of course, is pretty much history. Harry and Meghan met for a date, and eventually fell in love, they told BBC. And while Meghan didn't think her romance with the prince was a whirlwind then, it has been a rather busy few years; a royal wedding, two kids, and a move to Montecito, California, brings us all up to speed. Right?
Source: Read Full Article