Jaclyn Hill is one of the OG beauty influencers on YouTube, and much like other stars in her orbit (ahem, James Charles and Tati Westbrook), she's had her fair share of scandals. The beauty vlogger kicked off her YouTube channel way back in 2011 with a Kim Kardashian makeup tutorial, and eventually, she would be credited with "reviving" Becca Cosmetics thanks to her collab with the brand. But so. much. else. went down, and now that she's back on our radar, we think it's time for a little refresher on her controversial past.
Her first product launch was…hairy.
As Jaclyn became more popular, her audience kept asking for her to create her own products. She hinted at starting her own cosmetics brand in 2014, and finally, in May 2019, she announced in a video that she would be making this dream come true.
Though she had been working on the products for years, the launch of Jaclyn Cosmetics was still, er, not great. Once fans got their hands of the stuff, they started posting pics of her lipsticks covered in tiny hairs, dotted with holes, and crumbling upon first use.
@Jaclynhill @jaclyncosmetics I am a huge supporter! Seriously love you. I was soooo excited to buy your lipsticks. Today when I went to put on "Decaf" ..I noticed there was a hard ball inside of it. What is it? Can I get a replacement? pic.twitter.com/D9acDVtDgH
Her team entered damage control mode.
Jaclyn tried to excuse the defective products in a number of ways, insisting initially that "my lipsticks are not moldy, they are not hazardous, they are not contaminated." (Sure, Jan.) The brand also released an official statement, stating that they would issue refunds.
My team and I are working very hard on finding out EXACTLY what is causing the "grittiness & bumpy texture" on some of my lipsticks. I am so sorry to see some of you dissatisfied with my product. I will make it right for you & learn from this mistake! That's a promise❤️
But the internet continued to drag her products.
@RawBeautyKristi posted a 52-minute negative review on YouTube. In response, Hill posted an apology video to promise that she'd make things right.
After more prominent vloggers posted negative reviews, Jaclyn Cosmetics promised they would look into quality issues. Jaclyn also took a hiatus from Twitter and Instagram.
Jaclyn returned to YouTube to address the drama with her launch.
On July 23, 2019, Jaclyn posted an apology video titled "Where I've Been." In it, she confessed, "It's so important to me that you guys know how sorry I am and how embarrassed I am."
Then she gave the cosmetics thing one more try.
Jaclyn Cosmetics released a holiday collection on November 26, 2019. Her brand also began working with a new quality control and operations team.
https://www.instagram.com/p/B45k5i5Fyeu/
Ultimately, she resumed posting videos on YouTube. She released two new videos in 2020, and in her second video, she opened up about gaining close to 30 pounds from using alcohol to cope with her anxiety.
New video is now live.
This was a hard one for me. Please watch it all the way through ❤️https://t.co/9G1LE0ZKEn
Another vlogger made a really bad joke in response.
YouTuber Eden the Doll commented "bloated boots 🍻." Jaclyn called her out on Twitter, and Eden immediately responded.
These types of comments make ANYONE feel like they can't post a picture if they are not "perfect" im so over it & wont tolerate it anymore. There is a difference between freedom of speech and verbal abuse. Me and my subscribers will make a change in 2020! ✊🏼 https://t.co/okcSweC8og
And that about sums it up for now!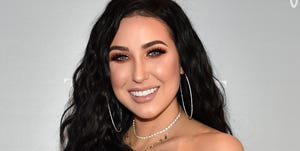 Source: Read Full Article