Food Network personality Giada De Laurentiis' Peach and Strawberry Crumble may be incredibly simple to make, but the result is an elegant and impressive sweet when you need dessert now. A crunchy topping makes this treat a textural delight.
De Laurentiis uses peaches and strawberries in her crumble, but this is a flexible dessert
The Simply Giada star's humble treat calls, for the filling: fresh lemon juice, arrowroot flour, halved fresh strawberries, and peeled, pitted, and sliced peaches. (It should be noted that frozen fruit is also fine in this recipe, according to the chef.)
The dessert's topping needs all-purpose flour, old-fashioned oats, sliced almonds, light brown sugar, ground cinnamon, sea salt, and one stick of unsalted butter.
The chef's crumble comes together so easily
To start, place the juice of half a lemon in a bowl. "The lemon juice is an acid, so it just brings out all of the flavors of the fruit," De Laurentiis explains in the recipe's Food Network video.
Now, add the arrowroot flour to the lemon juice. "Arrowroot is very similar to cornstarch, although it's a natural thickener made from a root, and it dissolves really nicely in acid like lemon juice," she adds.
The arrowroot mixture is poured over the cut strawberries and peaches, along with light brown sugar: "The fruit is sweet but to give it a nice, smoky flavor, I like to add a little bit of brown sugar."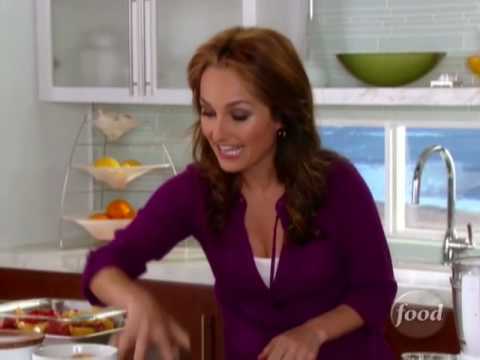 Toss the fruit and sugar mixture together, being sure that all of the fruit is covered in the brown sugar. As the fruit is tossed, the effects of the arrowroot flour can be seen: "You can see it thickening up already; it's creating a sauce."
The fruit is moved into a square baking dish and now the topping can be put together. Flour, the oats, light brown sugar, sliced almonds, ground cinnamon, and a pinch of salt are combined quickly in a food processor. Cubed, cold butter is processed with the topping ingredients and blended "all together until you get a pea-size formed of the topping."
Sprinkle the topping over the fruit mixture and place in a 350-degree F oven for 45 minutes "until the filling is nice and bubbly and the topping is crumbly and irresistibly good."
For the complete recipe, video, and reviews, visit Food Network's site.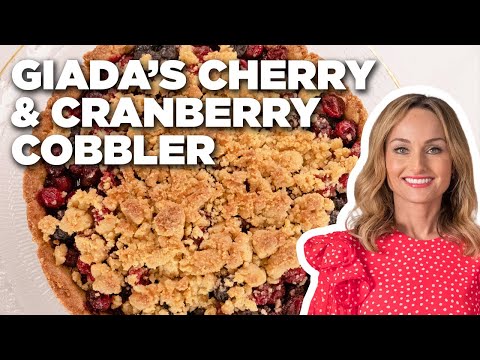 De Laurentiis' fruit crumble was a hit with reviewers
There's almost nothing better than a quick dessert that's also a crowd-pleaser. And the Food Network personality's crumble fits the bill, as reviewers wrote on the culinary channel's site.
"Easy to make, delicious and loved the almonds in the crumble. This is a perfect recipe when you have to come up with something quick," wrote one reviewer.
Another home cook added, "This was so easy and so delicious. The flavors were bright and clean. I could definitely taste the peaches and the strawberries, and together they were amazing. … The crumble didn't overpower and overall it was just a perfect dessert."
Source: Read Full Article