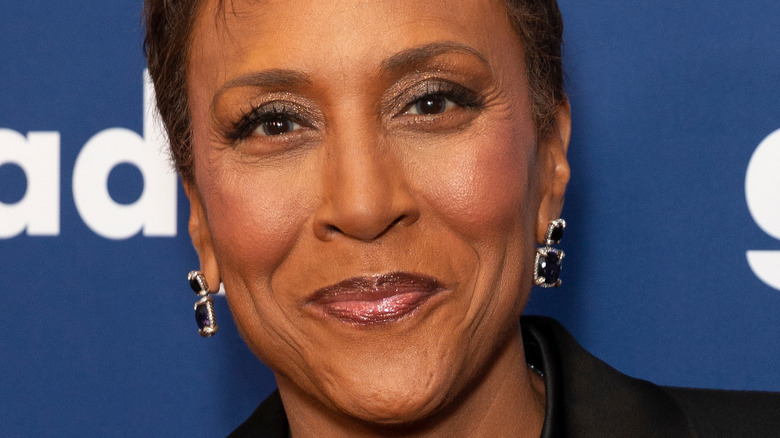 Robin Roberts is a broadcast journalist and Emmy Award winner who co-hosts "Good Morning America" and has an estimated net worth of $45 million (via Celebrity Net Worth). According to her ABC bio, Roberts started contributing to the program all the way back in 1995, and was officially named a co-anchor a decade later, thanks to her broadcast skills and charisma. Ever since then, Roberts has been a fixture on the show, helping millions of Americans start their day. Her work in television has also earned Roberts the 2017 People's Choice Award for Favorite Daytime TV Hosting Team, as well as the Walter Cronkite Award for Excellence in Journalism, to name just a few of her accolades (via ABC News). The TV personality also has her own production company, Rock'n Robin Productions.
In addition to her work on "Good Morning America" and on television, Roberts is also well-known for her very public journey with both breast cancer and myelodysplastic syndrome (MDS). While both of those diagnoses are a lot to shoulder, Roberts stunned the world with her grace, candor, and bravery while struggling with these illnesses. She was awarded the Arthur Ashe Courage Award at the 2013 ESPY Awards for being an inspiration to others. Finally, Roberts is a published author and sports enthusiast. 
Robin Roberts was motivated in her early life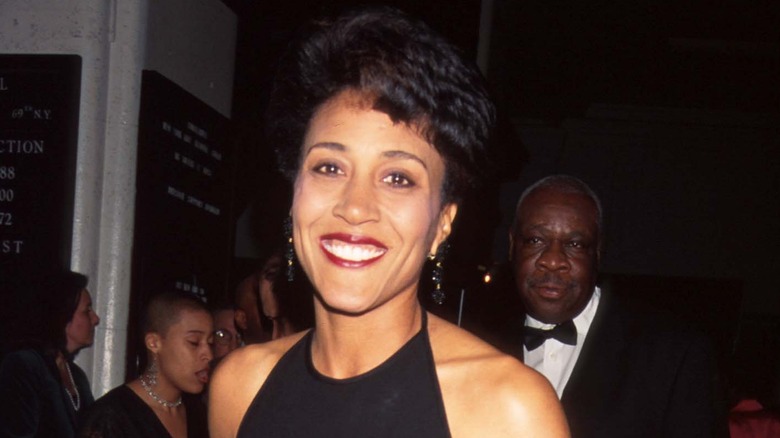 Before Robin Roberts dreamed of a career in broadcast journalism, she was quite the talented athlete. As a child, Roberts excelled at bowling, and, as she revealed in a tweet, she "was even the junior state bowling champ in Mississippi." According to NPR, Roberts went on to play tennis well enough to land an athletic scholarship from Southeastern Louisiana University, but while attending the school she switched to basketball. "I wanted to play both, but also had to, you know, spend some time in the classroom," she recalled, so she had to stick to just one sport.
While Roberts knew that she was "a little better than an average athlete," after a while, she accepted that going pro in sports was out of reach for her. "I realized that I was not going to be that professional athlete and I started to panic a little bit, as we all do," she continued. So, she had to discover what she wanted to do after college.
Fortunately for Roberts, she discovered sports journalism, and decided to pursue that as her career. She even took a part-time job that only paid $5.50 per hour, despite being offered full-time positions covering general news. "I want to put in the work because that's going to help me get to where I eventually want to be," she added.
She's had a successful career in journalism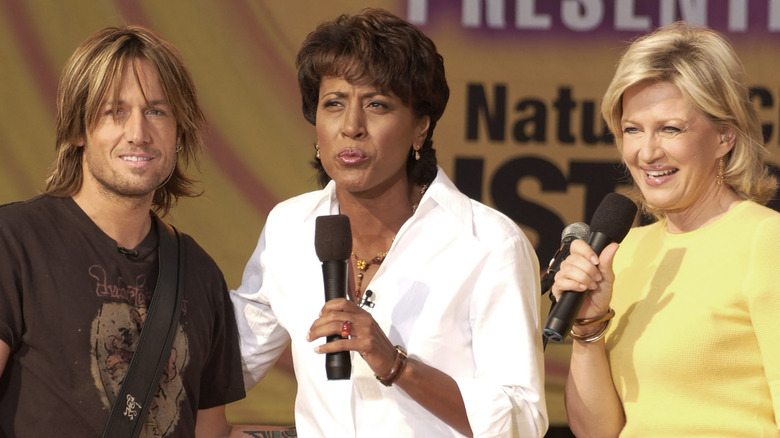 Once Robin Roberts decided to become a sports journalist, she pursued the goal with everything she had. According to Page Six, Roberts worked at several smaller outlets (which couldn't have paid very well, we reckon) in both Tennessee and Mississippi throughout the '80s, before landing a job at ESPN in 1990 — and chances are, the paychecks started to get good at that point. Roberts worked her way up the ranks at ESPN, eventually becoming the first Black woman to anchor "SportsCenter," as per GMA. "I'm very proud of that," she gushed. "And I'm even prouder of the fact that there are numerous Black women on ESPN now." Talk about an inspiration!
Roberts went on to host "Wide World of Sports" on ESPN before getting hired by "Good Morning America" in 1995, and, for a while, she worked on both ESPN and ABC. Then in 2005, Roberts was promoted to co-anchor the morning show juggernaut alongside Diane Sawyer, a position she holds to this day. From humble southern roots to television stardom, Roberts' ascent into fame and fortune was well underway; in 2016, she was even inducted into the Sports Broadcasting Hall of Fame. And then, of course, there's her production company, Rock'n Robin, which we're guessing is pretty profitable.
In addition to television, Roberts is also a published author, which had to have added some cash to her coffers; she published "Eight Rules to Live By" in 2008 and "Everybody's Got Something" in 2014.
Robin Roberts' personal life makes the news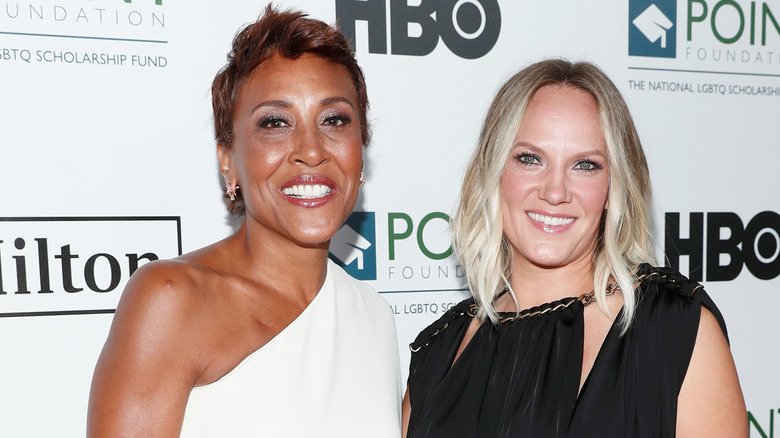 While Robin Roberts has an insanely successful career in television (which helped her get rich), she also has an headline-making personal life. For one, she was diagnosed with breast cancer in 2007, which meant Roberts had to take time off from hosting "Good Morning America" to receive treatment, though we'd guess ABC took care of Roberts as she focused on her health. "Much as I was hoping the doctor would say it was nothing, she did a biopsy and confirmed that the lump I'd found was indeed an early form of breast cancer," she wrote in an email to ABC News. Fortunately, treatment was successful and Roberts was declared cancer-free.
Five years later in 2012, Roberts once again received a cancer diagnosis — this time for myelodysplastic syndrome, or MDS, a rare blood disorder. After an intense round of chemotherapy, Roberts received a bone marrow transplant from her sister, and once again responded well to treatment. "It's considered to be a rebirth," she told ABC News on her five-year anniversary of being cancer-free. "And I definitely felt that I was getting another chance at life."
In addition to being a cancer survivor twice over, Roberts' personal life is notable because of her decision to come out as queer. In a 2013 Facebook post celebrating her health, Roberts thanked her "long time girlfriend, Amber," which officially brought her out of the closet. The couple celebrated their 15th anniversary in 2020, as per a post on Roberts' Instagram page. Roberts has used her personal experiences for speaking gigs, for which she's likely earned a hefty amount.
She has an impressive real estate portfolio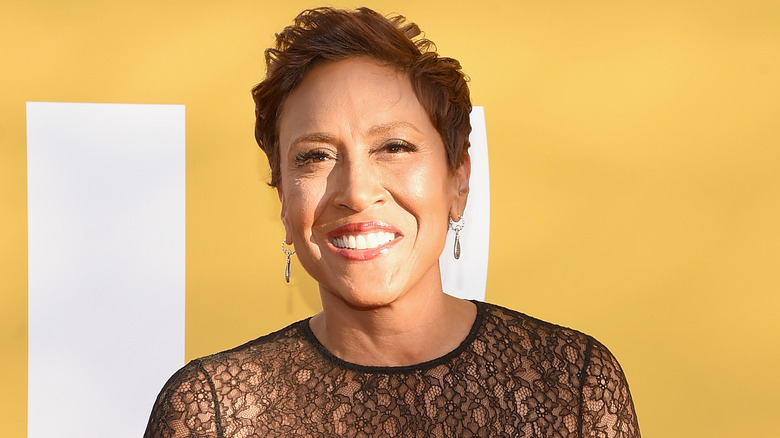 Given Robin Roberts' impressive net worth, it's not surprising that she has a few items in her real estate portfolio. First, her primary residence is in Connecticut, and Roberts shares this home with her partner, as noted by Hello! magazine. Fans got glimpses inside of Roberts' home during the COVID-19 pandemic, including looks at the piano room, the gorgeous kitchen, the home studio, the cozy fireplace, the stunning pool area, the snowy backyard, and the comfy living room. 
Roberts reportedly lives in her Connecticut home on the weekends (and stayed there during the lockdown in 2020), spending weekdays in New York City closer to work. According to The Cut, Roberts' city residence is in the swanky (and super expensive) Upper West Side of Manhattan, and her apartment overlooks the Hudson River, as seen in a tweet. Though Roberts swears she doesn't live in a penthouse in Manhattan, we bet her home is still worth a pretty penny.
Finally, Roberts reportedly has a home in Old Town Key West, according to Hello! magazine. While we're not exactly sure where the sunny abode is, Roberts has gone on record talking about her love of Key West. She's even shared restaurant recommendations on Twitter, so you know she knows her way around the island. And given that the median home price in key west is nearly $800,000 (per Zillow), that probably contributes to Roberts' net worth.
What to know about Robin Roberts' contracts and salary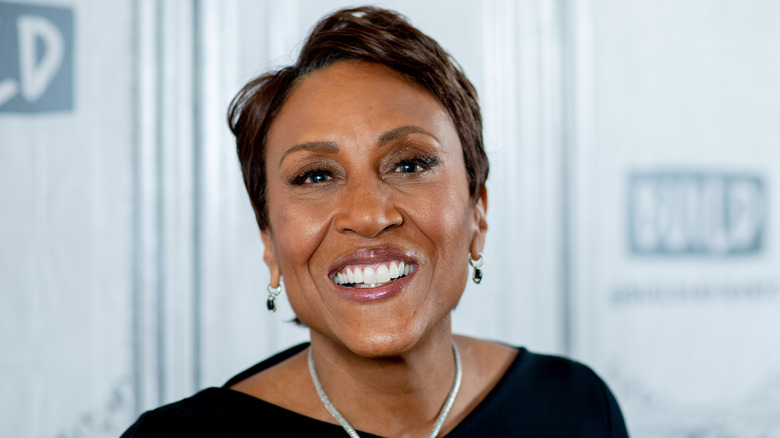 Robin Roberts is worth a grand total of $45 million, as estimated by Celebrity Net Worth, but how much is she paid to co-anchor "Good Morning America" every day? According to Forbes, Roberts' annual take-home pay is a cool $18 million, making her one of the highest-paid television hosts out there. We're going to hazard a guess that this gig is the most lucrative enterprise that Roberts has ever had, given how well she's compensated — and it's well deserved, too! 
In addition to her salary for "Good Morning America," Roberts has authored two books, as we mentioned before: "Eight Rules to Live By" in 2008 and "Everybody's Got Something" in 2014. While we don't know how much she might have collected in advance payments from publishers — the numbers can vary widely, as noted by The New York Times — Roberts likely received significant money for her literary work.
Finally, in 2021, it was announced that Roberts would be one of the guest hosts of "Jeopardy!" starting in July of that same year. We suspect that's another lucrative gig, as the late Alex Trebek was worth $75 million at the time of his death, according to Celebrity Net Worth. The website also listed his annual salary as $18 million, the same as Roberts' for "Good Morning America." Get that money, Robin!
Source: Read Full Article