The former star of '19 Kids and Counting' is spotted making a payment for the amount of $890 on My Fine Payment website ahead of her initial court appearance.
AceShowbiz –Jana Duggar has ended her child endangerment case. After being charged with endangering the welfare of a minor, the "19 Kids and Counting" alum reportedly has settled the legal issue out of court.
According to My Fine Payment website, the sister of disgraced star Josh Duggar has made a payment for the amount of $890 under her own name. The former reality star, who turns 32 this month, was initially scheduled to be in court on January 10 after pleading not guilty to the misdemeanor on September 9. However, Fox News reported that the charge has been adjudicated, meaning she will no longer appear in court next week.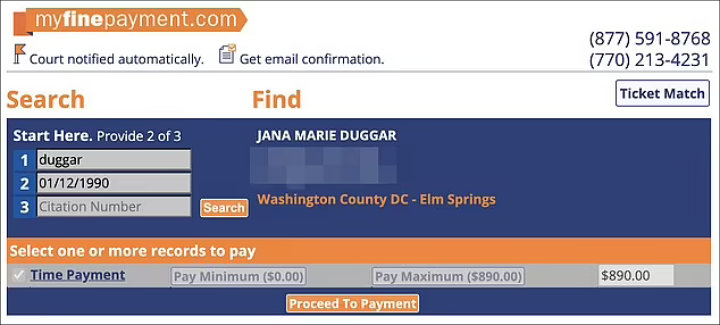 My Fine Payment website lists a payment made by Jana Duggar for the amount of $890.
Jana had been cited for the misdemeanor in September, days after Josh's porn conviction. She was released on $430 bail, according to the Arkansas court filing. Though she initially pleaded not guilty, the confirmation of an out-of-court settlement and the record of an $890 fine paid suggested that she might have changed her plea.
Jana took to her Instagram Story last month to clear the air on the "accident," claiming that it occurred while she was babysitting. "I'm only sharing this because the media has been having a field day with it all," the former "Counting On" star wrote about the misdemeanor offense. "I prefer a more private life, but I know my last name means that everything I do is open to the public criticism and interest, especially during this time."
"The raw facts: I was babysitting a few months ago when one of the children wandered outside alone. A passerby who saw the child called the police," Jana continued. She added that it resulted in "a written citation, as well as a follow-up with child welfare who concluded that it was an accident."
Jana, who got upset at herself following the incident, further explained that the child was "unharmed." She said, "They recognized it was a case of a child slipping out of the house when you turn your back for a moment. It all happened so quickly and was scary."
Source: Read Full Article