Never once in my life did I think that I, a 24-year-old grown ass woman, would be experiencing jealously brought on by a 16-year-old YouTube sensation, but here I am y'all! Why? Because Jojo Siwa decided to upload a video of her brand-spankin'-new house, and I feel so insecure about my financial stability (or lack therof) right now! Yes, you may think that I am over-exaggerating, but let me explain.
First of all, the outside of her house looks like this: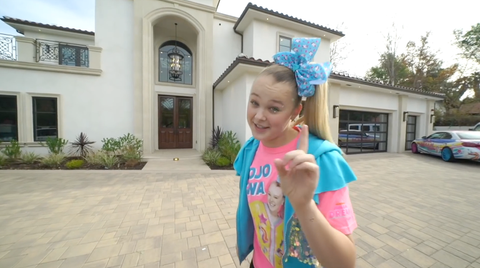 She has a garage and outdoor parking space in the front of her house, where she literally has a white Ranger Rover, a rainbow-mobile—which is BMW, by the way—and a third white car parked out in front. I don't even have a driver's license. ¯\_(ツ)_/¯
When Jojo takes her viewers inside, she treats us to an opulent display of her wealth, which is great because I was already feeling poor before she even went inside! There's shiny marble flooring, a grand piano, and multiple glass-encased mannequins showcasing her most iconic sequin and bedazzled outfits. Totally casual.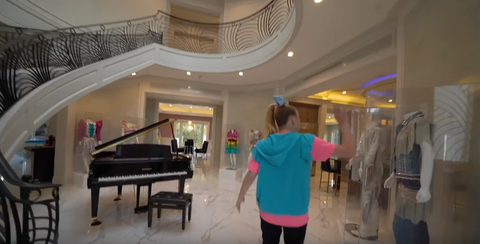 After taking her guests viewers through her candy-filled, cavity-inducing kitchen, she then hops into the her "merch room" aka where every single piece of Jojo Siwa merchandise you could ever want resides. It's so expansive that Jojo revealed she's considering putting up actual signage to create aisles separating the products into categories.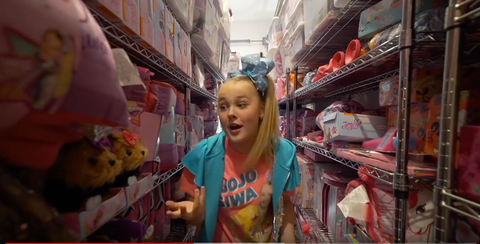 And guess what—that's only the first half of the video! If you too wish to (a) feel like you're not successful enough, (b) question what you're doing with your life, (c) consider becoming a YouTuber for a chance to afford a home like this, (d) cry, or (e) all of the above, watch the video for yourself, below:
Must be nice to be 16 and filthy rich!
Source: Read Full Article