After the NBA player was rumored to be entering a private room with three women at a birthday party, the 'Keeping Up with the Kardashians' star shares quotation that read, 'You cannot shake my peace.'
AceShowbiz –Khloe Kardashian may have hinted at how she felt amid swirling speculations that she and Tristan Thompson broke up. The "Keeping Up with the Kardashians" star turned to her Instagram Stories on Monday, June 21 to share a message about being "at peace."
Containing a quote from Stephanie Bennett-Henry, the Good American founder's post read, "I'm at peace because I know I was always true, had the best intentions, came from a good place with all of my heart." The note continued, "I wish the very best to everyone, even the ones who wanted nothing more than to spotlight the ugliest parts of me, still I wished them well."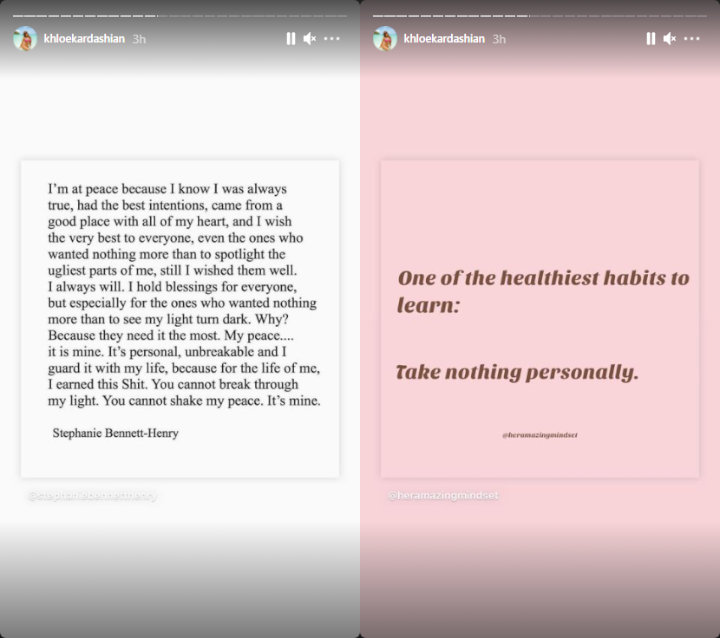 Khloe Kardashian came up with some emotional Instagram Story posts amid Tristan Thompson split rumors.
"I always will. I hold blessings for everyone, but especially for the ones who wanted nothing more than to see my light turn dark. Why? Because they need it the most," the post read. "My peace…it is mine. It's personal, unbreakable and I guard it with my life, because for the life of me, I earned this s**t. You cannot break through my light. You cannot shake my peace. It's mine."
In the following Story, Khloe also reposted a post from @heramazingmindset which read, "One of the healthiest habits to learn: Take nothing personally."
Of her relationship with Tristan, a source close to the two informed Page Six that their romance is over. "They're getting along. There is no drama," the source spilled, adding that "everything is amicable, and they are on the same page with co-parenting." The former couple reportedly split shortly after Instagram model Sydney Chase claimed during an April interview that she hooked up with the NBA player in the fall.
The news of their breakup came after Tristan was allegedly spotted entering a room with three women at a Bel Air birthday party on Friday, June 18 and reappearing 30 minutes later looking "disheveled." A source claimed to DailyMail.com, "Tristan took off into one of the party rooms where everyone goes to hook up."
"He was with three women and another guy. One of the girls he was with is a regular partier — she's always out and about at parties," the source told the publication. "The other girls have just started going out with this group. He did this in front of about 30 people so you could hear people talking."
The source continued, "When he arrived, his shirt looked all pressed and when he came out his shirt was a mess, he looked disheveled." The insider went on to say that "he continued to party for about another hour and then he left the party at about 4 a.m. with his entourage."
"He immediately beelined to the bar where there were tons of girls; we could hear him yelling, 'Let's do shots!' He was having a blast – he was actually laughing and simultaneously taking shots and drinking straight out of a bottle of champagne," the so-called insider explained further. "He was repeatedly grabbing this one girl's butt so we all knew he was totally into her."
According to E! News, the event was hosted by Drake and held at a mansion. "Tristan was hanging out with Drake, [P. Diddy] and Chris Brown the majority of the night. He was seen hanging out with several girls on the upstairs deck and then went into a private room with three girls," the source offered some details. "He seemed like he was in a great mood and wanted to party. He was drinking and was partying into the early hours of the morning."
During the night out, Tristan reportedly told fellow partygoers that he's single. Additionally, a different insider close to Khloe confirmed to the outlet that the former couple broke up "very recently" over ongoing speculation surrounding his loyalty.
"They had been working through the cheating rumors for the last couple of weeks, but Khloe told Tristan he lost all of her trust and the relationship could not be repaired," the insider claimed. "Khloe really tried, but ultimately, felt too betrayed by him. She's done and says she will not go back."
Source: Read Full Article