Kylie Jenner fans have a theory that her latest Instagram post is a nod to Travis Scott, following drama between the couple and model Rojean Kar.
The post comes after Rojean suggested that she was with Travis behind Kylie's back in an Insta Story last week. Travis has since responded to cheating allegations, strongly denying the claims.
To recap, the trio went viral when reports surfaced that Travis and Rojean, who he was first linked to back in 2013, had been hanging out on the set of a music video, after the model posted a video of the rapper on her Instagram Story.
The clip showed Rojean behind the camera on a shoot, with Travis seen in the background. She wrote, "I'm directing obvi 😉." Travis then shut down speculation about the pair on his Stories, writing, "An uninvited person was sneaking photos on what was supposed to be a closed set while I was directing a video. I don't know this person. I've never been with this person. So please stop with the continuous cyber games and the fictional story telling."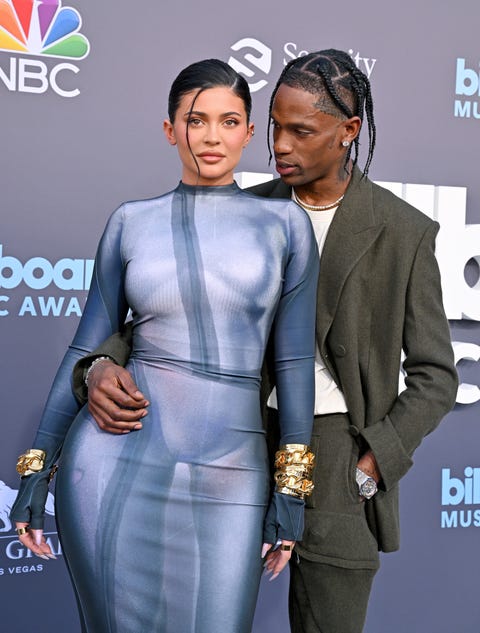 Rojean then took to her own Instagram to refute Travis's claims. In a video talking to camera, she insisted the pair were often together, and took offense at the rapper claiming not to know her.
"What we're not gonna do is we're not gonna lie on me… To say you don't know me and you've never been with me when you've definitely been with me, when everybody's seen you with me, when I have pictures and videos of you with me? Come on. Come on, sir."
She later alleged about Travis and Kylie Jenner, "You cheat on that ***** every single f***ing night. The whole f***ing city sees it! Don't do this."
🍿🍿🍿🍿 I knew following Yung Sweet Ro would eventually give me some good tea. Well this #TravisScott #YungSweetRo #KylieJenner drama is STILL on!!! I man will have you out here looking like a mazfaka. 😌😌 pic.twitter.com/nrITiRYNbq
Fans later shared theories that Kylie and Rojean were subtly shading one another on social media. And now, followers are back with more Insta interpretations, speculating on whether Kylie Jenner's latest post is a nod to the drama.
The Kylie Cosmetics founder shared a set of five photos on Instagram last night, seen posing in a white crop top, leather jacket and what looks to be men's underwear.
Followers reckon the underwear could actually be Travis', with one commenting, "This shade is just getting messy. She's now wearing his boxers to annoy the other girl?" aka Rojean. Another added, "Looks like men's underwear."
📸 @KylieJenner shares new photos on her Instagram pic.twitter.com/kWqVigcqPr
Meanwhile, others have suggested that the underwear might not actually be Travis', with some pointing out that the shorts could be from sister Kim Kardashian's brand SKIMS.
Either way, here's hoping Kylie's doing OK.
Source: Read Full Article