Lady Gaga made an appearance in West Hollywood like the rock star she is.
On Sunday, May 23, the star showed up to Robertson Boulevard at The Abbey, repping her "Born This Way" merch from Urban Outfitters and playing on the look's edge with torn fishnets and statement magenta platform boots by Demonia.
Gaga appeared for a ceremony on what marks the 10-year anniversary of her culture-resetting album, Born This Way, during which the mayor of West Hollywood, Lindsey P. Horvath, officially declared May 23 Born This Way Day. She also granted Gaga keys to the city, telling the star, "Thank you for encouraging us to love ourselves and be proud!" according to Billboard.
"Thank you for this key," said Gaga. "You've been—I'm sure this will sound cheesy to some people, not to me—but you've been the motherfucking key to my heart for a long time."
She added, "I will be here on this day to celebrate with you, to feel joy with you, to cry with you, to laugh with you, because you know what we are? We're poets, and we're just talking to each other. I love you. Let's have a good time!"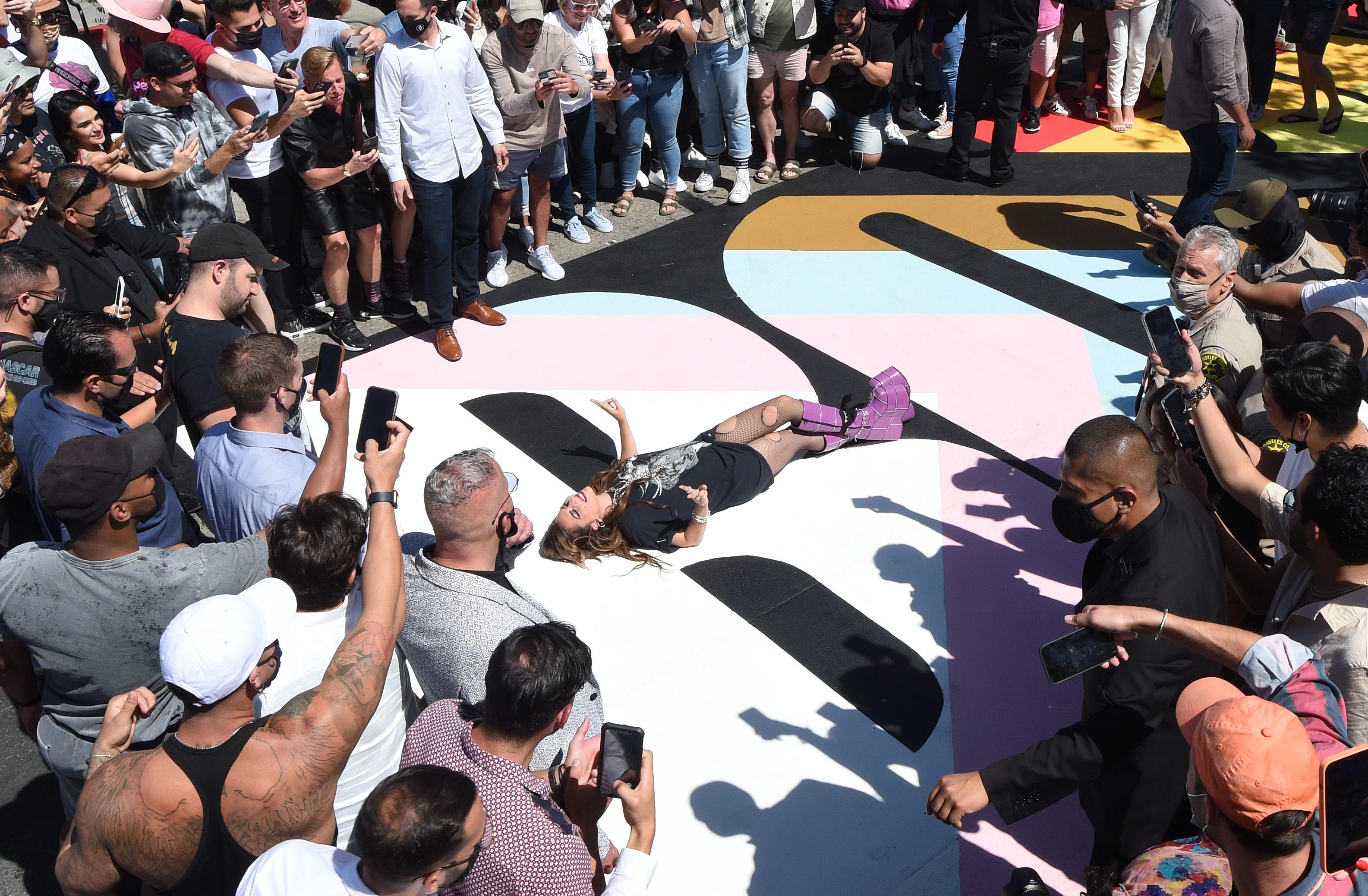 Since its May 2011 release, Gaga's "Born This Way" single has become an anthem among the LGBTQ+ community and fellow supporters for the song's message of embracing and celebrating human beings of all identities, threatening the boxed binaries of gender roles from society's past. As a kickoff to LGBTQ+ Pride Month in June, a painting of the star's breakout album in pride colors was also revealed on the boulevard, as an additional commemoration of Gaga's work.
Gaga later revealed on Instagram and Twitter that the song was, in fact, inspired by the founding bishop of the Unity Fellowship Church Movement, gay Black religious activist Carl Bean. She wrote in the caption of her Instagram post, "Born This Way, my song and album, were inspired by Carl Bean, a gay Black religious activist who preached, sung and wrote about being 'Born This Way.' Notably his early work was in 1975, 11 years before I was born. Thank you for decades of relentless love, bravery, and a reason to sing. So we can all feel joy, because we deserve joy. Because we deserve the right to inspire tolerance, acceptance, and freedom for all."
https://www.instagram.com/p/CPPRIFeM3zS/?utm_source=ig_embed&utm_campaign=loading
A post shared by Lady Gaga (@ladygaga)
Source: Read Full Article