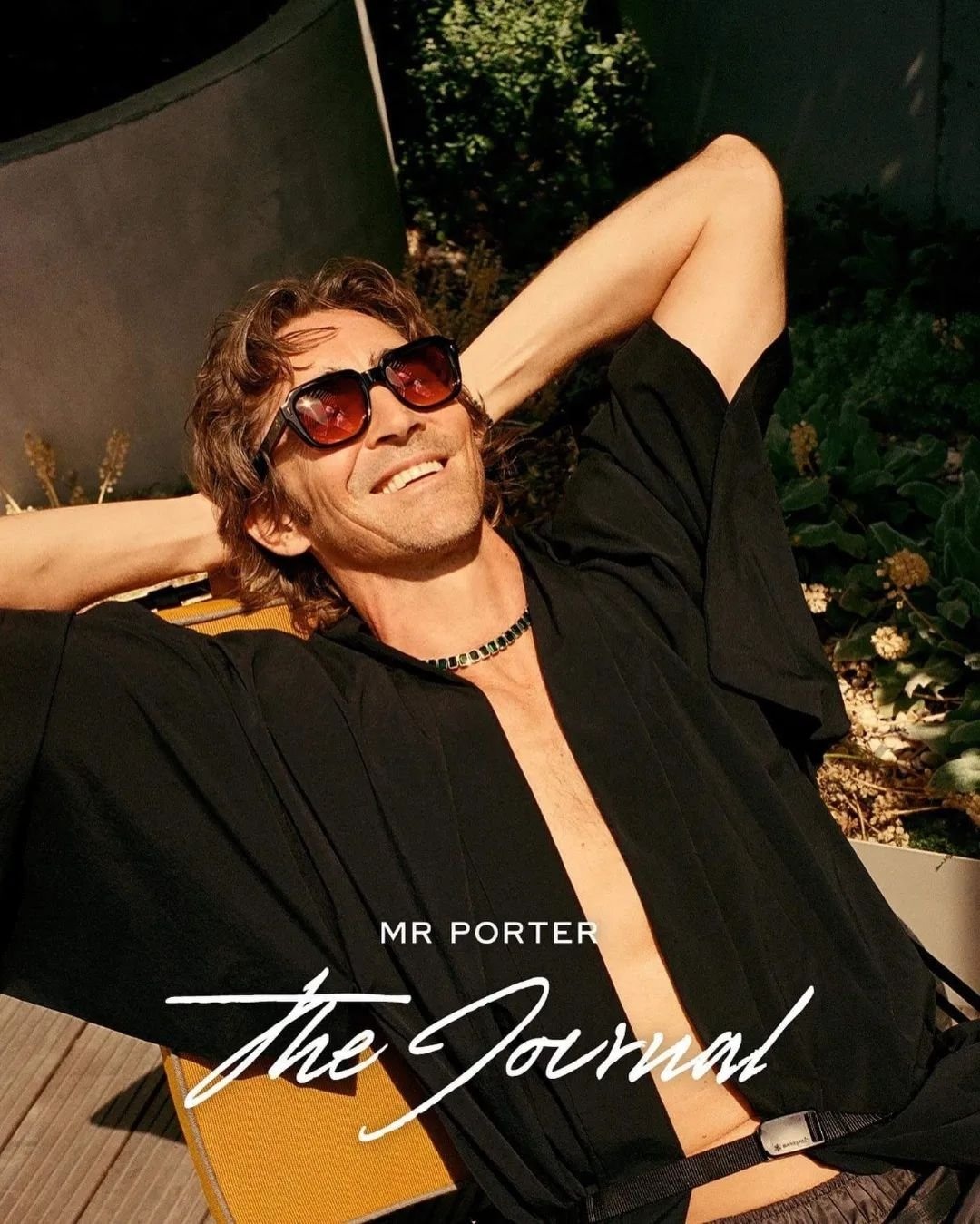 Lee Pace is currently promoting Bodies Bodies Bodies, where he plays the older boyfriend of some kind of trust fund youth, at a house party full of trust fund youths. The fact that he said "yes" to some kind of Generation Z horror movie is… weird? But what do I know, Pace has kind of a strange CV. To promote the film, he covers Mr. Porter, and the interview took place in Paris. Pace was there with his partner Matthew Foley, the VP of communications for Thom Browne. Pace walked in the Thom Browne show. Some highlights from the interview:
He doesn't mess with his face: "I like wrinkles," and extols the virtues of ageing gracefully and a life well-lived.

His Instagram full of thirst traps: "It felt misanthropic not to participate in [social media]."

He built his house in upstate New York. "The dream of building that house and living up there was a dream of self-sufficiency," he says. When he's not travelling for work, he's creating a garden (also visible on Instagram) and scavenging for green beans. This summer, he wants to go to the Adirondacks and "hit those peaks". He finally put electricity into the house and next, perhaps, is plumbing. "I like to think [if I were not an actor] I would live in the country and farm, but I'd probably go stir-crazy."

His peaceful, Zen character in Bodies: "I feel Greg is a lot like me. He's relaxed and there to have a good time. He's kind of along for the ride, passive inside their world."

Movie stardom is distasteful to him: "I don't want to be evil with being well known. The gimme, gimme, gimme – the faces of that are pretty ugly in our world. I think when I look in that direction, I see a lot of anxiety and I see a lot of people pushing each other." He is also uncomfortable with the exposure of fame and the expectations that come with it. "I don't feel I owe anyone an explanation. I don't feel anyone owes anyone anything, really."

Still, he likes to work: "Playing characters who are interesting, working with cool directors and collaborators – that's the part I love. I didn't want to perform myself for people. I have more freedom with what I do the less people know about me. What a hypocrite I am. You'll see me in a month and I'll be wearing borrowed clothes."
[From Mr. Porter]
Pace is 43 years old and he's been in and around the film and television industry long enough to see how the game is played and make his own choices about how to play it. Which is probably why he bought the land in upstate New York and built a home up there, so he'll always have something that no one can touch. That's his getaway plan. But yes, he absolutely could have been a major movie star. Come on! Handsome, tall, great actor, respectful of his peers? He could have had it all. I kind of like that he chose a different path.
https://www.instagram.com/p/CgwZEBgNX7F/
Cover & IG courtesy of Mr. Porter.
Source: Read Full Article