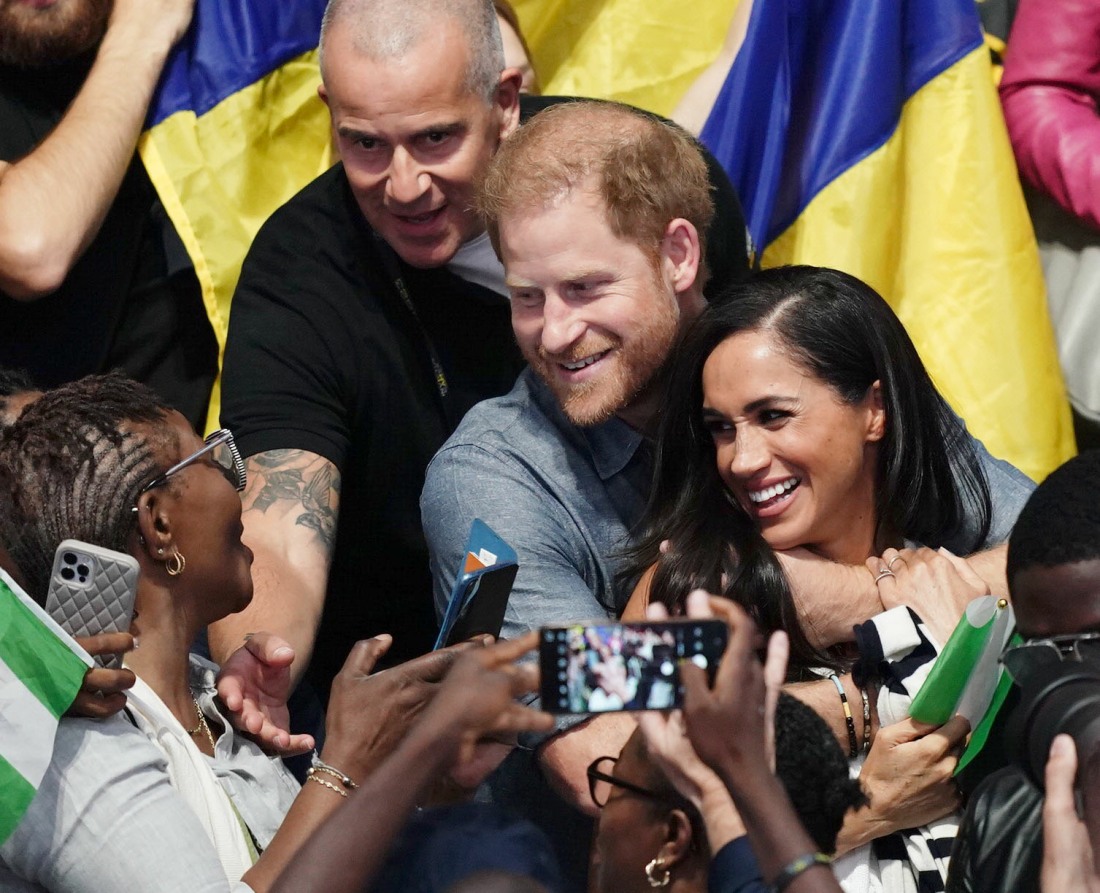 Happy birthday to Prince Harry, today he turns 39 years old. What a way to spend his birthday – with his lovely wife in Germany, surrounded by veterans and military families, at the international veterans' competition he founded to support wounded warriors. Amazing. The Sussexes had an early birthday celebration last night – they left the Invictus-area and went out to eat at a local Dusseldorf restaurant called Im Goldenen Kessel. Meghan wore white capri pants and a red striped Doen shirt. Hello Magazine spoke to the restaurant owner, who got to hang out with the Sussexes and take a photo with them:
Ahead of his special day, Prince Harry and his wife, Meghan Markle, headed out to enjoy a private meal together with their close team. The duo were spotted in a restaurant in central Dusseldorf called 'Im Goldenen Kessel', part of the Brauerei Schumacher.

A source said the event was a "family meal" for the couple and their Archewell team. The menu for the restaurant boasts an array of local delicacies, including Bratwurst and Wiener Schnitzel. A staff member at the restaurant exclusively told HELLO! that the Duke and Duchess were very welcome guests adding that the Prince was "very generous, and tipped very well."

Restaurant owner Thea Ungermann added: "The couple were very relaxed, they drank our beer, Schumacher Alt – it's the same beer they are serving at the Invictus Games. Harry and Meghan sat next to each other during the meal. I had goosebumps when they walked into the restaurant, I had watched his speech on the stage at the Invictus Games and couldn't believe he was in my restaurant. Prince Harry was so lovely and gave me a hug."

A source said: "It had a very joyful family meal feel. It's the first night that Harry and Meghan have eaten outside of the hotel restaurant so it was a great experience. They always eat with their team but tonight was a special evening."

After their meal, the group headed back to their hotel, where the Prince was treated to some cakes and a chorus of 'Happy Birthday'.
[From Hello Magazine]
If you're like me, you're interested in the food. Well, the Mail spoke to the Sussexes' waiter (Frank Wackers), who said that the Sussexes ordered family-style dishes of "wiener schnitzel, pork knuckle, sausage, roast and mashed potatoes." God that sounds good. The waiter also said that Harry drank "six small beers" while Meghan only had one beer. At the end of the meal, the restaurant gave Harry a white chocolate birthday cake, YES!! The waiter also said: "They were very happy. He is a lovely man, and they were so nice." As I said in another post, Germany loves the Sussexes. Germans want the Sussexes to live there permanently.
https://www.instagram.com/p/CxLs2aJtAt8/
Photos courtesy of Avalon Red, Instagram, Cover Images.
Source: Read Full Article