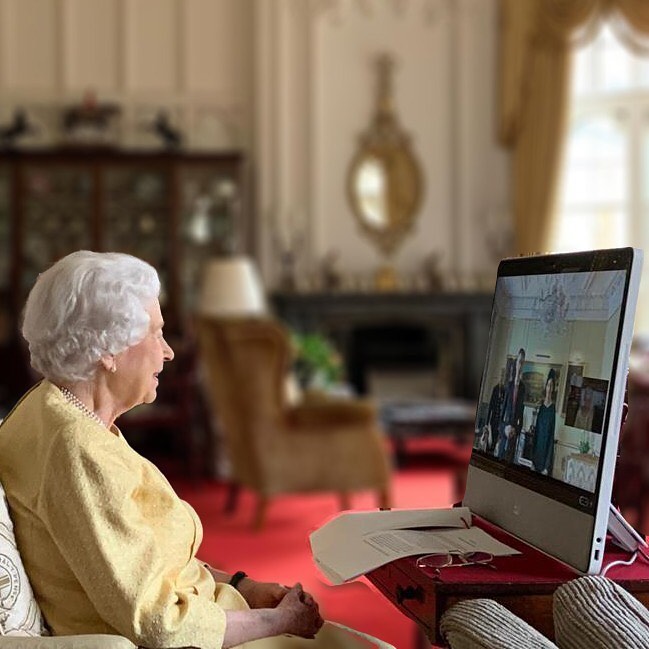 Please let me dream that Queen Elizabeth popped up on the Zoom call with a jubilant "surprise, bitch!" QEII has been resting in Windsor Castle since her overnight hospitalization last week. Her staff culled her schedule down and the next big question mark is whether she'll be well enough to travel to the climate conference in like five days. Apparently, the Queen is okay. Okay enough to sit through a video conference with the South Korean ambassador.
Her Majesty, wearing a bold yellow dress and a pearl necklace, held an online audience with a series of new ambassadors, including new South Korean Ambassador Gunn Kim, who wore the nation's traditional dress of a tall "gat" hat and a gown.

Photographs of the meetings, showing a beaming queen, were distributed by Her Majesty's office. Photos were provided of both ends of the meetups, with pictures of the queen talking to her screen at Windsor Castle and photos of her appearing on screen at Buckingham Palace. It was a clear attempt to draw a line under the uncertainty of the past few days.
[From The Daily Beast]
I've been wondering about a lot of the leaking against both the Queen and Charles in recent months. Who leaked the Queen's hospitalization to the Sun? Who leaked all of that terrible sh-t about Charles' foundation and all of his cash-for-access schemes? I would say that William is the despot behind the curtain, but I honestly don't think William is smart enough to do all of this without leaving his fingerprints all over it. I think something else is going on… a quiet revolt in several royal offices, perhaps. In any case, I'm glad the Queen was well enough to put on a yellow dress and pose for photos. Maybe she really just needed to rest after all.
Meanwhile, it was also reported that the Queen is doing so poorly that she can't even walk her dogs? Or she's under doctor's orders to not walk around the Windsor grounds. I still say that most of this is simply that the Queen is currently very unsteady on her feet, and perhaps she's having balance issues.
— The Royal Family (@RoyalFamily) October 26, 2021
Photos courtesy of Avalon Red, Buckingham Palace's social media.
Source: Read Full Article