Piers Morgan claims that he had maintained a friendship with Meghan Markle until she apparently ghosted him the moment things began to heat up between her and Prince Harry back in 2016. And while he's had both good things and bad things to say about the Duchess of Sussex, everything changed after Meghan told Oprah Winfrey in her seismic interview with Prince Harry that she experienced mental health issues while she was still a full-time working royal. The next day on "Good Morning Britain," Piers revealed that he didn't believe a single thing Meghan said during the entire two-hour tell-all.
"I'm sorry, I don't believe a word she says, Meghan Markle. I wouldn't believe her if she read me a weather report," he said, per USA Today. "The fact that she's fired up this onslaught against our royal family, I think is contemptible."
That moment prompted almost 58,000 people to file complaints against Piers, but Ofcom cleared him of any wrongdoing, according to the BBC. And while Piers is prepping for his television comeback for the first time since he walked off the set of "Good Morning Britain," he is being advised to do one thing when it comes to Meghan Markle, especially if he wants to stay in front of the cameras. Keep reading below to find out what it is.
Piers Morgan might have the last laugh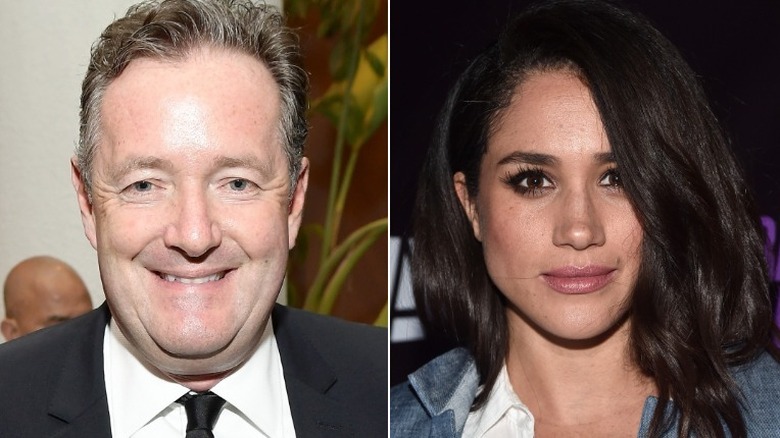 For anyone who has seen Piers Morgan's Twitter account, they'll know that he's spent a lot of time griping about Prince Harry and Meghan Markle. In fact, he even encouraged his social media followers to cast their vote for him for Best TV Presenter for the National TV Awards in order to "make Princess Pinocchio choke on her kale smoothie." But that's not the worst thing he's said, as he's also called Prince Harry "cowardly" and a "twerp" in the past.
With that said, one royal expert believes that in order for Piers to move forward, he needs to stop going backward, especially when it comes to his constant attacks on the Sussexes. Royal journalist Kinsey Schofield said during an interview with GB News that the best thing Piers can do it completely ignore Harry and Meghan to the point at which they become "non-existent" both to him and the rest of the media.
"If I were in his position, I would not give a single second to Meghan Markle. If you want to crush this woman, you don't talk about her because her greatest fear is to be irrelevant," Schofield said. "And I know that it keeps him in the papers, but I almost think that it would hurt her more if he would just pretend that she was non-existent." That piece of advice might actually be both to Piers and Meghan's benefit, come to think of it.
Source: Read Full Article