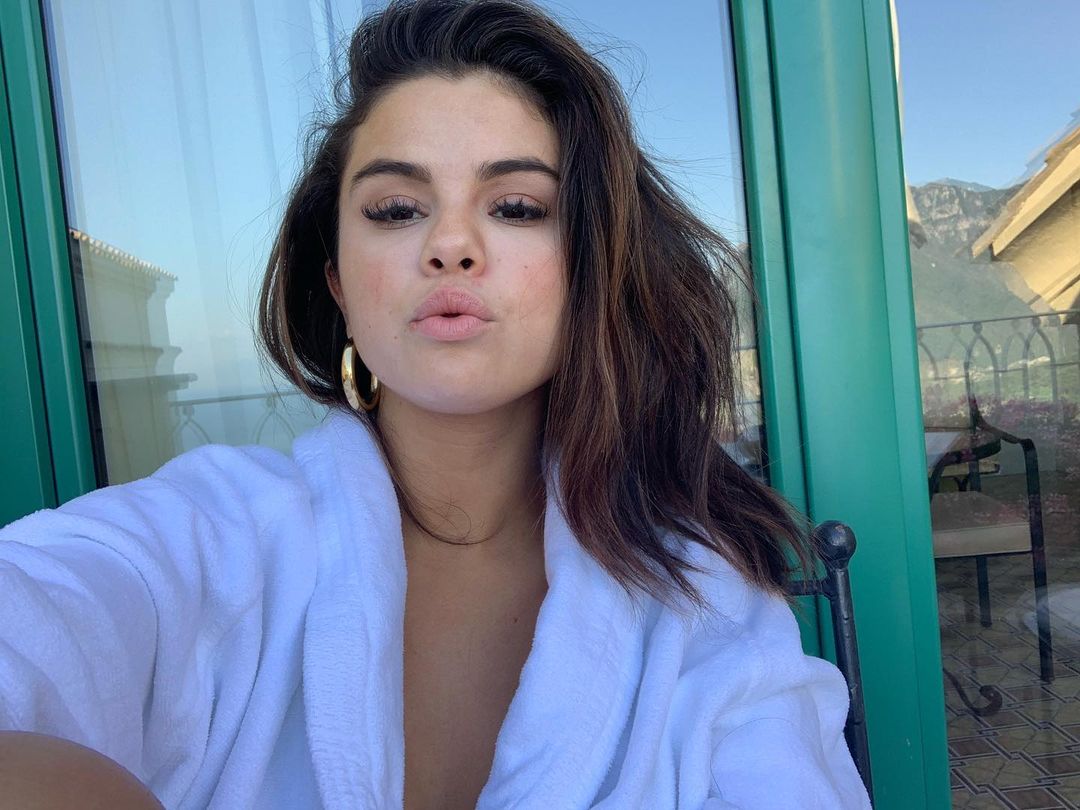 Selena Gomez has a nice little interview with Glamour UK to promote the launch of her beauty brand, Rare Beauty. Rare Beauty already launched in the UK, but now British peeps get to see Selena's product. As I've said before, the celebrity beauty brands have gotten way out of hand and the market is completely oversaturated. Rare Beauty kind of stands apart from all of that because Selena insisted on making it cruelty-free (no animal testing) and vegan (no animal/dairy products). Some highlights from this interview:
Rare Beauty's point of view: "My hope with Rare Beauty is that we have open conversations around beauty and mental health and can change the industry by breaking down unrealistic standards of beauty together. That's why launching Rare Impact alongside the brand was so important to me.  We created the Rare Impact Fund to help supply more people with more resources that support their mental health. 1% of all Rare Beauty sales is dedicated to the Rare Impact Fund – and with our launch in the UK, Space NK will be donating an additional 1% of their Rare Beauty sales."

Her relationship to her appearance at a young age: "Being in the public eye from such an early age certainly comes with a lot of pressure. It's hard to feel comfortable when you feel like everyone is watching, judging, and commenting on the way you look. Self-confidence is still something I work on daily, but when I stopped trying to conform to society's unrealistic standards of beauty, my perspective entirely shifted."

Feeling pressure to measure up to Hollywood beauty standards: "From the time I can remember, I've always felt like I had to be perfect or look a certain way. It took me a long time to realise that I only wanted to be myself – that what made me unique was also what made me beautiful."

Affirmations: "I'm a big advocate for therapy. I also love to keep sticky notes around my house with positive affirmations. I have a lot of various ones, but "I am enough" is a favourite of mine – I call them "Rare Reminders." And taking a scrolling break from social media helps!"

A memorable beauty disaster: "While I was getting ready for the Met Gala a few years ago, we put on a bit of tanning lotion and it looked beautiful – but as the night went on it kept getting darker and darker. When I sat down, I saw a photo of myself, and it looked completely orange. And here I am at this prestigious event – my first thought was – "I have to get out of here!"

Self-care advice she would give her younger self: "I'd tell her that makeup is something to have fun with, but not something you need. I used to think I needed to wear makeup to feel pretty, and I can definitely say that has changed as I've gotten older."
[From Glamour UK]
I think Selena just had a worrying amount of pressure on her from a young age. She was the sole breadwinner for her family for years, she was torn up by the Disney machinery and then she was torn up by everything in and around the Justin Bieber relationship, which was on-and-off for so many chaotic years. It truly sounds like she's found some kind of balance in her life these days. So many people are doing affirmations these days! I've never thought about it, but I probably would benefit from some affirmations by my desk or maybe even on the refrigerator.
https://www.instagram.com/p/CZcErbOD48e/
Photos courtesy of Selena's Instagram, British Glamour.
Source: Read Full Article