Wow. The rift between Shahs of Sunset costars Mercedes "MJ" Javid and Reza Farahan go deeper than we ever imagined.
Following the news earlier this week that the latter was granted a restraining order against the former's husband, Tommy Feight, after he allegedly vandalized Farahan's home, the ex-friends are speaking out in the press about the hurt they've been put through.
There are two sides to every story, and we're certainly getting them!
The new mom spoke to E! News about the whole situation, saying:
"It deeply saddens me that my former friend is battling with his demons and has decided to go this low to hurt me. The more he goes down this dark path, the harder it will be for him to recover from it."
Her husband has also come to her defense, posting to Instagram on Wednesday a picture of MJ in the ICU at the hospital after giving birth to their son, Shams. He wrote in the caption:
"This is how my wife spent her 1st 2 days as a mom—it was without a doubt the most terrifying experience I have ever been through, i have never felt so alone and helpless and even now I can't think of this experience without breaking down—she is a warrior and stronger then any women I know—she is my Queen my hero and my universe."
Without referencing his alleged destruction of Reza and his husband Adam Farahan's property, Tommy continued:
"I will let NO ONE disrespect minimize and devalue all that she went through to bring our son into this world—i took vows to protect her and keep her safe and I will do that until my last dying breath #tillthedirt #myqueen #smother #khaleesi #bendtheknee."
See the pic he shared (below):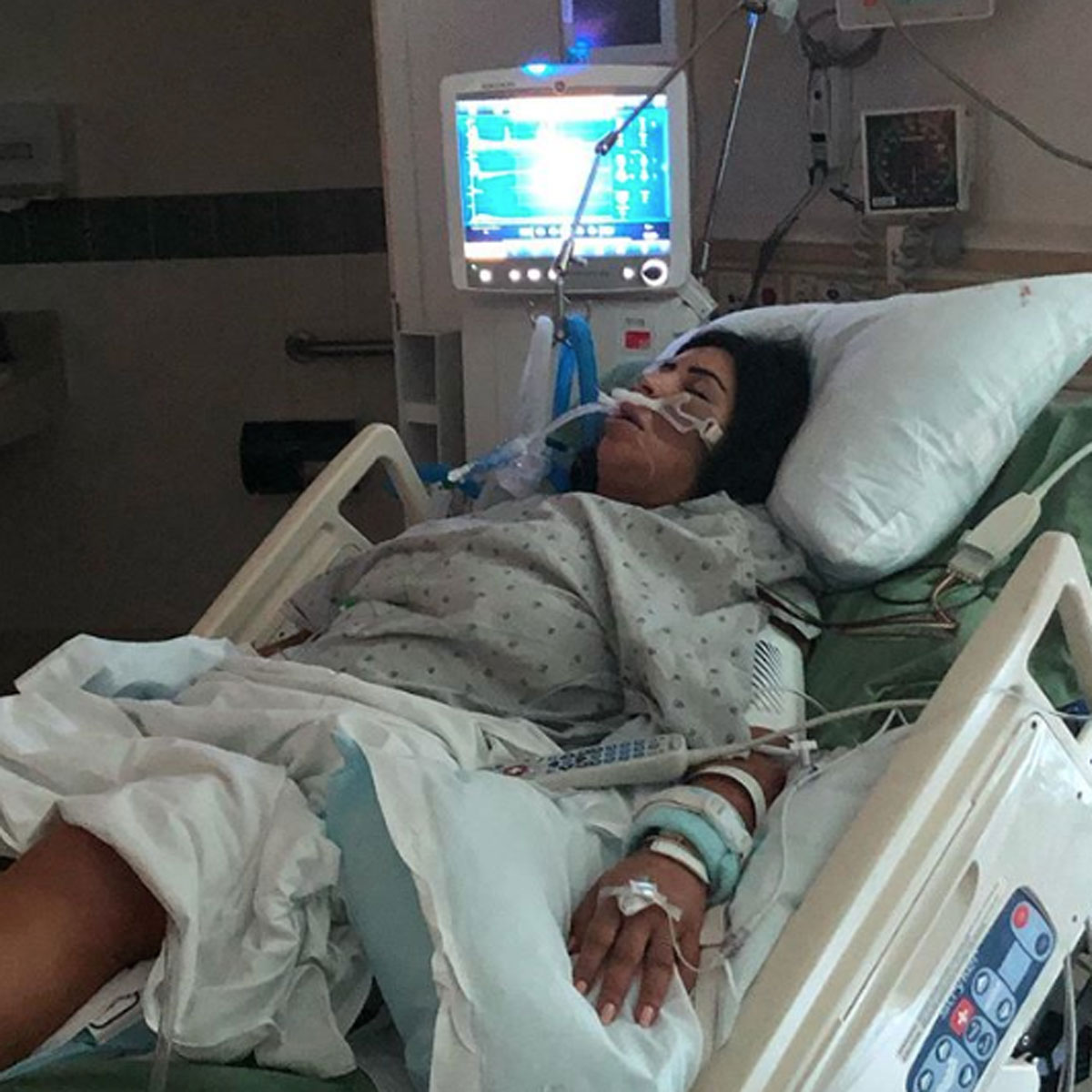 His message seemed directed to Reza, though he never named names.
Javid and Feight aren't the only ones to open up about their hurt.
Farahan dished to People about the couple, explaining there's no way this relationship can be mended:
"I can never be friends with her again, because first she sent her little minion to come do her dirty work, then, in my opinion she sent her husband to come vandalize my property and threaten my life."
The 45-year-old added:
"What's next? This is now beyond reality TV, this is real-life stuff that I'm dealing with. I'm dealing with restraining orders, and I'm dealing with thousands and thousands of property damage. This is stuff that you can't go back from. You can't undo this."
The Bravo star claims the damage might be as high as $10,000, going on to allege some of the destruction caused by Feight:
"He jumped the fence into our yard, he destroyed all the potted plants, there was terrariums that Adam had created by hand, there was a cactus he'd just bought for me, this really rare cactus plant that you saw him throw across. And not only that, we had just bought all of that outdoor furniture to the tune of $10,000, placed there for our housewarming party that we had last month. So, he damaged all of that stuff, he destroyed all of that stuff."
But according to Farahan, he hasn't heard a peep from his former friend after the alleged incident:
"Plus, it's not like she reached out to me and apologized! If it were me and my husband had gone to someone's home and vandalized their home, the first thing I would do is pick up the phone and I would call and say, 'Hey, I am so sorry, I know you don't believe me right now but I am devastated for what my husband has done to you, I apologize from the bottom of my heart. I will make the financial situation right, let me know how much damage he did, I will cut you a check for 10 times that amount. … Please don't file a restraining order, please don't pursue any legal action.' I would be so remorseful if my husband had gone to someone's home and vandalized it, I would be so remorseful if my husband had called and threatened your life, I would be doing everything in my power to make it right, but it's been radio-silent."
He continued:
"So, clearly, she's not remorseful and clearly she knows what she did was horrible. I'm speechless, I'm devastated."
This friendship, which seems too far gone now, had already been showing signs of damage, according to the star.
"Honestly, I think that she believed that I was the ring-leader of our friend circle and she wanted to be the ring-leader of our friend circle."
One of the kickers? Reza claimed MJ attempted to sabotage his marriage to Adam while she was on bedrest, explaining some of the "dirty work" to the publication:
"She had a lot of time whilst she was on bedrest and unfortunately my husband made friends with this really disreputable person who wasn't a good human being. Adam and him got very close and they exchanged some inappropriate text messages back and forth — like GIFs of naked men, or GIFs of this, that, and the other — and MJ decided to use him to come for my relationship, and that is what set in motion a sequence of events, because I literally was communicating with her up until she went into labor."
Interesting.
"We were texting one another, she texted me saying she wasn't taking any visitors, and then once she had the baby I was communicating with her. I was going to go see her, but then I realized that she had wound up one of her friends to come for me and my marriage and my relationship and the guy actually said 'Yes, MJ put me up to come and do all of this dirty work.'"
He even remembered talking to MJ one day about his marriage and his frustrations, only for her to allegedly turn the information against him:
"Little do I know, later on, she would use those things against me to say I have a tumultuous marriage or I'm having marital problems or whatever the case may be, when in all actuality, she in the moment was a really great friend and she talked me off the ledge and she allowed me to see everything through the grey lens as opposed to it being just black or white."
Yikes!
Farahan also has regrets about reaching out or visiting once he found out his former BFF was in the ICU:
"Absolutely I didn't respond or reach out once! When I realized that she sent her gay minion to accuse my husband of sexual harassment and infidelity, absolutely when the person you wound up to come attack me and take my character down and destroy my marriage, when your minion comes and says, 'This is what MJ did' … of course I'm not going to come visit you!"
You can just feel the hurt!
"Adam and I lay in bed crying at night thinking How could someone that I treated so well — I literally scattered her father's ashes with her … I was trying to smooth everything over and make sure her wedding went off without a hitch. I bought her a Cartier bracelet, I wrote them a $2,500 check for their wedding, and this is how she repays me."
Describing how he's in "a state of shock," the Be Obsessed hair care founder shared:
"Not only am I mourning the death of a 30-year friendship, I'm walking around in a daze not understanding how someone who just had a baby would be willing to put his life and his freedom at risk by going to someone's home with a bat and vandalizing their property. I'm in a state of shock, I can't believe it. The fact that she's not remorseful breaks my heart, makes me cry when I'm by myself. And you know what? It makes me know that it is the right thing to close this chapter and move on."
It sounds like it truly is for the best as their friendship has completely taken a turn and can only be described as toxic right now.
While he says "it's really been the hardest thing I've ever gone through," he and Adam found a blessing in going to court over the matter on Monday.
"The only shining light in all of this was yesterday when Adam and I went to the court to file the restraining order, we found a kitten and we're so blessed to have this little angel come into our lives on a day when we were dealing with something so heavy and negative. So, we got a little guy named Bugsy out of it that we're madly in love with, so I guess there was a silver lining."
Reza has also taken to Instagram on Wednesday to share an apology after he posted-then-deleted a message, which seemed to reveal MJ's personal medical information. He wrote:
"I want to make an apology and clarify something, then sign off. In my haste to get the timeline of events out, I included a text w/ sensitive information, that was sent to me by Tommy, using MJ's phone. For that I'm truly sorry."
The Bravolebrity finished:
"I had forgotten that was in there and I genuinely wish I could go back and cut that one out. Unfortunately it's out and I'm very sorry. Our lives are more important than a feud. I can't explain how unsettling it is to feel unsafe in our own home, so we're signing off."
You can see the IG (below):
View this post on Instagram
Signing off?? #shahsofsunset #shahs
A post shared by Reza Farahan (@rezafarahan) on
As we previously reported, the accused couple is due in court next month as we find out if the restraining order will be made permanent.
We'll continue to update you, Perezcious readers, but in the meantime, what do U think about all this drama??
Sound off in the comments (below)!
Source: Read Full Article