After welcoming his first child with longtime partner, the 'S.W.A.T.' actor takes to Instagram to show the face of his new bundle of joy named Frankie Moore.
AceShowbiz –Shemar Moore is a proud dad. The former "Criminal Minds" star has introduced his newly-born daughter, one day after he announced the arrival of his first child together with his girlfriend Jesiree Dizon.
Making use of his Instagram account, the 52-year-old posted on Wednesday, January 25 the first photo of the baby girl, who is named Frankie Moore. The snap gives a close-up look at the actor holding his daughter close to his face as he stares lovingly at her.
In the caption, Shemar shared details of the newborn. "FRANKIE MOORE!!!! BABY GIRL in da building!!! Born January 24… at 3:38pm…. 7.1 Pounds… 20 inches…. 10 fingers n 10 toes…," he wrote.
The "S.W.A.T." actor went on gushing, "Already THE LOVE OF MY LIFE!! I'm a Girl Daddy!!!! HOLY S**T!!! DREAMS COME TRUE!! Grandma Marilyn is in heaven puff puff passing, drinking her wine, and doing her happy dance… I LOVE and MISS YOU everyday Mom." He further expressed his joy as he jokingly exclaimed," Frankie is gonna grow up to be a KILLA!!! Watch out World, here comes 'Frankie Muthaf**kin Moore'!!!!"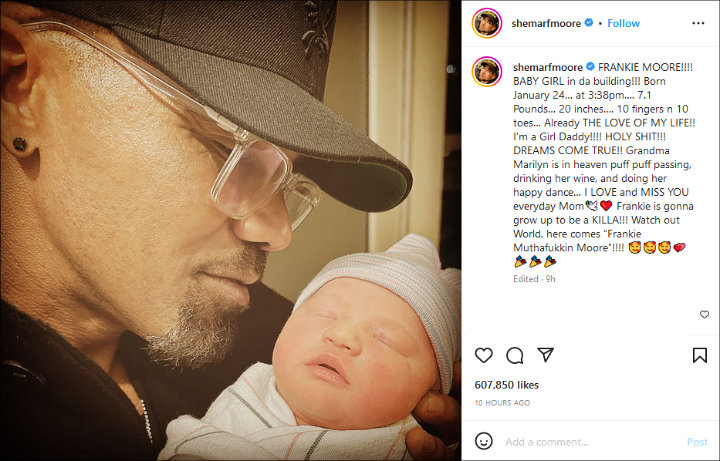 Shemar Moore introduced his newborn daughter via Instagram.
A representative for Shemar first announced the baby's arrival on Tuesday. The rep told PEOPLE magazine, "Shemar Moore and his partner, Jesiree Dizon, are happy to announce the birth of their baby girl. The family is very happy and healthy."
Earlier this month, "The Young and the Restless" alum confirmed that he's going to be first-time father at age 52. "Shemar Moore is about to be a daddy," he announced on "The Jennifer Hudson Show".. "I was worried for a while that maybe that ship had sailed kinda thing. God had my back. Things lined up," he gushingly added about being a first-time father at a quite late age. "It's going to be the best part of [my life]. My life is pretty grand but I know that … once I get this experience, I'll be able to go to heaven whole."
He noted that the baby was due on the third anniversary of his late mom Marylin Joan Wilson-Moore's death. "I'm sorry she can't be here," he said of the woman he's called his "mother, best friend and partner in crime." He said this child will make "one of her dreams come true."
Shemar also shared the news via Instagram. "Today is the day. You know your boy's got butterflies," he said in a video. "Today is a special day. This is a legendary day. Today, your boy Shemar Motherf**king Moore…is going to find out if he's going to be a daddy to a little girl or a little boy."
During the party, a helicopter was flying, spreading pink smoke that confirmed Shemar and Jesiree are expecting a baby girl. "I honestly just want whatever is healthy, happy like [Moore] says 10 fingers, 10 toes," the pregnant actress told the camera. "I'm just so excited for this portion of our life together, and it's going to be amazing."
While the baby girl is the first for Shemar, Jesiree has two other children, Kaiden, 16, and Charli, 5, from previous relationships. She shares her daughter with actor Stephen Bishop.
You can share this post!
Source: Read Full Article