The Blink-182 drummer takes to his Instagram Stories to share a love-filled token of affection from the reality TV star which is a pen drawing filled with hearts.
AceShowbiz –Travis Barker is showing off the love he gets from Kourtney Kardashian. On Wednesday, December 22, the rocker took to his Instagram Stories to share a love-filled token of affection from the reality TV star.
His post featured a pen drawing which was filled with hearts. In the doodle, Kourtney wrote, "Travis Barker forever + ever… I love you my baby, Kourtney Mary Kardashian."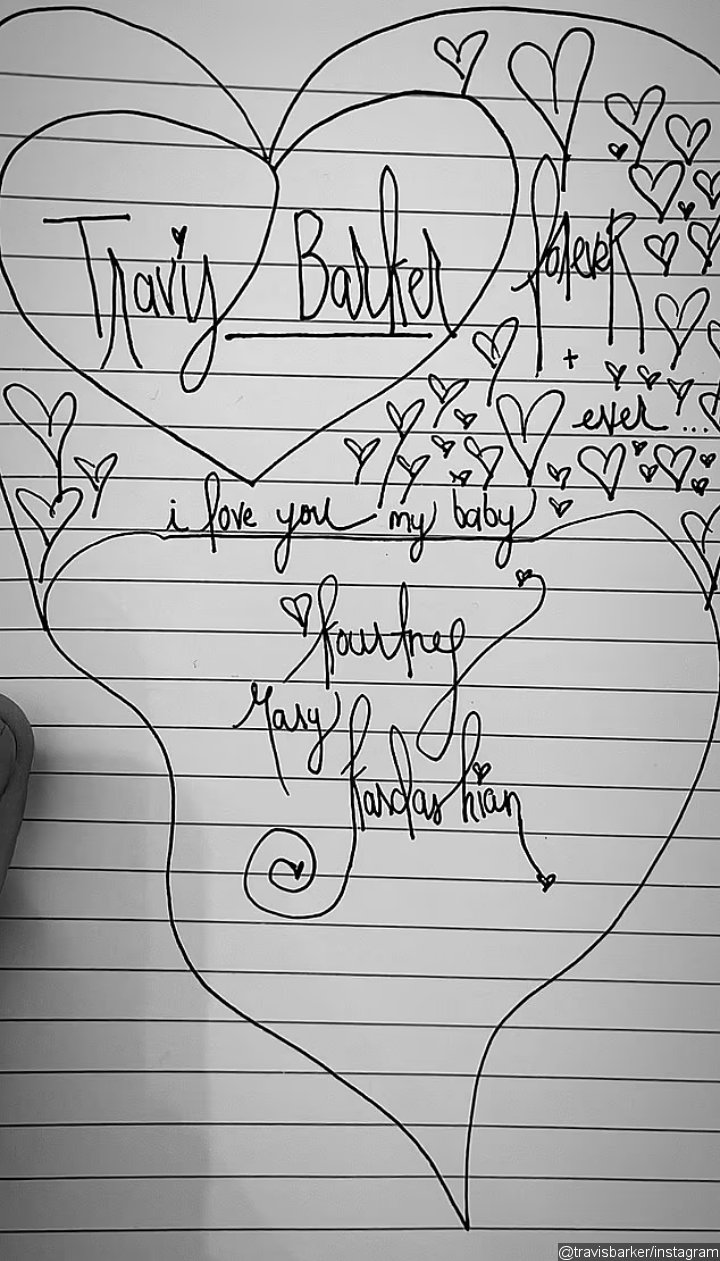 Travis Barker shared a doodle from Kourtney Kardashian.
Kourtney isn't the only one in the relationship who doesn't hesitate to show affection for each other. Prior to this, the Blink-182 drummer treated fans to a picture of his new tattoo which read "I love you" in the Poosh founder's handwriting.
Travis, who has over 100 tattoos on his body, gushed over the new ink which he declared as his "favorite tattoo." The musician wrote on Tuesday, "My favorite tattoo from my favorite tattoo artist." He also attached a link to a YouTube Short which showed Kourtney practicing her inking skills on Travis' skin.
Travis is indeed a huge fan of tattoos as he didn't hesitate to fire back at trolls who criticized his inks earlier this month. "The tattoos really look ridiculous, Travis. When you get older, you are going to regret it," one user wrote underneath the rocker's Instagram post featuring two shirtless pictures of him showing off his tattoos on his head and body.
In response to the diss, Travis hit back, "When I'm older I'm probably gonna hang out with other bada** tattooed dudes and generally look awesome. What are you gonna do when you just look like every other old person?"
Back to their relationship, Travis and Kourtney started dating in January as they made their relationship Instagram official in the later month. The lovebirds didn't want to waste time to take their romance to the next level as the rock star popped the question to Kourtney in a romantic proposal on the beach in Montecito, California in October.
"Since this is Kourtney's first engagement, it's, of course, a big deal," a source told PEOPLE shortly after the couple got engaged. "Most of her family was there to celebrate. Two of Travis' kids were there too. They enjoyed a private, family dinner at the hotel."
Source: Read Full Article