"The View" had a shake-up for Season 25 of the long-running talk show. Whoopi Goldberg, Joy Behar, Sunny Hostin, and Sara Haines were slated to return as hosts, but a hole had been left on the panel when Meghan McCain did not return. McCain had been on the daytime talk show since 2017 and served as the host who brought a conservative viewpoint, per The Hollywood Reporter.
The political pundit's views frequently clashed with other hosts, and this led to tension between McCain and her co-workers. In 2019, she described feeling "emotionally drained, angry, and isolated" and like "a caged animal" while working on "The View" (via the Daily Beast). McCain stuck around a couple more years, but officially announced her departure from the show in August. "Tomorrow is my last show as a cohost @TheView – as they say, it was the best of times, it was the worst of times," she tweeted.
Instead of choosing a full-time replacement, producers opted to bring in a series of guest hosts to fill McCain's role. Condoleezza Rice, Gretchen Carlson, Alyssa Farah, Mia Love, and others were slated to appear on "The View" in temporary duties (via Deadline). Love brings a slew of credentials as a conservative pundit with an expansive worldview. Not only was she the first Black woman elected to Congress to represent Utah, but she was also the first Black female Republican to serve in Congress, per Fox News. Keep reading to find out more about the host's intriguing past.
Inside Mia Love's beef with Donald Trump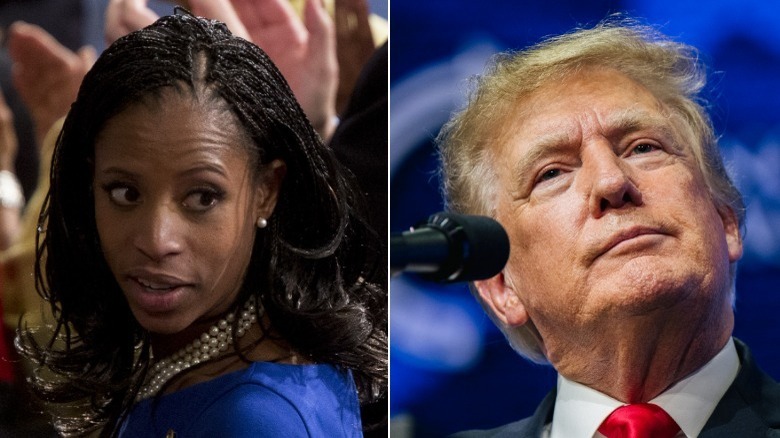 Prior to serving in Congress, Mia Love was the mayor of her hometown in Saratoga Springs, Utah. She was elected to the 4th Congressional District of Utah in 2014, where she served two terms until 2018, per Georgetown University. Although she is a Republican, Love had a contentious relationship with then-President Donald Trump.
Love had been openly critical of Trump, and he seemed to delight when she lost the congressional race in 2018. "Mia Love gave me no love and she lost," he said. "Too bad. Sorry about that, Mia," via CNN. The former congresswoman took note of Trump's words and fired back at him during her concession speech. "The president's behavior towards me made me wonder: What did he have to gain by saying such a thing about a fellow Republican," Love said. "However, this gave me a clear vision of his world as it is. No real relationships, just convenient transactions."
The Republican found a silver lining after failing to be re-elected to Congress, as she was finally able to speak freely. "But now, I am unleashed, I am untethered and I am unshackled, and I can say exactly what's on my mind," she said during her speech, per CNN. Following Love's public spat with Trump, she was invited to appear on "The View" in December 2018, where she admitted to being "surprised" by Trump's comments. Keep reading to see what she hopes to accomplish as a host on the hit talk show.
Mia Love is not afraid of on-air conflict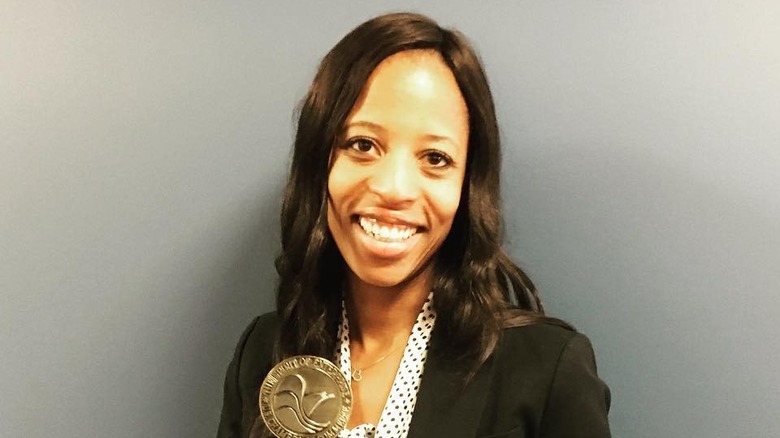 True to Mia Love's words during her concession speech, the former congresswoman "unleashed" her views. Love was brought on as a political commentator for CNN in January 2019. "My time in Congress has ended but the chance to engage Americans is only beginning – I'm excited to join CNN to offer a different, principled and unleashed perspective," she tweeted at the time. In late 2019, she toyed with the idea of once again running for Congress, but opted to stick with punditry.
Love's political background, coupled with her on-air experience, made her a seemingly perfect fit to join "The View." She hoped to not only reach a wide audience with her viewpoints, but to broaden her own perspective while on the daytime talk show. "This is a chance for me to be open and talk about my point of view and for me to absorb a point of view different than my own," she told The Salt Lake Tribune. Although Love realized that her conservative beliefs could make her a target for heated debates with other hosts. "I've been on CNN as the only conservative voice," Love said. "I'm ready for whatever comes. I've been through the wringer."
Source: Read Full Article