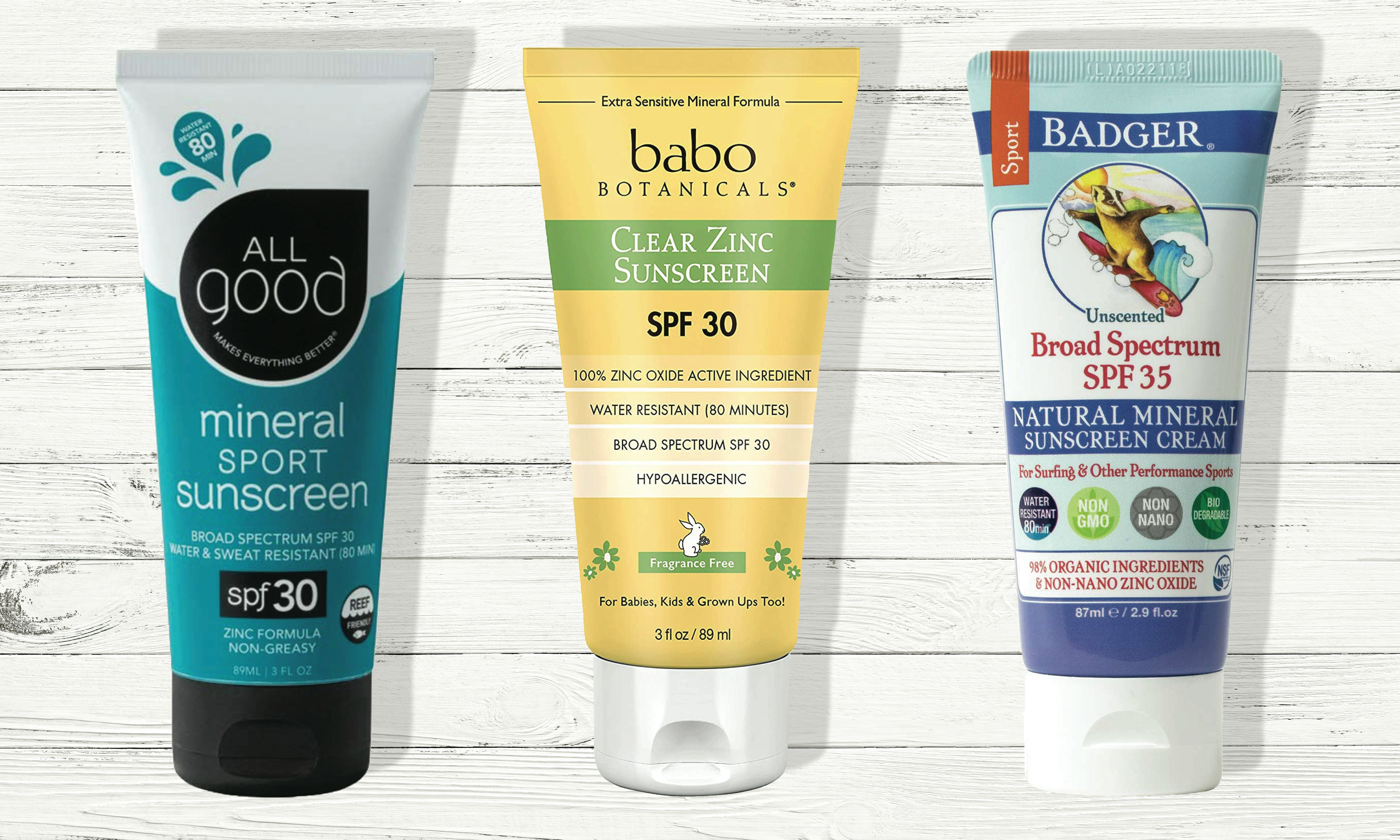 What exactly does it take to be considered one of the best eco-friendly sunscreens? The term itself is difficult to define, and brands may make bold claims about one aspect of their product's "eco-friendliness," but may not engage in sustainable production, manufacturing, or ingredient-sourcing practices. In terms of sunscreens, "Eco-friendly is a great aspiration," chemist Dr. Barbara Olioso, MRSC, of The Green Chemist Consultancy, tells Elite Daily. "However, it's not that simple, as there are no official or agreed tests to validate this claim."
More bad news from the expert: Even low concentrations of ingredients can negatively impact our coral reefs and oceans, which is why it's so difficult to develop truly eco-friendly sunscreens. You've probably heard the term "reef safe" — which means that the sunscreen doesn't contain oxybenzone and octinoxate, two ingredients that can harm coral reefs — but Dr. Olioso says that doesn't mean the product is guaranteed to be environmentally benign, due to other potentially harmful ingredients in the formula. Since dermatologists are unanimous – sunscreen is essential to protect us from the sun's ultraviolet rays – Dr. Olioso advises disposing of your SPF properly, such as in your bathroom shower, so that waste water treatment plants will capture it.
Lisa Fennessy, founder of This Organic Girl, tells Elite Daily that there's a lot to consider when shopping for an eco-friendly sunscreen, including whether the packaging is recyclable or made from recycled materials, or comes in plastic-free or zero-waste packaging. Other things to consider are whether the formula includes microplastics, which can negatively impact marine life; its carbon footprint; where the company donates, or if the brand has received certain third-party verifications.
Fennessy believes that the best environmentally friendly sunscreens are physical (aka mineral) sunscreens that use non-nano zinc or zinc oxide as the main active ingredient, and you'll find five of the best physical sunscreens rounded up ahead. They're also all free of synthetic fragrance, made by eco-conscious brands, and have an SPF of 30 or higher, as suggested by the American Academy of Dermatology.
A final piece of advice from Dr. Olioso: "Eco-friendly choices require a little bit of effort on our part, but they have a big impact on aquatic life which very much needs our support right now. We need to put pressure on the industry to develop green chemistry UV filters that will allow us to swim freely in the sea and be protected without negatively impacting the sea itself."
Scroll on to shop five of the best eco-friendly sunscreens for your face, lips, and body — then, be sure to pick up one of the best sun hats to really double down on your sun protection.
We only recommend products we love and that we think you will, too. We may receive a portion of sales from products purchased from this article, which was written by our Commerce team.
1. The Best Eco-Friendly Sunscreen Set
If you want to get all your sunscreen needs met in one fell swoop, check out the All Good Mineral Sun Care Set. It includes the brand's SPF 30 sunscreen lotion, SPF 30 sun stick, SPF 20 lip balm, and a thick body butter with SPF 50. Every product in here is fragrance-free, made with non-nano zinc oxide for UVA/UVB protection, and infused with nourishing botanicals like aloe, shea butter, calendula, green tea, jojoba, and coconut.
About the brand: All Good is Leaping Bunny certified cruelty-free and a certified B Corp company, to start. (Do note that though the B Corp designation signifies that a company has met certain environmental and social benchmarks, there is a debate on whether it is as meaningful as consumers believe it to be, and Dr. Olioso makes it clear that "B Corp does not assess [a] formula's environmental impact, but only the CO2 emissions associated with the running of the business.")
All Good also strives to use certified-organic ingredients in their products whenever possible, donates 1% of their profits to global causes through 1% for the Planet, and makes a lot of products using plastic-free packaging, like the above-mentioned body butter. Note that some of their products are not vegan, though, due to the inclusion of beeswax.
2. The Best Sport Sunscreen For Face & Body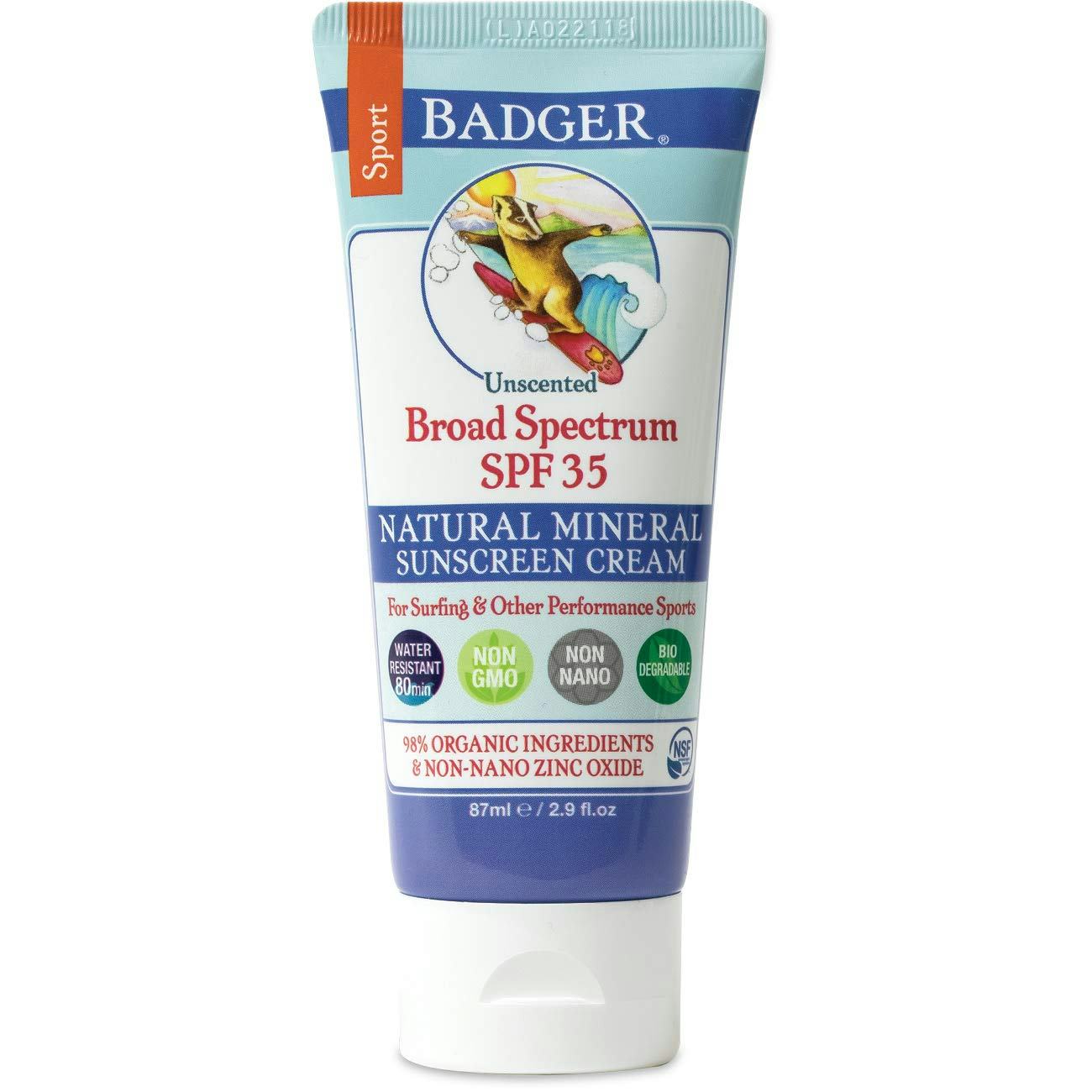 This Badger Sport Sunscreen Cream with SPF 35 contains only five ingredients: non-nano zinc oxide, organic sunflower oil, organic beeswax, organic jojoba oil, and tocopherol (aka vitamin E). It's fragrance-free, water resistant up to 80 minutes, and biodegradable, and boast's the NSF's seal of approval (which means it's made with at least 98% organic ingredients). That said, like most mineral sunscreens, it may leave behind a bit of a white cast, so you'll want to rub it into your skin really thoroughly.
About the brand: Badger is also a certified B corp brand, and have been certified as cruelty-free by Leaping Bunny. Most of their products boast other, third-party certifications as well, like the Fair Trade seal and/or organic certifications from the USDA and the NSF. They're transparent with consumers about their manufacturing practices, too — you can read about their ingredient standards, processing standards, and ingredient growers through these links here.
3. The Best Clear Sunscreen For Face & Body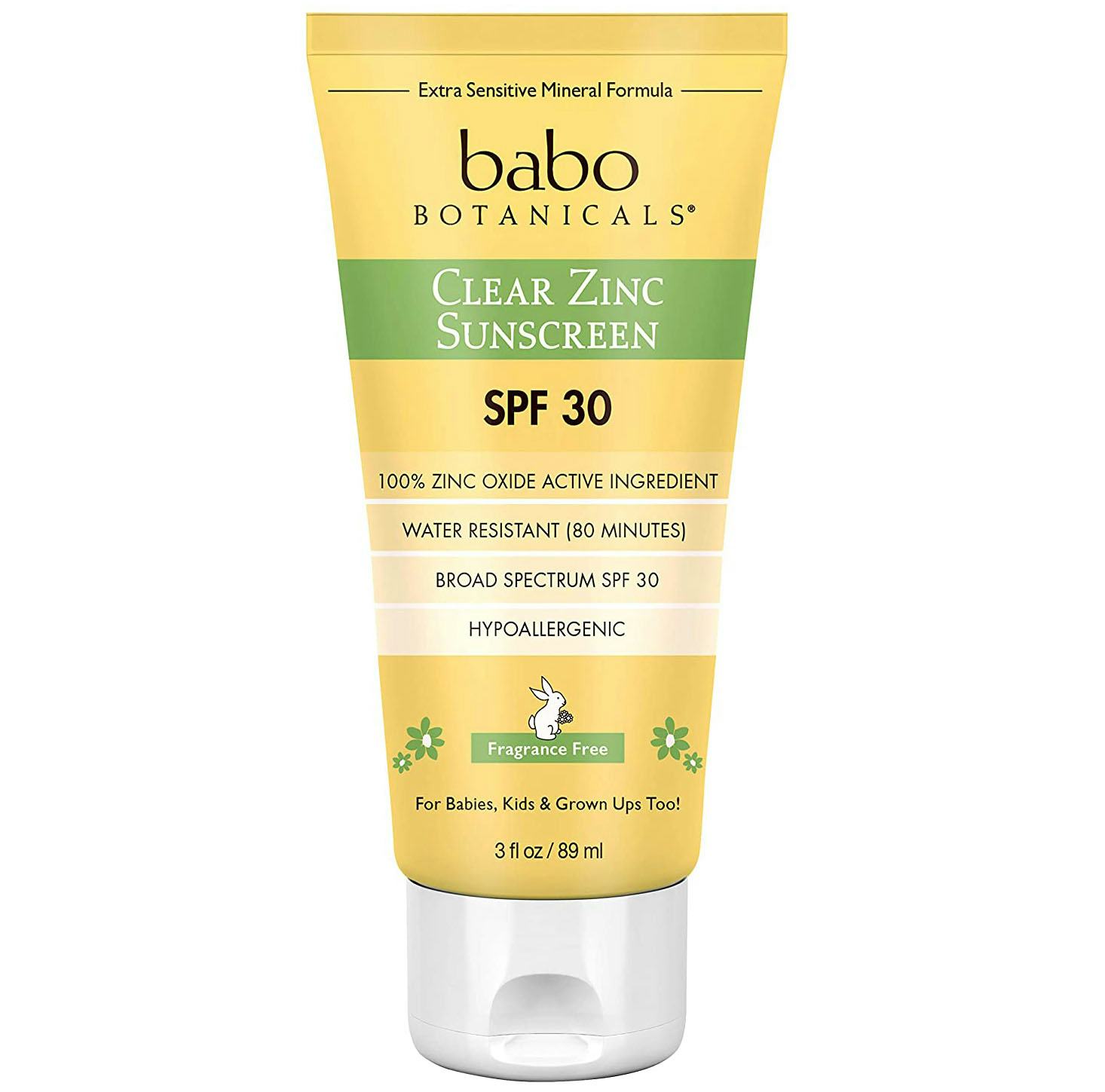 Here's another great face and body sunscreen to consider, but this one is designed to blend into skin invisibly (though you should take that claim with a grain of salt, as any product that contains zinc oxide is likely to leave behind some form of a white cast). It's made with 16% non-nano zinc oxide for SPF 30 protection, as well as shea butter, glycerin, coconut oil, and other nourishing ingredients. This is safe to use on babies aged 6 months and up, and is water resistant up to 80 minutes.
About the brand: Babo Botanicals is a certified B corp, PETA-certified cruelty-free, and supports causes that promote urban farming and educating children on gardening and nutrition. Read more about the brand's certifications and mission.
4. The Best Body Sunscreen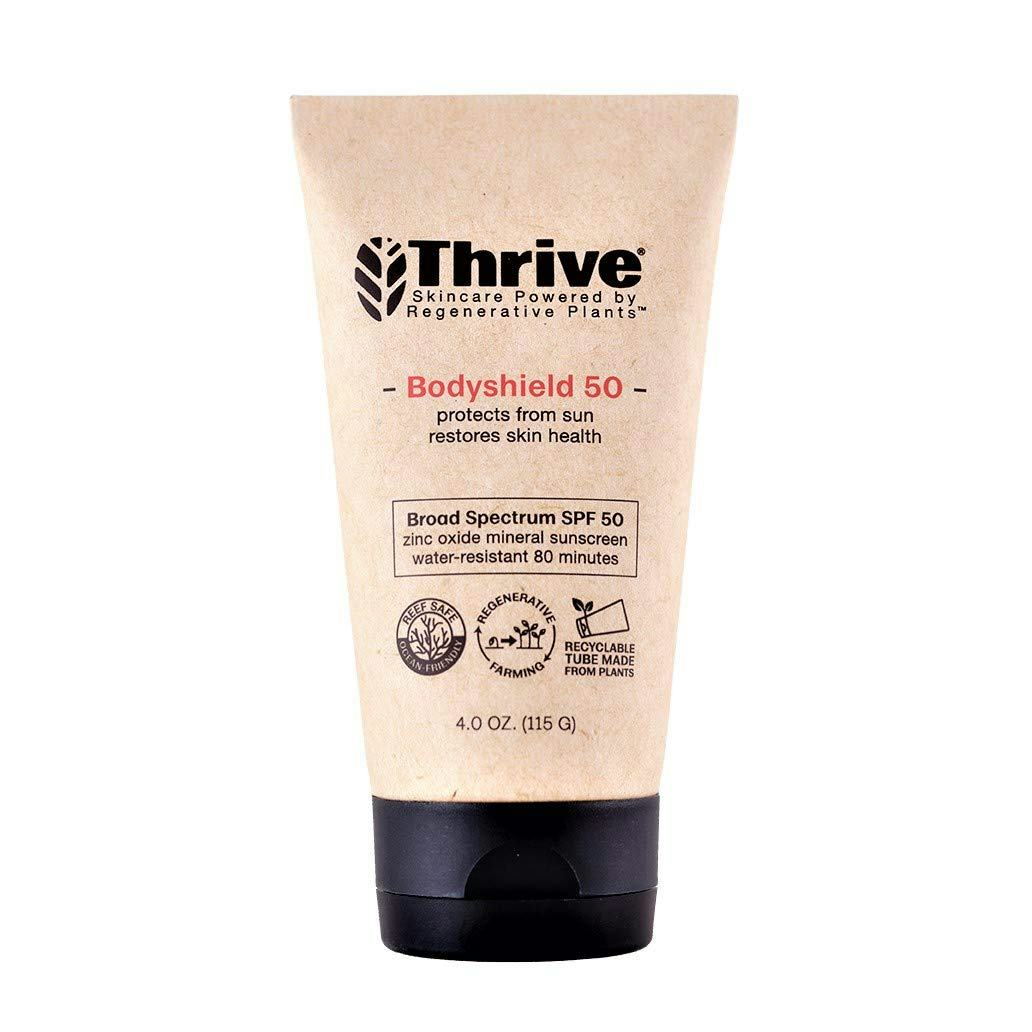 Indie beauty brand Thrive makes this body sunscreen with SPF 50 that's water resistant up to 80 minutes and packaged in a recyclable bottle that's made from plants. It's made with lots of unique botanical ingredients, many of which are harvested on the brand's farm in Costa Rica, that have nourishing benefits and antioxidant properties. Note that while this sunscreen is free of synthetic fragrance, it does have a light, citrusy scent courtesy of a blend of essential oils.
About the brand: Thrive is vegan and cruelty-free, and all the brand's ingredients were reviewed by Whole Foods Market, where they were then certified as "Premium Bodycare", meaning they meet Whole Foods' highest ranking in terms of sustainability, safety, and efficacy. Another cool thing about the brand is their Regenerative Mission, which you can read more about here — but basically, they're committed to improving the soil and biodiversity of the land on which they farm.
5. The Best Eco-Friendly Sunscreen Stick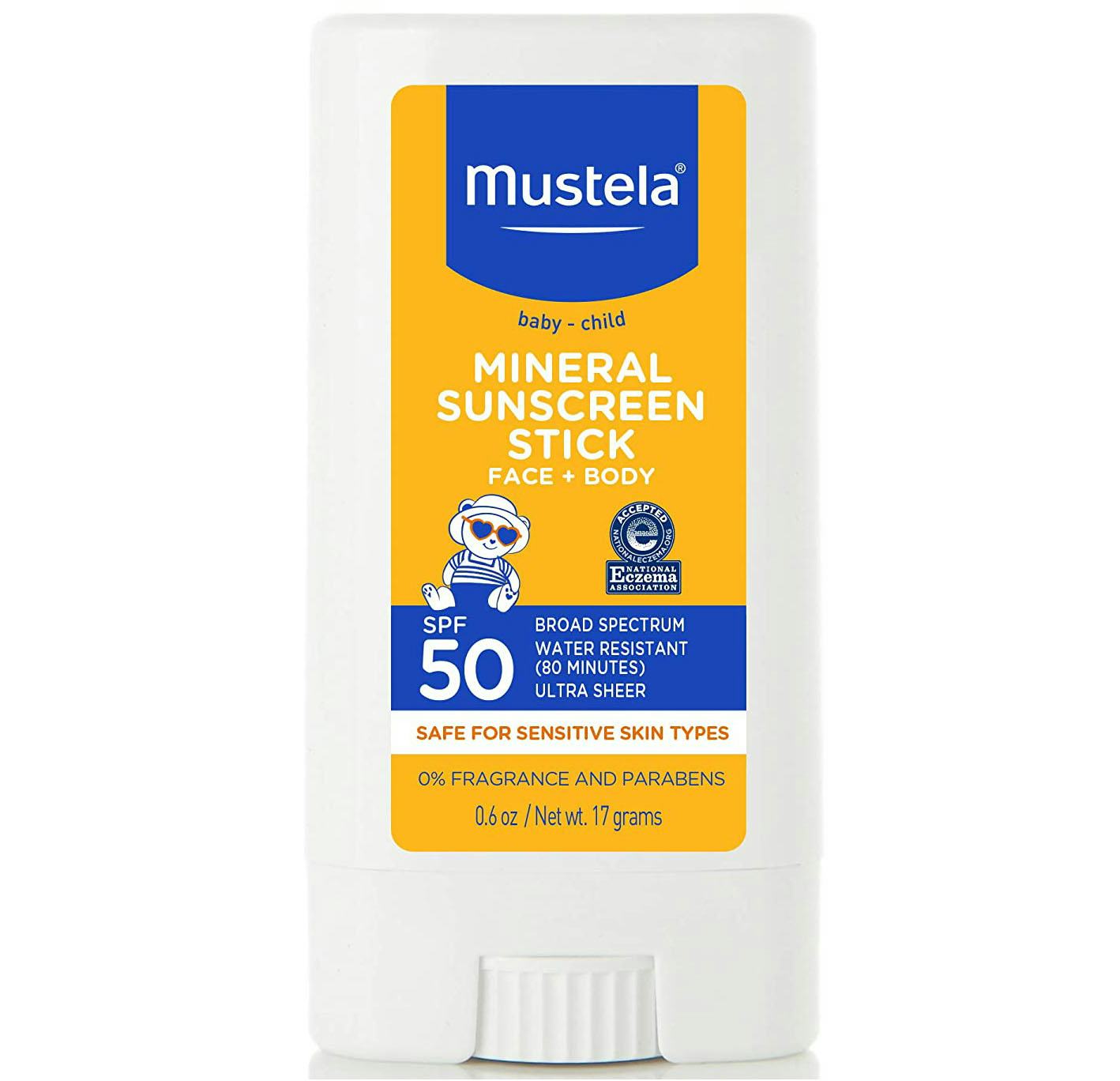 Mustela's Mineral Sunscreen Stick with SPF 50 is a convenient, travel-friendly sunscreen that's gentle enough for the whole family. Water resistant for up to 80 minutes, it boasts the National Eczema Association's seal of acceptance, meaning it's safe for use on even the most sensitive skin. This is made with over 70% organic ingredients that have met NSF standards, and can be used on both your face and body.
About the brand: Mustela is working to be carbon neutral by 2030, uses green energy in their manufacturing, and is a certified B corp company. All of their containers are recyclable and, whenever possible, they make their formulas biodegradable (though this specific sunscreen is not). Note that the company recently launched a COSMOS-certified-organic line of vegan skin care products, which includes a fragrance-free cleansing gel, hydrating face and body cream, and even a micellar water.
Experts:
Dr. Barbara Olioso, MRSC, Managing Director, The Green Chemist Consultancy
Lisa Fennessy, Founder, This Organic Girl
Source: Read Full Article