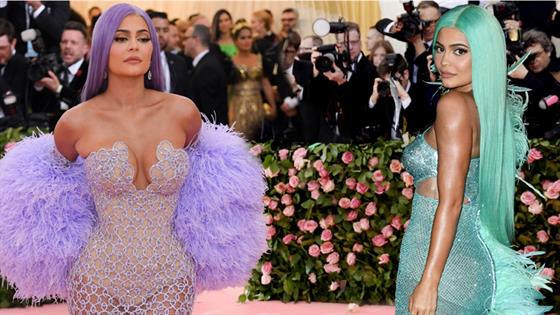 Kylie Jenner's Met Gala 2019 outfit was a project.
The 21-year-old Keeping Up With the Kardashians star and Kylie Cosmetics founder and sister Kendall Jenner, 23, wowed onlookers at the star-studded fashion event on Monday with corresponding custom-made lavender and tangerine feathered Versace gowns. They were also joined by Kylie's partner Travis Scott, the sisters' mom Kris Jenner and her partner Corey Gamble, and their older sister Kim Kardashian and her husband Kanye West.
A behind-the-scenes look at Kylie's Met Gala prep was posted on Vogue's YouTube channel on Wednesday.
"Four months ago, I started looking at sketches," she said. "They showed me those first sketches and it looked a little more like cowgirl vibes, like it was green, it had a big cowgirl hat. And then they showed me another version, which was more colorful. I was thinking of doing more like a monochromatic look, so I didn't change it much. I loved what it looked like. I was very happy with the sketches."
Kylie's dress is made of interlaced crystal mesh, Swarovski crystals and ostrich feathers and has removable, large feathered sleeves.
Dimitrios Kambouris/Getty Images for The Met Museum/Vogue
She said the designers "nailed" the look seen in their sketch. While being fitted in her dress, the waist was made tighter per Kylie's request. She wore a long lavender wig to complete her look.
She almost wore a lavender feathered headpiece. It was a toss-up between that and the feathered sleeves.
"Kylie, Bible, the sleeves," Kendall told her.
Via phone, their sister Khloe Kardashian also voted feathered sleeves instead of the headpiece.
"OK," Kylie said. "Take the f–king hat off."
https://www.instagram.com/p/BxK3GeeA4wk/
View this post on Instagram
Kylie said that they were choosing between the headpiece and sleeves. Which one fo you like better? I like the sleeves she chose! They make the whole look more big and grand and shows off her purple wig more
A post shared by Kylie Jenner News (@kyliesnapchat) on
Kylie said she wanted to "make all the right decisions," adding, "I don't want to look back at the look and say, 'I wish we did shorter hair,' or 'I wish we didn't do colored hair,' 'I wish we didn't do this.'"
"I'm very hard at making final decisions because I see a lot of different visions," she said. "I just try not to stress myself out. I'm like, 'Alright, I'm just going with my gut. Hopefully, it works. I'm gonna own it.'"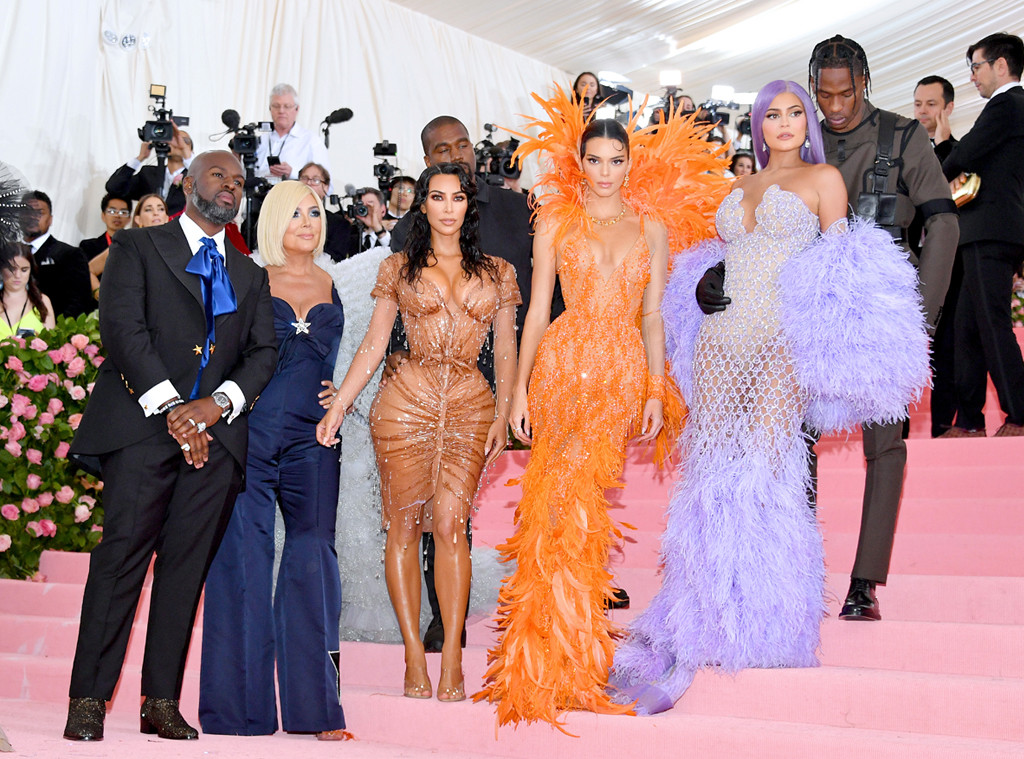 Dia Dipasupil/FilmMagic
In the video, she talked about pairing up with Kendall, for a "triple date" with her and Travis, at the Met Gala.
"We decided to go together this year, which is fun," she said. "Her dress is orange. I was trying to convince her to do pink, so she would be pink and I would be purple, but she's not a pink girl."
Before heading to the Met Gala, she took professional photos with Kendall, Travis and the couple's 1-year-old daughter Stormi Webster.
"Let's go, family, it's show time! IT'S F–KING SHOW TIME! AAAH!" Kylie yelled as she made her way through a hallway with her glam team.
Source: Read Full Article