"What my life looks like right now is insane … Everybody wants to know what's going on with my marriage. Like, I do too," the real estate broker said.
It's safe to say Mauricio Umansky is not happy with the ongoing speculation surrounding his separation with Kyle Richards.
While appearing on Thursday's episode of The Skinny Confidential's Him & Her podcast, The Real Housewives of Beverly Hills star shared his thoughts on the media coverage and public interest in his split with Richards, blasting the "speculation and the BS that's out there."
Umansky — whose separation from Richards was revealed over the summer — didn't hold back sharing his true feelings, telling everyone to "take a hike and f–k off" until he, himself, knows what's happening in his marriage.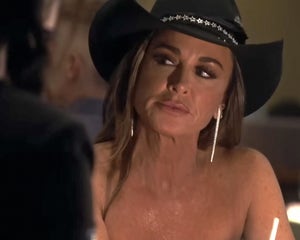 Kyle Richards Admits She's 'Not Happy' In Marriage, Reveals Issues with Mauricio on RHOBH
"What my life looks like right now is insane," Umansky, 53, told podcast hosts Lauryn and Michael Bosstick. "It's out of control the amount of stories that are coming out on a daily basis about, you know, everybody wants to know what's going on with my marriage. Like, I do too."
"We're going through a struggle, we're going through issues just like everybody else does," he added. "And it doesn't change on a daily basis. If we're separated, that means we're giving each other time to allow things to happen. And the tabloids right now, they want to write a story about it every single day and I get calls and I get stopped and I'm like, 'Guys, it's just not happening that fast.' When I know what I'm doing with my marriage, I will let you guys all know. Until then, everybody can take a hike and f–k off, pardon my language."
The Agency CEO said he does "not let the noise get in," although it's often difficult to avoid.
"It's hard sometimes, the noise gets in, don't get me wrong. I don't have a Google alert on myself, I already know what happened to myself,' Umansky shared. "I wake up every morning, I know where I am I know what I'm doing, I know what happened yesterday. I don't need to read about myself to know what happened yesterday. Or to read speculation about what's going to happen tomorrow. So I don't read that stuff. I don't have a Google alert on my wife."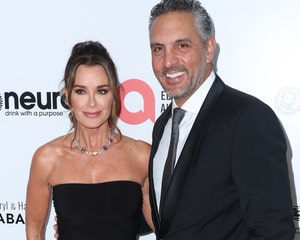 Kyle Richards Responds to Claims She 'Fabricated' Marriage Issues for Relevance and Ratings
While viewers are seeing the early stages of their marital troubles continue to play out on new episodes of The Real Housewives of Beverly Hills, Umanksy said he's not watching along.
"I'm actually not watching it this season," he explained. "Because I also know that they're dramatizing everything. And there's a bunch of stuff that I don't even want to see because it will create more noise with me. The people that watch that show are all opinionated and they just don't realize that there are two humans on the other side of that opinion. And that's really, really difficult."
"I always tell my wife, 'I know what happens to us,'" he added. "I don't need to read the speculation and the BS that's out there."
Since the former couple announced their separation, they've continued to navigate what that's going to look like moving forward.
The latest hurdle they encountered was Umansky's time as a celebrity contestant on Dancing with the Stars. As often happens with celebrities and their professional dance partners, romance speculation began to circulate about Umansky and Emma Slater.
While the partners maintained that their friendship was platonic, even Richards wasn't so sure after photos of them holding hands in Los Angeles went viral. She told Andy Cohen on What What Happens Live that she knows there's something there.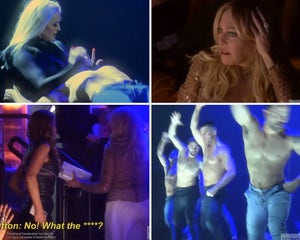 RHOBH Recap: Kyle Richards Cusses Out 'F–king Bitch' Sutton Stracke Following Magic Mike Meltdown
Richards also got emotional talking about her marriage during BravoCon earlier this month. She even let slip the word "divorce" at one point, though later clarified that she misspoke.
"I misspoke on the red carpet today. Two times I had to correct someone when they said 'divorce,' I said, 'Separated,' and then I went and said it and then it went everywhere, so that's my bad,'" Richards said during a taping BravoCon Live.
Meanwhile, on Wednesday's episode of RHOBH, which was filmed before their split, Richards became emotional while talking to Dorit Kemsley about the tough year of her marriage.
She got choked up after being asked if she worries about the future of her marriage, saying it feels like they're "growing in different directions." See more from the episode, here.
Umansky and Richards tied the knot in 1996. The two share four daughters: Farrah, 34, Alexia, 27, Sophia, 23 and Portia, 15.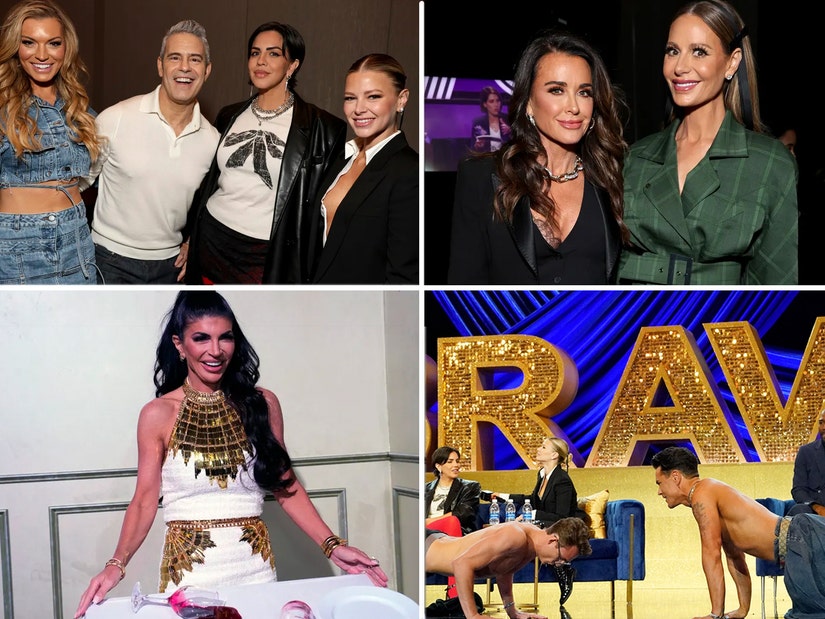 Source: Read Full Article