The guy's mom said she found out about the shocking footage — which went viral online — when a talk show she was watching started talking about it.
"It's not something a mum wants to see."
That's what a 51-year-old British mother is saying after footage of her son having sex inside the bathroom of an easyJet airplane went viral on social media — and became a talking point on one of her favorite talk shows.
Last week, a young man and an unidentified female passenger on the same plane bound for Ibiza were literally caught with their pants down inside a lavatory onboard the aircraft after a crew member opened the bathroom door mid-flight. The rest of the passengers aboard the plane began to cheer, while the woman raised her hands in celebration after later emerging from the restroom.
The young man has been identified by his own mother as 23-year-old Piers Sawyer, who was celebrating his birthday.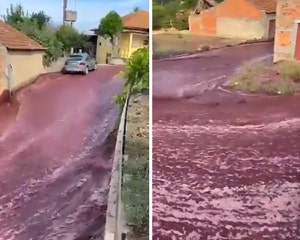 Red Wine Literally Floods Portugal Town and Internet Wants a Straw
"I was watching [UK talk show] Loose Women and they were talking about it on there, and some of Piers's friends started sending me the clip," the mom, Elaine, told The Sun. "It's not something a mum wants to see."
"You're aware these things are going to happen at the holiday destination but you don't expect it to happen on the flight," she continued. "But he's a 23-year-old single lad on his birthday, going to Ibiza. It's a party plane."
She went on to say she didn't believe her son knew the other woman before the flight, saying the passengers were "all just having a good time in the airport and then this happened." She said that while it's "embarrassing," she noted that she didn't believe "they were doing anyone any harm" — and said her son "doesn't want to talk about it" and "probably just wants to forget it."
Elaine said she didn't believe the crew member should have opened the door, despite the other passengers "egging him on."
In a statement to USA Today, an easyJet spokesperson said, "We can confirm that this flight from Luton to Ibiza on 8 September was met by police on arrival due to the behavior of two passengers on board." Per The Sun, police in Spain, however, have no record of the incident.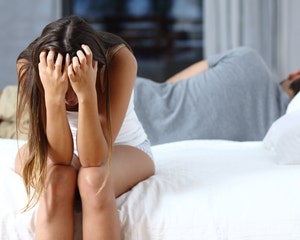 Woman's Boyfriend Had Sex with His Dying Friend – Now She Feels Guilty for Being Jealous
Source: Read Full Article