For our free coronavirus pandemic coverage, learn more here.
Go back a few years and the only time you spotted a sewing machine was on RuPaul's Drag Race. Now they are everywhere, courtesy of a new enthusiasm for craft skills.
Younger Australians, it seems, have noted that many of their elders allowed themselves to be deskilled – buying container crates of cheap, ready-made clothes, creating a whole generation that could hardly sew on a button.
The imported clothes were often rubbish – "stitched with a red-hot needle and burning thread", to use an expression of the past – meaning their seams would come apart if you so much as looked at them.
Well, no longer. There are now craft shows on TV, a movement called cottagecore on the fashion pages, and hordes of 16-year-olds begging their grandmother to lend them the Janome.
Sewing may have been largely forgotten for a generation or two, but it's been an important part of Australian history.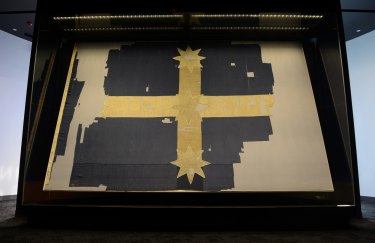 The original Eureka Flag: stitched together by women working under the cover of darkness to avoid suspicion.Credit:Adam Trafford
Where would the striking miners of the Eureka Stockade be without their Eureka Flag – stitched together by women, working under the cover of darkness to avoid suspicion?
The enormous flag, measuring 4 metres by 2.6 metres, served as a call to arms. It was the starting point of the rebellion. Only after seeing the flag, did the miners begin to gather and protest.
The names of those who sewed the flag are as important as those of the men, yet aren't so often mentioned. They were Anastasia Hayes, Anastasia Withers, Anne Duke— and according to historian Clare Wright – at least one more, Eliza D'Arcy.
It's often said you could write a history of Australia by pulling any random thread, and then the whole story of the country will unravel. If looking for an unusual thread to pull, perhaps thread itself – sewing thread – would be a good place to start.
In the 1890s, the cookery writer Harriet Wicken listed the three items essential to a well-run Australian home: an ice chest, a piano and a sewing machine. At the same time, the Melbourne philanthropist Lady Janet Clarke established the sewing group, Time and Talents, to make clothing for the poor.
Sewing may have been largely forgotten for a generation or two, but it's been an important part of Australian history.Credit:Bloomberg
During World War I, groups such as the Lady Mayoress's Red Cross Sewing Guild in Sydney worked under the slogan "Sewing for Soldiers". While they worked, they may have cared to hum the hit song of the time, Sister Susie's Sewing Shirts for Soldiers, with its rather raunchy refrain, celebrating "the saucy, soft, short shirts for soldiers sister Susie sews."
While they worked, they may have hummed the hit song of the time, Sister Susie's Sewing Shirts for Soldiers, with its rather raunchy refrain.
During the Depression, the Volunteer Sewing Guild, established by the Dominican sister and educationalist Catherine O'Brien, was one of many that took up the cause of providing clothing for the poor. It continued for many years after her death.
There was more sewing action during World War II, with busy Sydney groups such as the Jewish War Memorial Red Cross Sewing Circle, established by Rieke Cohen, and the Lindfield Welfare Workers set up by the educationalist Nona Dumolo.
Any Australian history of sewing would also have to include the role of Indigenous women. The Indigenous artist Dale Harding uses sewing, embroidery and quilting to tell of the indentured domestic labour of many Aboriginal women, including his grandmother and great-grandmother.
One of the most eye-catching works in Sydney's Museum of Contemporary Art is his piece bright eyed little dormitory girls, 2013 – five rough hessian garments, copied from the garments that would have been worn by his great-grandmother, and finished with the delicately embroidered crowns that mark the wearer as state property.
The practice of "taking in sewing" was a common way of alleviating poverty. Henry Lawson's mother, Louisa Lawson, did it in the 1870s while raising five children. So did the union organiser Henrietta Greville, keeping the wolf from the door in 1890s. And so did Martha McKell, abandoned by her husband in the early 1900s and trying to raise her three children, including the future Labor premier of NSW Sir William McKell.
Others made their fortunes from sewing. In the 1860s, Thomas Stanford acquired Australian rights for the Singer sewing machine and set up a system of travelling salesmen, who travelled from door to door with a model machine mounted on the back of a buggy. They hit record sales in the late 1870s.
Frank Theeman, a 1970s land developer who many connect with the disappearance of Juanita Nielsen, began his road to riches with the importation of six sewing machines from Vienna. The new ABC true crime podcast Unravel: Juanita is the latest to investigate his role in the crime.
Not everyone could sew. Dame Zara Holt, wife of prime minister Harold Holt, confessed she did not have the skill. Reg Ansett, aviator and businessman, might not have sewed himself, but he began his professional life as a sewing machine mechanic, later transferring that skill to aircraft.
There are so many threads you can pull in telling the story of Australia, but mostly we pull the same old ones – war, politics, economics. They unravel a story that's often disproportionately male.
So, thanks to the crafty young Australians who have embraced sewing, and thus inspired this brief stitch in time.
Oh, and thanks to both Trove and the Australian Dictionary of Biography, whose searchable archives are bliss for the thread-pullers among us.
THE BOOKLIST
The Booklist is a weekly newsletter for book lovers from books editor Jason Steger. Get it delivered every Friday.
Most Viewed in Lifestyle
From our partners
Source: Read Full Article