Sydney artist Tony Costa had been studying law for more than two years when he went to his mother, standing at the kitchen sink of the family home in Strathfield, undecided if he should continue with law.
"I said, 'What do you think I should do? I'm torn'. And without turning she said, 'Follow your heart'. But I thought she said, 'Follow your art'."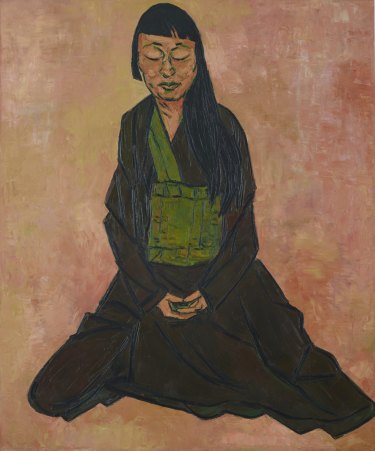 Archibald Prize 2019 winner: Tony Costa, Lindy Lee, oil on canvas, 182.5 x 152 cm, © the artist
Credit:Tony Costa
Highly commended was Jude Rae for her portrait of actor Sarah Peirse as Miss Docker in Patrick White's play A Cheery Soul.
Indigenous artist Sylvia Ken took out the $50,000 Wynne Prize for landscape painting or figure sculpture – and the $40,000 Sulman Prize for subject, genre or mural, went to Sydney artist McLean Edwards.
Last week, first-time finalist Tessa MacKay was awarded the Packing Room Prize with a photorealistic portrait of actor David Wenham.
Lee, herself an Archibald finalist in 2002, is the first winning Asian Australian sitter in the prize's 98-year history – a sign, said gallery curator Anne Ryan, that the Archibald Prize, like every other part of our culture, is "catching up with the reality of the people in our streets".
"The trustees and artists are simply responding to the way Australia is," said Ryan.
Lee, who was in Shanghai at the time of the winner announcement, said she was thrilled for Costa. "He just asked me to sit still in meditation for a few hours, which is kind of like my favourite sport," she said. "I'm thrilled that he's won. He's been a very prolific and hard-working artist for many decades and he deserves to win this wonderful prize."
This was Costa's fourth time as an Archibald Prize finalist and he usually paints in one or two sittings. "They either work or don't work and I throw them out," he said. "No safety net."
He painted Lee, a painter, sculptor and practitioner of Zen Buddhism, in his suburban studio over two days late last year, stretching her torso, minimalising the colour to avoid any visual noise and using the folds of her gown to give the illusion she is floating.
He had come across Lee at the art gallery, where she was giving a talk, and found himself agreeing with her ideas. He'd also been impressed with her humility and courage. "She's a beautiful human being," he said.
The record number of 919 entries for the three prizes this year was culled into the final exhibition by the Art Gallery of NSW Board of Trustees, led by Gonski, deputy Gretel Packer and artists Ben Quilty and Khadim Ali.
While Gonski said it was not an easy year to pick, and joked he bore the wounds of a lively and thoughtful debate, in the end, the judges' decision was unanimous.
Michael Brand, director of the Art Gallery of NSW, pointed out that it was a strong year for Indigenous artists with 19 works hung in the three prizes this year, and a record number of eight portraits of Indigenous Australians among the Archibald Prize finalists.
The public exhibition of finalists in the Archibald, Wynne and Sulman Prizes opens on Saturday and will tour regional NSW and Victorian galleries from September.
Source: Read Full Article