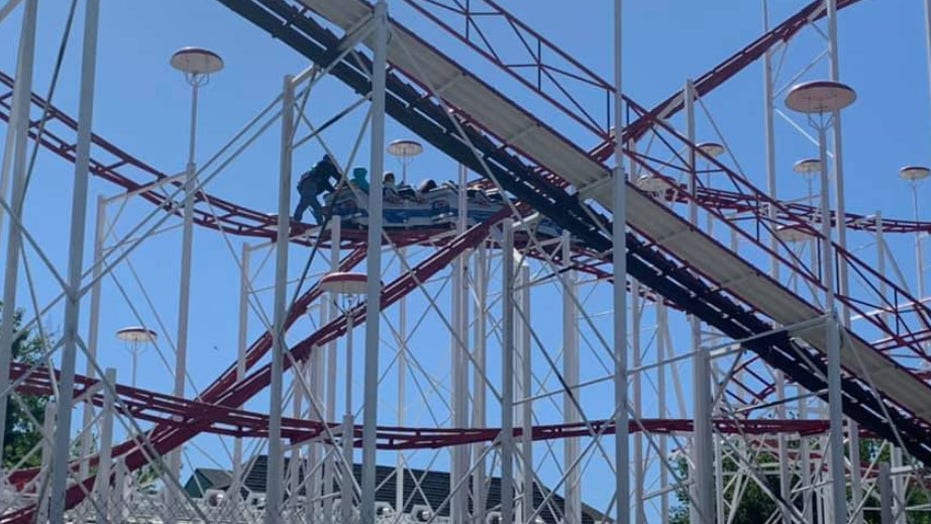 Fox News Flash top headlines for May 21
Fox News Flash top headlines for May 21 are here. Check out what's clicking on Foxnews.com
A group of children was trapped on a roller coaster in Amarillo, Texas, when the car became stuck in the middle of the track.
The incident occurred early Tuesday morning at the Wonderland Amusement Park. Local reports said 12 children who were at the park for a year-end school party were riding the Mousetrap roller coaster when it became stuck due to weather-related conditions.
According to the Wonderland website, the Mousetrap is 52 feet tall and 1,710 feet long.
The Amarillo Fire Department was called in to help with the situation, Fox 8 reported. Unfortunately, they weren't able to get the car moving and had to find another way to get the children out of the ride. Photos shared to Facebook show the firefighters and park employees used a cherry picker to reach the children.
All of the children were successfully rescued from the ride and no injuries were reported.
"AFD assisted Wonderland Park employees on a roller coaster rescue today. 12 kids were stuck near the top until they were brought safely to the ground on a lift. We are happy to report everyone is safe and there were no injuries," the Amarillo fire department wrote on Facebook along with the photos of the rescue.
In a statement obtained by Fox News, the park's owner, Paul Borchardt, said, "Unfortunately, a combination of weather-related factors, including a high wind gust, caused the Mousetrap roller coaster to stop while mid-ride Tuesday morning. Wonderland employees, along with help from the Amarillo Fire Department, quickly evacuated everyone on the ride without incident or injury."
Source: Read Full Article