Prince Charles is next in line for the crown. But according to a royal biographer, Queen Elizabeth sees her son as more of an interim. And she's putting all her hope for the monarchy's future on Prince William and Kate Middleton. 
Prince Charles will likely be the next King of England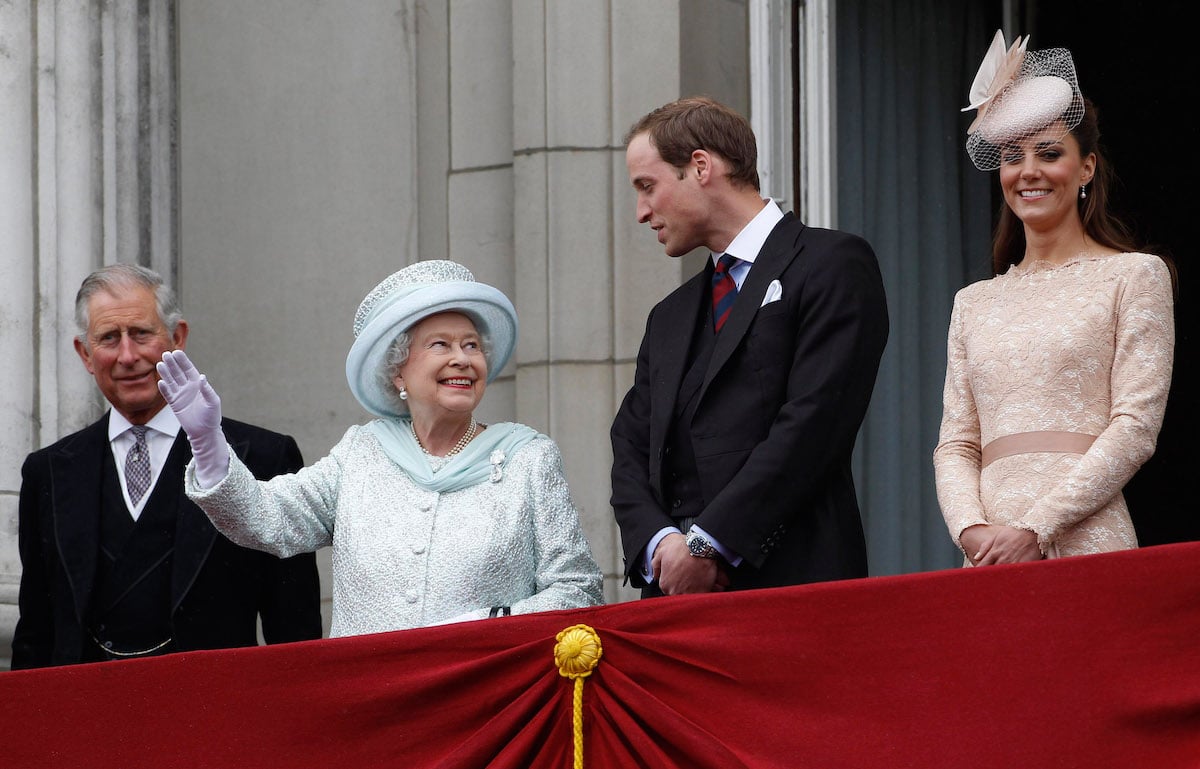 As Queen Elizabeth's oldest son, Prince Charles is set to become the next King of England upon her passing. However, it's not something the 73-year-old looks forward to. Charles told NBC in 2010 that he would take the throne "if it comes to it" but that "regrettably, it comes as a result of the death of your parent." 
But some reports suggest the Prince of Wales is not interested in becoming a monarch. In an interview with The Sun, Princess Diana's former voice coach, Stewart Pearce, suggested Charles might abdicate and hand the reins to his son, Prince William. 
"He may not take the throne; he may hand it to his young son," Pearce said. "He doesn't want to do it — such a difficult task."
Queen Elizabeth sees the future of the monarchy in Prince William and Kate Middleton 
Though Prince Charles is set to take her place, Queen Elizabeth might be looking to William and Kate to carry on her legacy. As reported by Vanity Fair, royal biographer Andrew Morton told OK! Magazine that she sees the couple "very much as the future" of England.
According to Morton, the Queen views Charles as more of an interim ruler, similar to King Edward VIII, who ruled for less than a year before abdicating his crown to George VI. And he suggested she feels the "burden of monarchy" really falls on the Duke and Duchess of Cambridge. 
Many British citizens want Prince William to take the throne 
Queen Elizabeth isn't the only one counting on William and Kate. Polls have shown that most UK citizens prefer that the Duke of Cambridge take over the monarchy when the Queen is gone. As reported by Express, in a recent Ipsos poll, Prince William proved to be a more popular choice for King than Prince Charles. 
A survey of 1,039 British adults found that only 49% of people believe Charles would make a good king. 20% thought he would do a bad job in the role. And 25 percent were more neutral, saying they didn't think he would be good or bad.
But for William, the numbers were far more favorable. 74% of those surveyed thought William would be a good ruler, and 13% believed he wouldn't do a good or bad job as King. And 7% admitted they felt William wouldn't do so great. 
But the poll also revealed that most Brits are still in favor of Queen Elizabeth's reign. 66% of respondents said they want the monarch to rule as long as possible. And only 23% felt that the 96-year-old should abdicate. 
Source: Read Full Article