You don't need to be a tarot card pro, to get your cards read. All you need: Your Sun sign! Here's what I do: Shuffle my tarot deck and pull out the cards in order from Aries-Pisces, plus one general card for everyone, so that you can get specific advice around your personality.
Basically, if your bank account is not ready for a full tarot reading just yet, this one should help tide you over for now!
A GENERAL CARD FOR EVERYONE: QUEEN OF SWORDS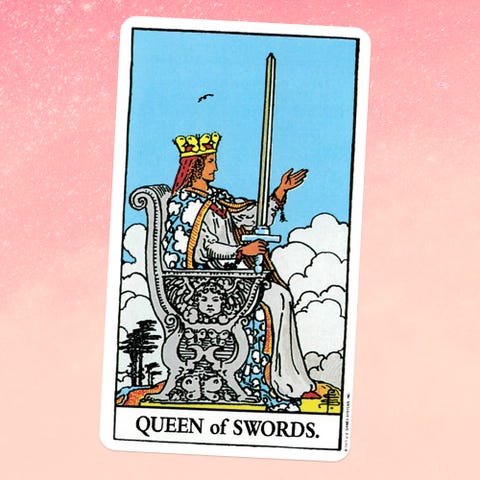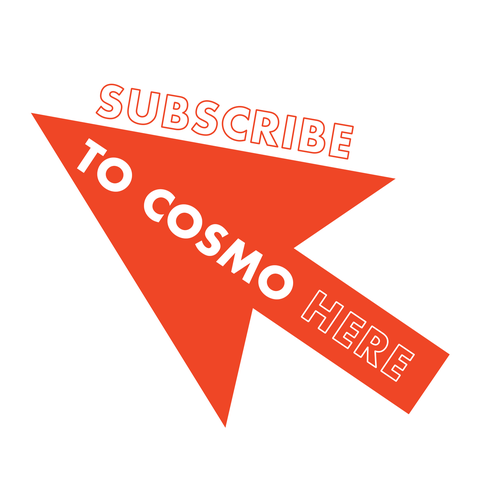 Is there an older woman you know (especially a more aloof Air sign–Gemini, Libra, Aquarius) who seems like she might be kinda lonely right now, or in need of a friend? It could be your mom, a coworker, a teacher–someone who puts out very 'I'm FINE' vibes, so people leave her to it (*SPOILER* she's not always so fine, she's just like the rest of us). Reach out, make a call, stop by–lean in to someone else's life, and let them know you think about them.
ARIES: THREE OF WANDS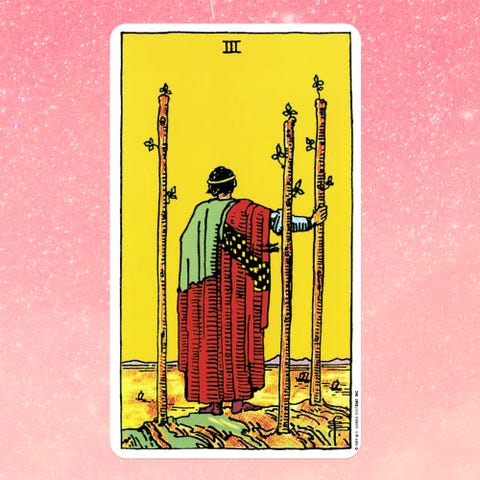 Collaboration is the key for you this week, so join forces with someone (Virgos are particularly a good money-making match for you) and go further together. Start a project, or pick back up on a lapsed one, and get a fresh injection of energy/motivation/ideas from someone you have great rapport with.
TAURUS: SIX OF SWORDS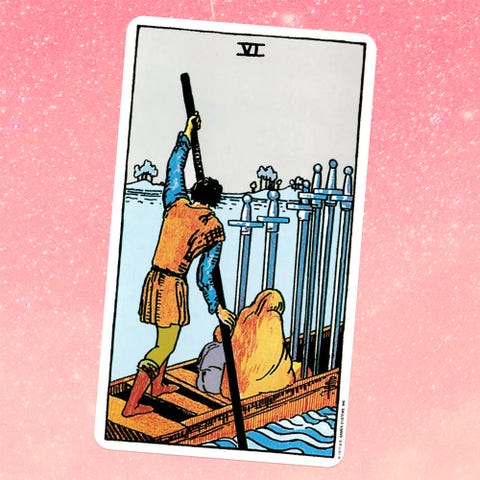 Taureans are big deliberators and you can ponder on an old chapter for many, many years. This week, you can revisit something you've nursed for a long time, but now's right moment to (deep breath) let it go. You're more ready than you think. This issue is over, the energy has gone, and you're the only one still dwelling on this old shit. Release it, and be surprised by how much new energy flows into your life this week.
GEMINI: EIGHT OF COINS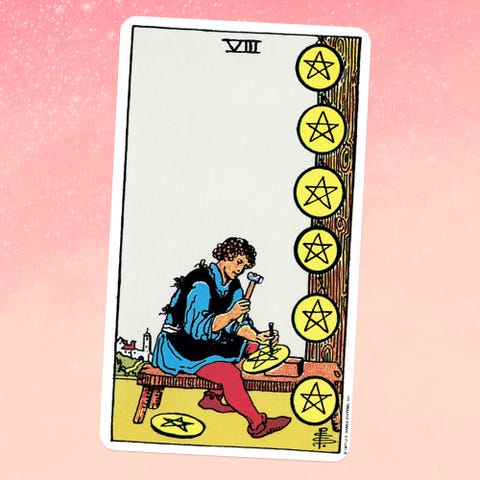 You're the zodiac's eternal student, Gemini, and you never tire of learning and educating yourself on pretty much everything. This week, take a more structured approach to a topic which interests you. Book a class (online or in-person), buy a book, talk to an expert–what you learn will be valuable to you, so invest this time.
CANCER – FOUR OF COINS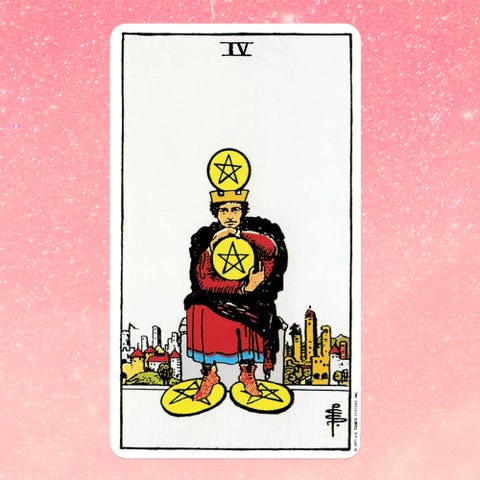 Cancer, you love hoarding (both people and possessions) and you're in danger of clinging too tightly to something–or someone–again. Every day, over the next seven days, unfurl one of your fingers from the death-grip you've gotten on something you know you should move on from. Take conscious, deliberate steps back until you're clear of the emotional crime scene. This time next week, you can be free of this and ready to move on for good.
LEO – JUSTICE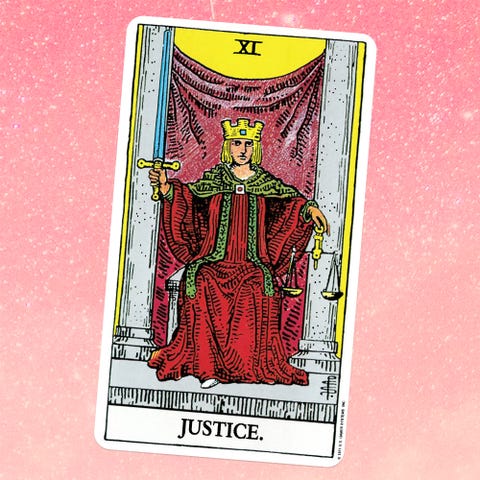 You always stick up for others (and yourself)–it's hard-wired into your protective nature, and that's cool. However, there IS a point when you must recognize you can't really change other people, or even force their opinions (even when they're so, so wrong). Look after yourself this week, and let karma take care of the rest. You've done enough.
VIRGO – THE DEVIL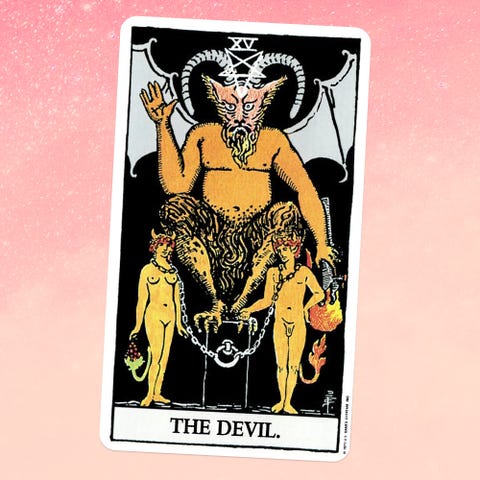 You're tough on yourself, and you're almost TOO perceptive, which means you have plenty of ~material~ to self-critique with. This week, flick that little devil on your shoulder! Exorcise your relentless inner critic and quell that rude AF voice. Live free of judgment for seven days and pay attention to how great that feels.
LIBRA – SEVEN OF WANDS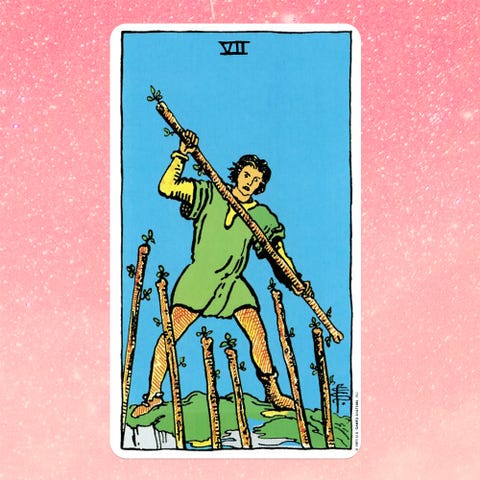 I know you like to play nice, Libra, but the world can be spiky sometimes, and this week requires you to muster your inner fortitude and stick up for yourself. You've got this, so don't worry. You can emerge triumphant, but you'll need to raise your voice in order to claim your space. Be bold, the Universe is willing you on. Come Friday, it's time to reward yourself for all that personal growth!
SCORPIO – THE HIEROPHANT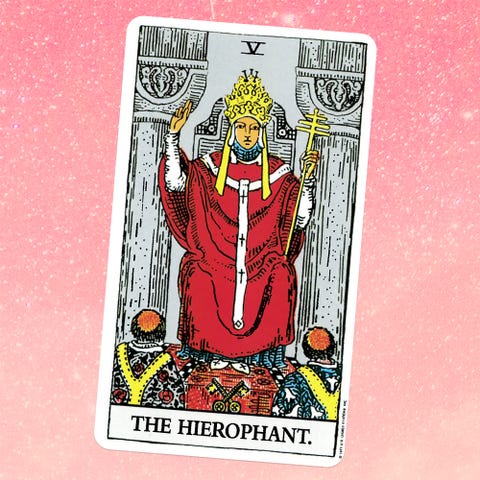 What do you believe in, Scorpio? Where is your faith strongest, and where, perhaps, is it being most tested? This could be related to your relationships, beliefs, career and so on, so consider where your faith is being questioned. This test is here for a reason–to either get you to change an outdated mindset OR reinforce your existing one. Pay attention, make your choice, and live with it. This is important!
SAGITTARIUS – THE HIGH PRIESTESS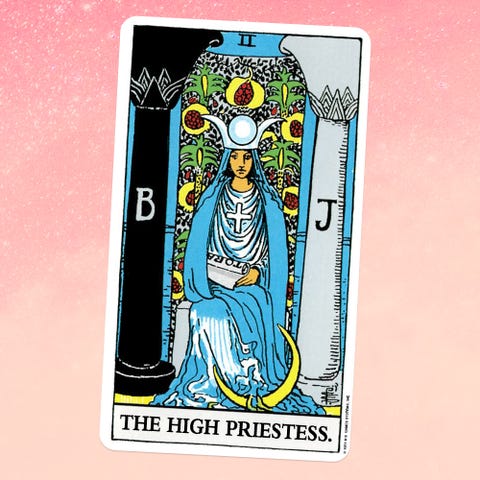 You're a LOT more philosophical than others give you credit for. So this week, embark upon an internal, spiritual journey through your emotions and intuitions. Your inner voice has something to say and needs you to quieten your chattering mind so it can whisper it to you. Meditate, swim, run, nap, heck, even gaze out of windows…and keep a notebook handy, because any revelations will come to you in a FLASH!
CAPRICORN – FIVE OF WANDS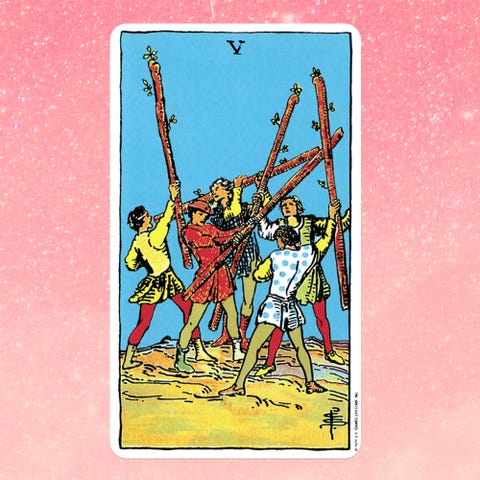 Identify an area in your life where you feel at odds with others, like you don't/won't/can't see eye-to-eye and it's FRICKIN' ANNOYING. This week, take a new approach in order to make some headway. See the whole sitch as a game and strategize several routes forward. Plan them, execute them, tweak your plays, and move again. You will make progress, I promise.
AQUARIUS – FIVE OF SWORDS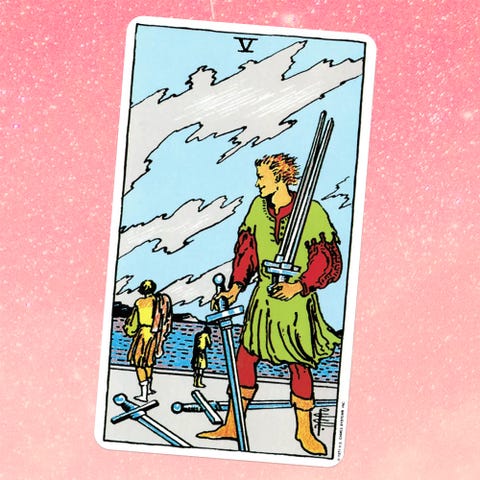 Not everything positive in life comes about via a positive move. Sometimes we need to cut away dead wood, trim the excess, or let go in order to move forwards and this is one of those times. Where do you feel you're embroiled in something difficult, draining and that's honestly not looking like it'll ever improve? However much you've already invested here, it's time now to cut your losses–use these seven days to do just that. Trust, you'll feel so much better in the long-run.
PISCES – TWO OF COINS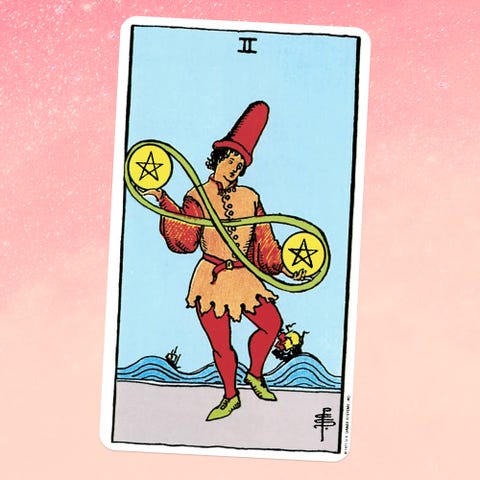 Time for a life audit, Pisces! Write down a list of the activities and relationships you invest a lot of your time in, and a rough percentage of how much time goes into each. Does this feel right? Are there some things getting waaay too much energy, versus others barely a scraping of your efforts? Make necessary adjustments and put your valuable energy into the people and places which fulfill and inspire you the most.
Source: Read Full Article