Dexter: New Blood has reached its final episode — set to air on Sunday, Jan. 9. But there are still surprises ahead. In a message shared to Twitter, executive producer Scott Reynolds said there's an "exciting" announcement coming on Monday, Jan. 10, after the Dexter: New Blood finale.
See Reynolds' Twitter post here
Reynolds tweeted out his message on Jan. 7. "Hey #Dexter fans – I'm gonna have an EXCITING #DexterNewBlood announcement to share early Monday morning," he wrote. "I can't wait to share with all of ya!"
While he did not share details, the post fueled plenty of rumors and predictions, including that Showtime has secretly greenlit a Dexter: New Blood Season 2. While the show was designed as a limited series, it's become so popular that many fans are expecting more episodes. It seems Showtime is waiting until after the finale to comment on its fate, however.
"Dexter is a limited series and any further discussions of Dexter will have to wait until we finish airing the limited series and see where we are with our stories and our characters," network president Gary Levine told Deadline. "Dexter was really designed to have a proper conclusion to the series, and I believe we will deliver that in the best possible way."
Actor Michael C. Hall, who plays the beloved vigilante killer, has also skirted around the topic of a second season of Dexter: New Blood.
"For me to answer that question definitively would maybe give away or potentially imply info we don't want to imply," he said in a separate interview with The Hollywood Reporter. "I'll refrain from answering too definitively. I do hope that watching the show is a satisfying experience for people who watched it originally and are curious about what happened to him."
'Dexter: New Blood' is a new chapter for Dexter Morgan
Dexter: New Blood launched in November and follows Dexter to the fictional small town of Iron Lake, New York, where he's been hiding out as Jim Lindsay. He has a normal life with a job and a girlfriend, but chaos begins when his son, Harrison, suddenly arrives in Iron Lake.
Struggling to maintain his routine, Dexter slips and kills his first victim in almost a decade: local bad boy Matt Caldwell. Matt is the son of Kurt Caldwell, a powerful businessman and seemingly upstanding member of the community who also happens to be a serial killer. Kurt's predilection for innocent women means he falls under Dexter's code, but he's also on to Dexter for killing Matt.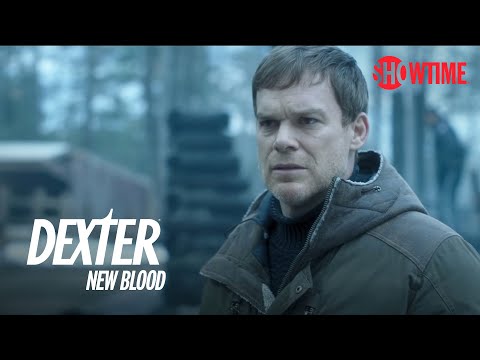 'Dexter: New Blood' is leading to a finale promised to be a shocker
Only one episode remains until the Dexter: New Blood finale, which showrunner Clyde Phillips thinks will "blow up the Internet."
"It's going to be surprising, inevitable and it's going to blow up the Internet," he told TVLine.
"It is, I personally think, the best thing I've written," he continued. "Our director Marcos Siega, who could not be more experienced and a better friend of the show, thinks it's the best thing he's ever directed. I haven't seen it yet, by the way. I only saw it get shot. We're editing Episodes 7 and 8 right now, so I haven't seen 10 yet. I can't wait, to tell you the truth."
Dexter: New Blood will air its finale at 9 p.m. ET on Sunday, Jan. 9. Watch it on Showtime.
Source: Read Full Article