[Warning: Spoilers for Big Little Lies season two episode two, ahead.]
Whether you're an avid Big Little Lies fan, or just know everything there is to know about Adam Scott, you might remember the moment from the season one finale when Ed Mackenzie (Scott) performed a moving rendition of Elvis's "The Wonder of You" for Madeline Mackenzie (Reese Witherspoon) at the talent show.
As Scott told Conan O'Brien, that was, of course, not him singing, but actually Conor O'Brien, the lead singer of The Villagers. Scott swears he "took singing lessons for weeks," but director Jean-Marc Vallée told the Hollywood Reporter that he decided to get someone else to sing because—his words, not mine—our boy Scott and his costar James Tupper have "the worst voices ever!"
So it feels like an extra cruel dig at poor Ed (and Scott) that the same rendition played over the credits of last night's episode of Big Little Lies. If you don't remember, all season Nathan Carlson (Tupper) has been going back and forth between asking Ed for advice and wanting to punch him in the face because he supposedly understands women (i.e. Madeline) better than he does. Too bad it's not exactly true.
In episode two, Ed walks in just as Abigail (Kathryn Newton) is rubbing it in her mom's face that she "f*cked the theater director" just last year. Shitty timing, right? In a pretty un-Madeline moment, she's not able to come up with anything to reign in the disaster of a situation. Later on the phone with Ed, she says she wants to go to couples therapy, but he says they're over.
Ed's not just upset over the cheating of course. He's also livid that Madeline didn't tell him the truth about Ziggy's father and that she keeps things from him. Oh boy, does he still have some surprises left in store…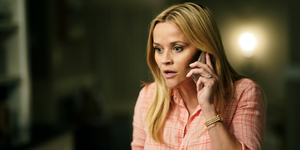 Source: Read Full Article