Ever since its debut, New Girl, starring the likes of Jake Johnson and Zooey Deschanel, provided endless laughter and relatable moments that live on years after the show ended in 2018. The series followed four roommates and their friends navigating life together while finding love with one another and other people.
New Girl had many iconic moments. But the most legendary of them was the episode featuring Prince. The singer appeared on the show after declaring his love for the sitcom. And Johnson described working with the pop icon as "an out-of-body experience."
Jake Johnson played Nick Miller on 'New Girl'
Before his life-changing role as Nick Miller, actor Jake Johnson appeared in 21 Jump Street, A Very Harold & Kumar 3D Christmas, and No Strings Attached. In 2011, he was cast as one of the three roommates who welcome Deschanel's glass-half-full character Jessica Day into their loft.
When the series begins, Nick struggles to move on after getting out of a long-term relationship with his girlfriend. He is portrayed as the pessimist of the four roommates and usually has difficulty showing affection. Nick works as a bartender but later pursues a career as an author.
Nick and Jess get into a relationship midway through the series after some serious sexual tension. They then end the relationship due to conflicting periods in their lives. However, they rekindle their romance later on in the series and end up together. It is suggested they even have children.
Johnson recalled working with Prince as "an out of body experience"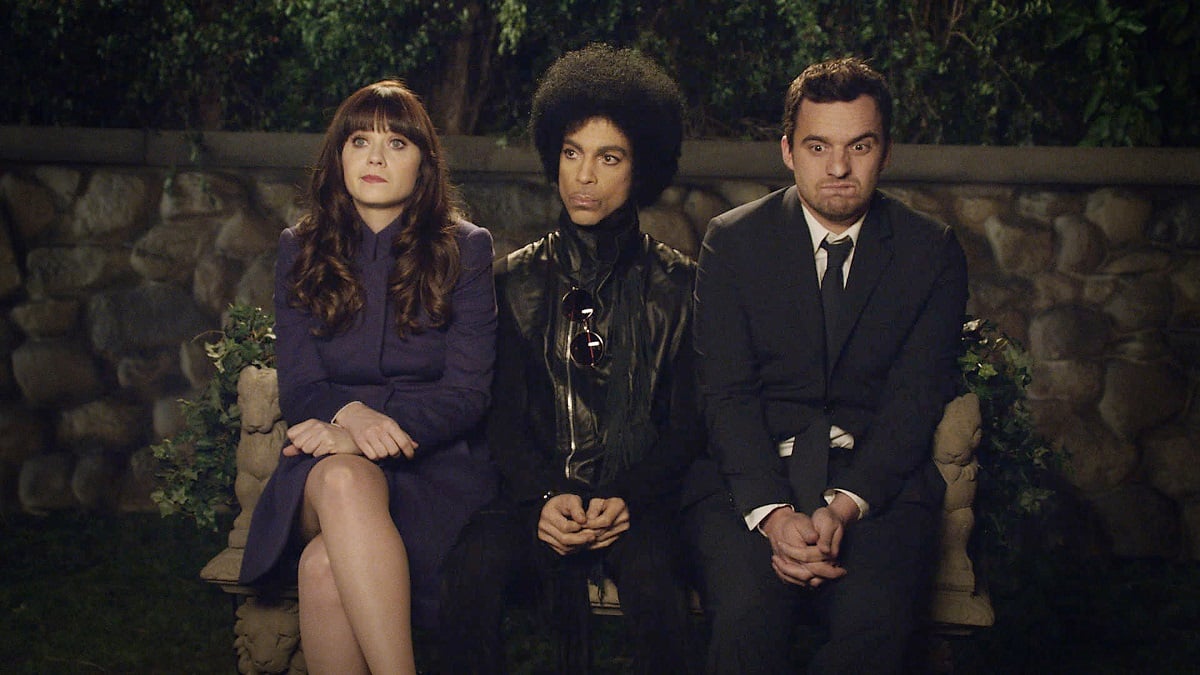 New Girl initially started as the Deschanel show. But it quickly grew to include and highlight the other characters. Apparently, Prince, like other fans, enjoyed this dynamic. During the show's third season, fans were treated to the episode of their lives when legendary singer Prince guest-starred in a self-titled episode.
During the episode, Nick had confessed his love for Jess. But she failed to extend the same courtesy, leaving Nick feeling like he'd freaked her out. He follows her to Prince's party (which Jess and her model friend CeCe had gotten invited to) to take his words back. When he and Jess get a chance to sit down and talk, they are graced by the icon himself, which sends them into a total frenzy.
After allowing them to acknowledge his presence (with Nick even fainting), Prince takes Jess through a series of eye-opening moments that enable her to see how she feels about Nick. Prince's cameo in New Girl seems to have left an indelible mark on the actors. Years later, Johnson spoke about working with the star, calling it an "out of body experience."
In an interview with BuzzFeed Celeb, Johnson recalled his character on New Girl sitting with Prince. He said he'd been a fan of the singer for the longest time. He added, "I could never get past how weird it was talking to Prince and how normal it was talking to Prince."
How other cast members felt working with Prince
Johnson isn't the only actor enamored by Prince's presence on the set of New Girls. Deschanel also said in an interview that working with the star was the highlight of her life, calling him "a cool guy."
She said, "It was amazing just to get to hang out with him," acknowledging that they didn't think he would show up. However, being the professional he was, Prince arrived. And from the episode's success, it seems everything worked out.
Source: Read Full Article