Kathryn Edwards who appeared on The Real Housewives of Beverly Hills Season 6 says the Lisa Rinna from season 11 isn't the same person she used to know. She believes that Rinna has really changed, and pointed out how Garcelle Beauvais noticed that Rinna seemed very different this season too. Does she think she's just playing to the cameras to retain her job on the series?
Kathryn Edwards thinks Lisa Rinna is very different this season
Edwards noticed that Beauvais may not actually know who is the real Rinna. " I think that Garcelle is really pretty much a straight shooter and I made a little like mental note to myself," she said on the Behind the Velvet Rope with David Yontef podcast. "I think what I recognize is Garcelle, hasn't adjusted to Real Housewives of Beverly Hills Lisa Rinna. And when she said to Rinna, 'You changed' and then Rinna was saying 'Harry and I said that Garcelle has changed. And Harry said, she's different and she's not happy.' And all that."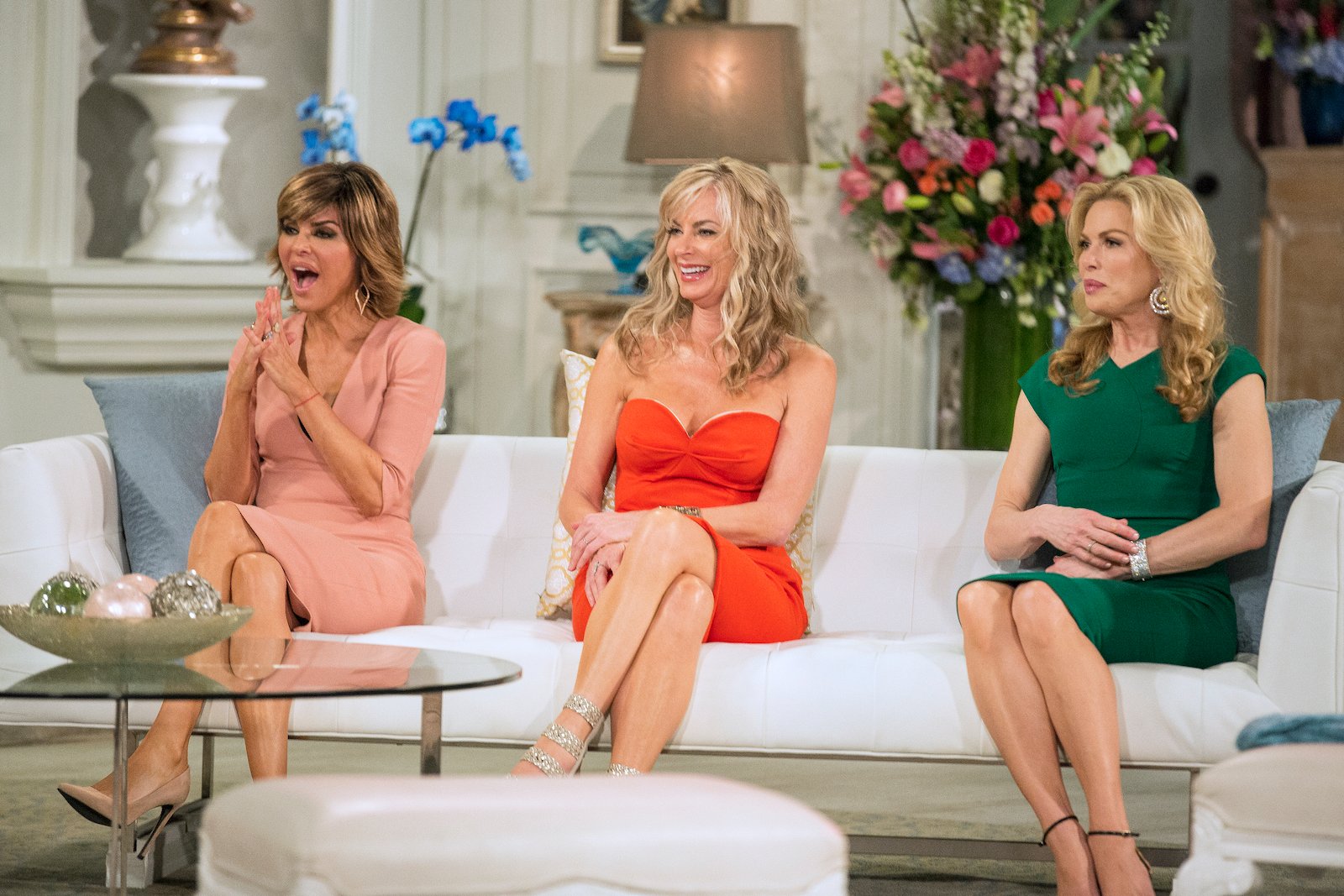 Edwards said she too noticed a shift in Rinna. "I said there's parts of Rinna, I don't know this girl. And that was after the season with Denise [Richards]. And I think Garcelle is adjusting to the Rinna of Real Housewives, she doesn't trust it. She doesn't trust it. And I think that the same way I said to you, I don't know about Lisa Rinna. I think that the line is getting blurred when the reality TV show starts to become your real life. And she might be losing herself a little bit in that."
Why has Lisa Rinna changed?
Edwards believes that Rinna is playing to the cameras and doing what she can to stay on the series. "I think she's going to milk it for as long as she can," Edwards insisted. "And when it's done and it's over with, I think she goes back to who she was. Because I think that, you know, come on, Harry wants to go camping and, you know, do the things he does and they're together."
"And I think that that's really her happy place. I do think she likes it. And I think that she just gears up and puts on the tap shoes and the dance outfits for the money and the paycheck. But I don't think is really who she is in her heart. I don't want to believe that that's who she is."
What's 1 big reason why Lisa Rinna wants to stay on 'RHOBH'?
"She was built for this business 100%," Edwards said about Rinna. "I think, I mean, even when she snapped back at Garcelle right away, I thought, oh brother. And, you know, cause if you really truly are friends, I just kind of think you, you have a line that you don't cross. And I remember when I, the one season that I did Rinna and I both kind of had like a pact. Like, you don't come from me, I won't come for you. And like, I, if I'm not mistaken, we even shook on it."
Rinna didn't come for her. "I mean, I teased her and I didn't know then about the weight stuff that was before all that stuff came up and I did tease her about like not eating and everything. And I didn't know though, I thought it was being funny, but yeah," she said. Edwards says it probably comes down to money. "For the season, you mean for the show? For the show? Oh, for, I would have to think so. And I think she, I think she deserves every flipping penny of it."
Source: Read Full Article