Monique Samuels' exit from RHOP came after an explosive reunion. She says poor editing and her being unfairly punished for her fight with Candiace Dillard contributed to her decision to quit. Now, Samuels says Bravo honcho Andy Cohen held her to a different standard than Dillard when questioning her about her role in their fight.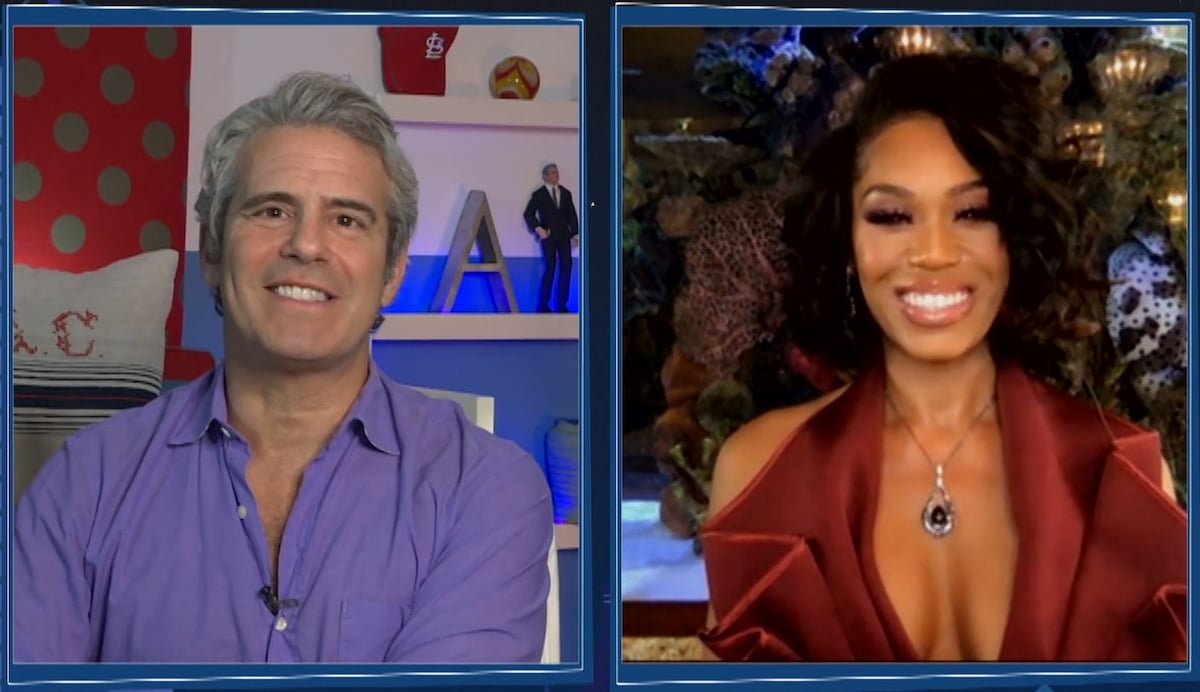 Monique Samuels says Andy Cohen grilled her non-stop over fight with Candiace Dillard
Fans blasted Cohen for what they viewed as his biased line of questioning of Samuels regarding her fight with Dillard. They alleged Cohen did not hold Dillard accountable – and that he put all blame on Samuels. To some extent, Samuels agrees.
In a recent interview with Tasha K, Samuels says she definitely feels she was the target of questions but was not surprised by it.
"I definitely feel like he questioned me a lot more, I mean even what wasn't shown, there was a lot in my direction," she claims. "But, it was kind of expected. I already knew this was going to be a heavy reunion for me going into it. And I already knew I would be questioned a lot. I was expecting it, I was ready for it, and I was anticipating it and I was ready for it. But because the season was pretty much painting me as a villain, I already knew what was pretty much coming my way. So, he was doing what he had to do" 
The 'RHOP' alum says Andy Cohen made sure she told her side of the story
Though she feels she was painted as the bad guy in the situation, Samuels does give credit to Cohen for allowing her to speak during the reunion. Typically, Cohen has a difficult time getting the women of any franchise to hear one another out during tense moments. But Samuels says Cohen took charge.
"And what people didn't see was that he actually at times was making sure that my voice was heard," she says. "I didn't have to yell, I didn't have to raise my voice. Anytime I wanted to speak, he made sure I was able to speak. So those things that people didn't see – when people are like, 'Oh, you should go harder on Andy.' I was like, 'Well, y'all weren't there, y'all didn't see everything.' And even on breaks, he would walk over and say, 'I just want you to feel like you're being heard.'"
Still, she says the brunt of the fight was put on her. "But, the questioning and me being held responsible, I mean it was all on me. It wasn't much going the other direction, for sure," she says.
Monique Samuels says she quit the show because of behind the scenes drama
Former RHOA star Nene Leakes once famously told her co-star Phaedra Parks, "You never can win when you're dirty." Apparently, there was too much dirt being thrown around for Samuels to continue on with RHOP.
Samuels insists that her co-stars, namely Gizelle Bryant, were behind a plot to destroy her family. She says producers are aware, even refusing to allow Bryant to speak about such on camera because they found the information too damaging.
But instead of Bryant being held accountable, Samuels says producers protected her. She says Bryant is being used to be the messy one out of the cast for ratings. As a result, Samuels says no amount of money was worth her singing on for another season.
Source: Read Full Article