The medical sales rep, who is among the ladies who are vying for Zach Shallcross' heart in the current season of the show, previously faced backlash for defending someone wearing blackface in the past.
AceShowbiz -Just one day after "The Bachelor" season 27 premiered on Monday, January 23, one of its contestants was caught in a controversy. Greer Blitzer, who received the first impression rose from leading man Zach Shallcross, had some explaining to do after her old tweets about blackface resurfaced online.
In the old tweets, Greer defended someone who wore a blackface costume for Halloween. In response to the criticism, Greer took to her Instagram account to issue an apology for her past wrongdoings.
"The journey to love is filled with lessons and these lessons are also made on our journey of growth. In my past, I have made some uneducated, ignorant and frankly, wrong comments on my social media accounts," she wrote on Instagram Stories on Tuesday. "In particular, I used misguided arguments on Twitter to defend a student who dressed in Blackface as [Tupac Shakur] for Halloween."
The 24-year-old medical sales rep went on to say, "I am deeply sorry to those I have hurt, especially those within the Black community, not because these screenshots have resurfaced, but because I ever shared these harmful opinions at all." She concluded, "Time and age do not excuse my actions, but this is not a reflection of who I am today."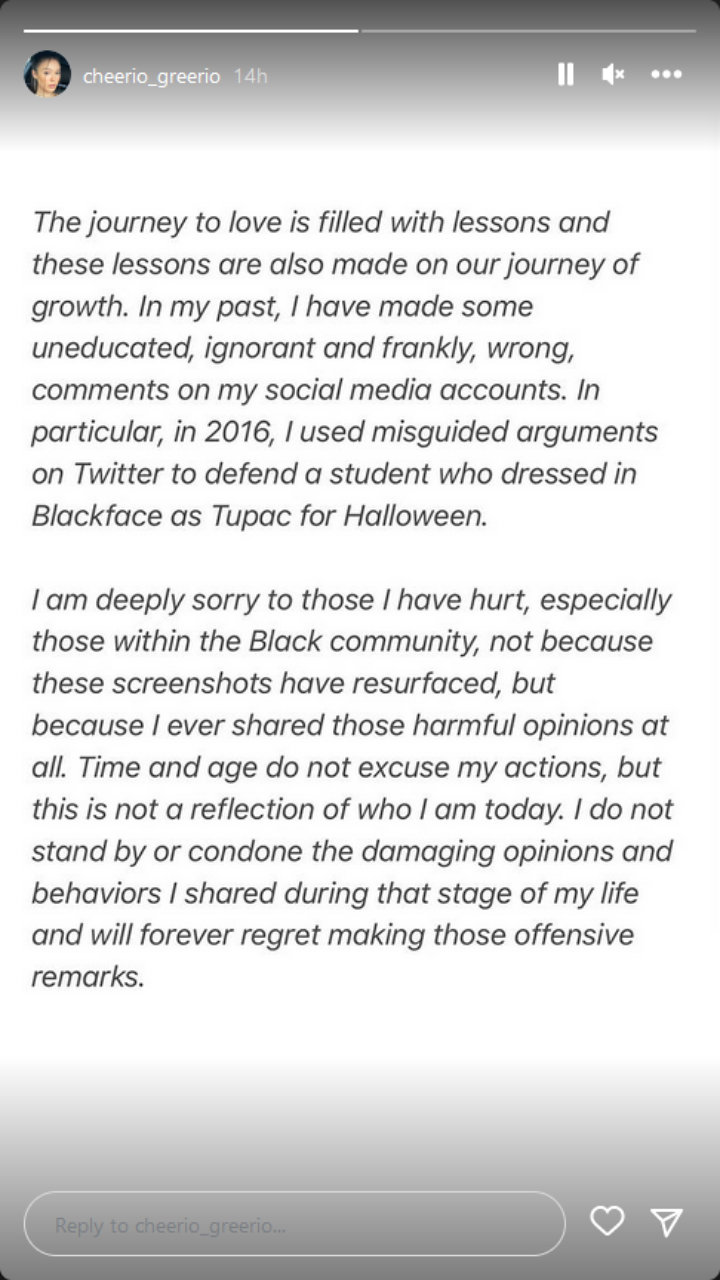 Greer Blitzer apologized for offensive old tweets.
Greer's post arrived a Reddit user posted screenshots of her tweets, in which she supported a teen for wearing blackface to a party. "The students involved didn't even know what black face was so my point exactly. It wasn't an intentional racist act," she allegedly wrote at the time.
In another tweet, she wrote, "This previous incident was dumb not racist? She did not paint herself black because she felt superior to black ppl." She later added, "Putting white powder on your face isn't okay either. That didn't make the news did it? I apologize if this offended you but you must understand it was not initially supposed to be perceived that way at all."
Meanwhile, Greer was among the women who caught Zach's attention in the first episode of the ABC dating show. Speaking on "PEOPLE Everyday Podcast", Zach gushed over her, "With Greer, she had this calming effect on me. I'm back at the mansion and there's the cameras and I'm meeting 30 new women, and it's a lot to take in." He elaborated, "And so when you meet someone that can bring that comfort level and allow you to not be so caught up in your head – it was very relaxed with her."
You can share this post!
Source: Read Full Article