[Warning: Spoilers for 'The Society' on Netflix…Kinda]
Riverdale is one of the most talked about shows amongst Gen Zs and Millennials alike, inspiring countless fan works and reddit theory pages, as well as launching the careers of Lili Reinhart, Camila Mendes, and KJ Apa into superstardom. You'd think the showrunner of a new Netflix series aimed at teens would want to encourage any comparison to The CW's campy mystery series. Not Chris Keyeser, creator of Netflix's modern dystopian drama The Society.
The Society centers on a group of rich teens who find themselves stranded in a parallel reality of their wealthy Connecticut town without parents, police, or any discernible way home. Though, somehow, it's still a bit more rooted in reality than the neo-noir world of Archie Andrews and the Gang. Plus, The Society has no endgame ships quite like Bughead and Varchie (Grizz and Sam are getting there, while I'm rooting for Helena to dump Luke's ass in season two).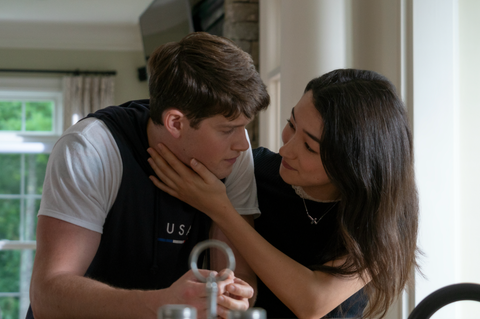 No, The Society is meant to reflect how teens of today (especially post-Parkland) would actually react in the face of chaos and conflict. In fact, the new binge-series even snuck in a little joke at Riverdale's expense, which makes sense considering the West Ham teens would definitely watch weekly.
This show really compared Riverdale and Soviet Russia I'm done 😭 #TheSociety pic.twitter.com/54aFPhLiRH
But that's not all the creator of The Society wants to say about the other teen drama (which also streams on Netflix). When The Hollywood Reporter asked about the mystery of West Ham and how the teens plan on getting home if there's a season two, here's what Keyser had to say: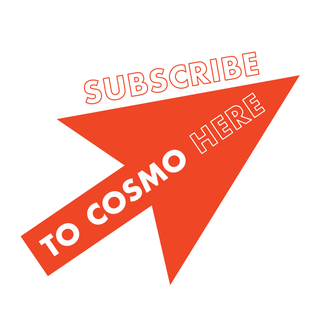 Basically Allie, Harry, and the rest of the lost boys and girls are probably not quoting Shakespeare with their insults while simultaneously planning proms and catching serial killers, (*takes breath*) on top of searching for a way home. But…isn't that exactly what they do? They may not have figured out what the hell happened to their town, but the teens uncover much more than you'd expect. Not to mention, they literally do end up searching for the killer of one of their own (no spoilers)…all while planning movie nights and Thanksgiving feasts. The football team even forms their own, more dangerous, version of Archie and Reggie's Red Circle with The Guard. Just putting that out there…
In the end the biggest difference for me is that The Society feels more grounded and high-stakes, while Riverdale is a sexy, fun romp that is very pretty to look at, and even more fun to meme. I, for one, will be watching Betty and Jughead unmask the Gargoyle King and take down The Farm while waiting very impatiently for The Society season two.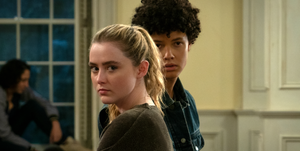 Source: Read Full Article