Season 23 of CBS' hit reality series "Big Brother" is already underway, and it's generating plenty of discussions. Sixteen brand-new house guests have become roommates and will compete with each other for a chance at winning $500,000 at the end of the summer. These houseguests come from different backgrounds and countries, and they're hopeful that their experiences will give them an edge on the competition.
Amongst the 16 brand-new houseguests vying for the prize is Brent Champagne. According to his CBS biography, he's a 28-year-old flight attendant who currently resides in Cranston, Rhode Island, where he was born and raised. Being a flight attendant, Brent has traveled across the world and experienced a lot of different cultures. He enjoys traveling and is an athletic person. 
However, it turns out Brent also has an interesting past. Keep reading to find out more about the good-looking hunk and his strategy for winning the show.
Brent Champagne wants to "charm" his way through Big Brother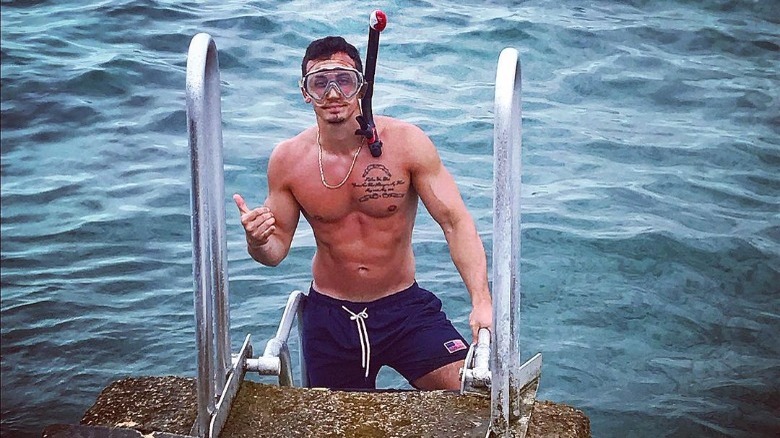 If Brent Champagne had to describe himself in three words, it would be "adventurous, passionate, and confident," according to his CBS bio. His passion for adventure came when he won his first car, a 2008 Honda Civic, in a video-making contest. "I quit my jobs in the summer of 2016 to take a road trip around the United States in that very Honda Civic," Brent told the network. "Five weeks and 9831.2 miles later, my desire for spontaneous adventure and experiences only grew."
Although Brent is adventurous and knows what it's like to be a competitor (he was a D1AA athlete in college), it is his charm that he hopes will win the competition for him. "My primary strategy for winning Big Brother is heavily dependent on my social abilities," he explained to CBS of his strategy to win the competition. "I've been told countless times by many, both peers and strangers, that my charm is powerful. I plan on using this skill in every social interaction in the house, male or female."
As for what he finds most difficult about being in the house? The lack of privacy. "I think it's very normal to assume that personal privacy no longer existing will be a bit of an adjustment," he said. "That, to me, will be the most difficult part about living inside the Big Brother house…But it's the price to pay for the opportunity of a lifetime."
Source: Read Full Article