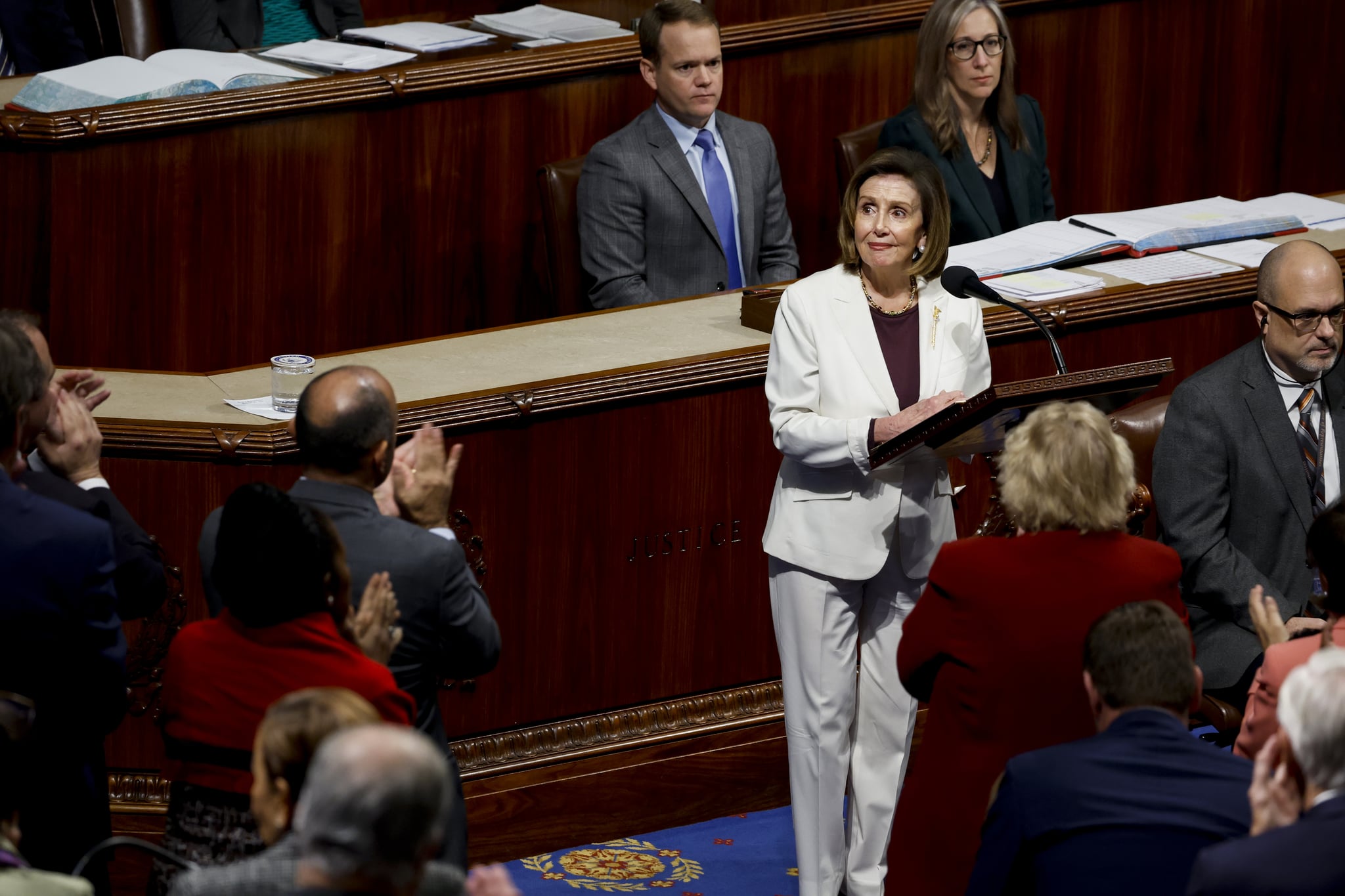 Nancy Pelosi shared a crucial update regarding the future of her political career in a speech from the Capitol on Nov. 17. Following the midterm elections — which led to a split Congress, with Republicans gaining a majority in the House and Democrats holding onto the Senate — the congresswoman said she would not be seeking reelection as Democratic leader, ending a 20-year run. Pelosi is not, however, retiring from politics entirely, and she will remain as a rank-and-file representative.
"For me, the hour has come for a new generation to lead the Democratic caucus that I so deeply respect, and I'm grateful that so many are ready and willing to shoulder this awesome responsibility," Pelosi said, addressing her many colleagues, including a few Republican lawmakers, gathered in the chamber. Pelosi's suit was white, which is associated with the women's suffrage movement, and her brooch was the ceremonial mace representing the legislative branch.
There was some chatter that Pelosi, who is 82, would be announcing her retirement, but the speech made clear her intention to continue holding elected office as the representative for California's 12th Congressional District. Pelosi will not, however, be seeking the role of minority leader as expected. Prior to the announcement, Pelosi served as House Speaker for three years, and minority leader for eight years before that. Her first leadership position was as minority whip in 2002.
Although it wasn't the farewell many had anticipated, Pelosi's speech certainly felt reflective. She spoke about seeing the Capitol building for the first time at age 6, there to witness her father, Thomas D'Alesandro Jr., be sworn in to Congress. "I believed then as I believe today, this is the most beautiful building in the world because of what it represents," she said. She later added, "Never would I have thought that someday I would go from homemaker to house speaker."
The insurrection that took place on Jan. 6 last year loomed, and was indeed briefly mentioned by Pelosi, but the speech's overall tone was nostalgic more than political. Pelosi shared memories and words of advice from her colleagues over the years, including the late Rep. John Lewis.
Pelosi also focused on family. The address, of course, comes nearly three weeks after Pelosi's husband, Paul Pelosi, was attacked in their San Francisco home by an intruder who allegedly demanded to speak with the congresswoman. Pelosi was met with a standing ovation after mentioning her husband's recovery: "We're all grateful for all the prayers and well wishes." In attendance were the couple's five children, as well as their many grandchildren, who Pelosi said have provided much comfort during a challenging time.
In stepping aside, Pelosi said she hopes to make room for younger generations. As it stands, the House is largely made up of Baby Boomers and Gen X members, with the average age being 58. Following the midterm elections on Nov. 8, Maxwell Frost made history as the nation's first Gen Z member of Congress. The 25-year-old progressive Democrat will represent Florida's 10th Congressional District when he takes office in January.
Source: Read Full Article