Nancy Pelosi's controversial visit to Taiwan – which Chinese officials warn will trigger "grave consequences" – marks the culmination of decades of anti-Beijing activism by the most powerful female politician in American history.
Throughout her three decades in Congress, Pelosi has been a persistent critic of the Chinese Communist Party, maintaining her hawkish stance even when it wasn't in fashion and put her at odds with her own party.
The House Speaker has called her commitment to human rights in China "part of who I am", proudly describing herself as the most disliked person in China.
United States House Speaker Nancy Pelosi has been an outspoken critic of China's human rights record throughout her career. Credit:AP
Pelosi's role as a crusader against the CCP began in 1991, two years after the Tiananmen Square massacre and four years after she entered Congress as a Democrat from California. While visiting Beijing on a delegation, she and two fellow Congress members broke away from their escorts and visited Tiananmen Square without permission. While there, they held up a hand-painted banner saying: "To those who died for democracy in China". Pelosi and her colleagues fled the scene, but several journalists covering the event were detained by Chinese police.
One of the detained reporters, Mike Chenoy, then CNN's China bureau chief, recently described it as his "first experience with Pelosi's penchant for high-profile gestures designed to poke China's communist rulers in the eye – regardless of the consequences".
She has since led congressional delegations to Dharamshala, home of the Tibetan parliament-in-exile, to meet with the Dalai Lama and speak out against China's persecution of Tibet.
In the 1990s, Pelosi held firm as Democratic president Bill Clinton pursued closer relations with Beijing.
After Clinton met Chinese president Jiang Zemin in 1998, Pelosi issued a blistering statement, saying Clinton "was wrong in trying to relegate the Tiananmen Square tragedy to the realm of 'past action'" and had "missed an opportunity to associate himself with China's reformers".
Pelosi regularly criticised Clinton for granting China preferential trading status without insisting on any human rights improvements. She derided Clinton for claiming democracy was beginning to flourish in China, pointing to the continued punishment of those who expressed their political and religious beliefs. The increasingly authoritarian nature of the Chinese regime in subsequent years has made Pelosi appear perspicacious and Clinton naive.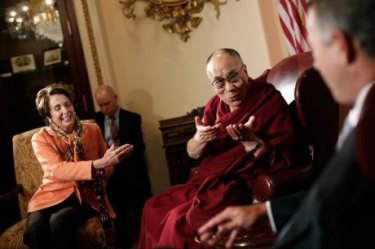 Nancy Pelosi, meeting with the Dalai Lama at the US Capitol.Credit:AFP
Explaining her willingness to take on her own party over China, the devout Catholic quoted Mother Teresa, saying: "God does not always expect me to be successful, but he expects me to always be faithful. We will always be faithful to this issue."
In 2008, she publicly called for president George W Bush to boycott the Beijing Olympics (Bush ignored her and attended the opening ceremony). During a visit to China a year later she delivered a letter to then president Hu Jintao demanding the release of political prisoners. In 2019. she welcomed pro-democracy activists from Hong Kong to the US Capitol.
Nancy Pelosi and other US Congress members in Tiananmen Square, Beijing, 1991.Credit:Screenshot
In May last year, Pelosi led the charge for a diplomatic boycott of the Beijing Winter Olympics. "What moral authority do you have to speak about human rights any place in the world if you're willing to pay your respects to the Chinese government as they commit genocide?" she said. Seven months later the Biden administration announced it would not be sending any officials to the Games.
While criticising China for human rights abuses and anti-competitive trade practices, President Joe Biden has sought to avoid competition morphing into military conflict. He has appeared uneasy about Pelosi's trip to Taiwan, saying the US military was opposed to the idea.
A Beijing resident reads a newspaper headline reporting on US House Speaker Nancy Pelosi's Asia visit.Credit:AP
Chenoy, who covered Pelosi's 1991 visit to China, has dismissed her Taiwan trip as a self-indulgent stunt, saying her activities "do not appear linked to any broader American strategy, such as drawing US allies in the region into closer coordination to deal with the threat from China".
However, former Republican House speaker Newt Gingrich – who visited Taiwan in 1997 – has defended Pelosi, saying: "I would say she absolutely has to go now. She cannot allow the Chinese communist dictatorship to think that it can bully an American Speaker of the House."
Pelosi's time as speaker will end in January if, as expected, Democrats lose control of the House of Representatives in the November midterm elections. And at age 82 her political career cannot last forever. She knew she had one last chance to give Beijing the middle finger and was determined to take it.
Get a note directly from our foreign correspondents on what's making headlines around the world. Sign up for the weekly What in the World newsletter here.
Most Viewed in World
From our partners
Source: Read Full Article