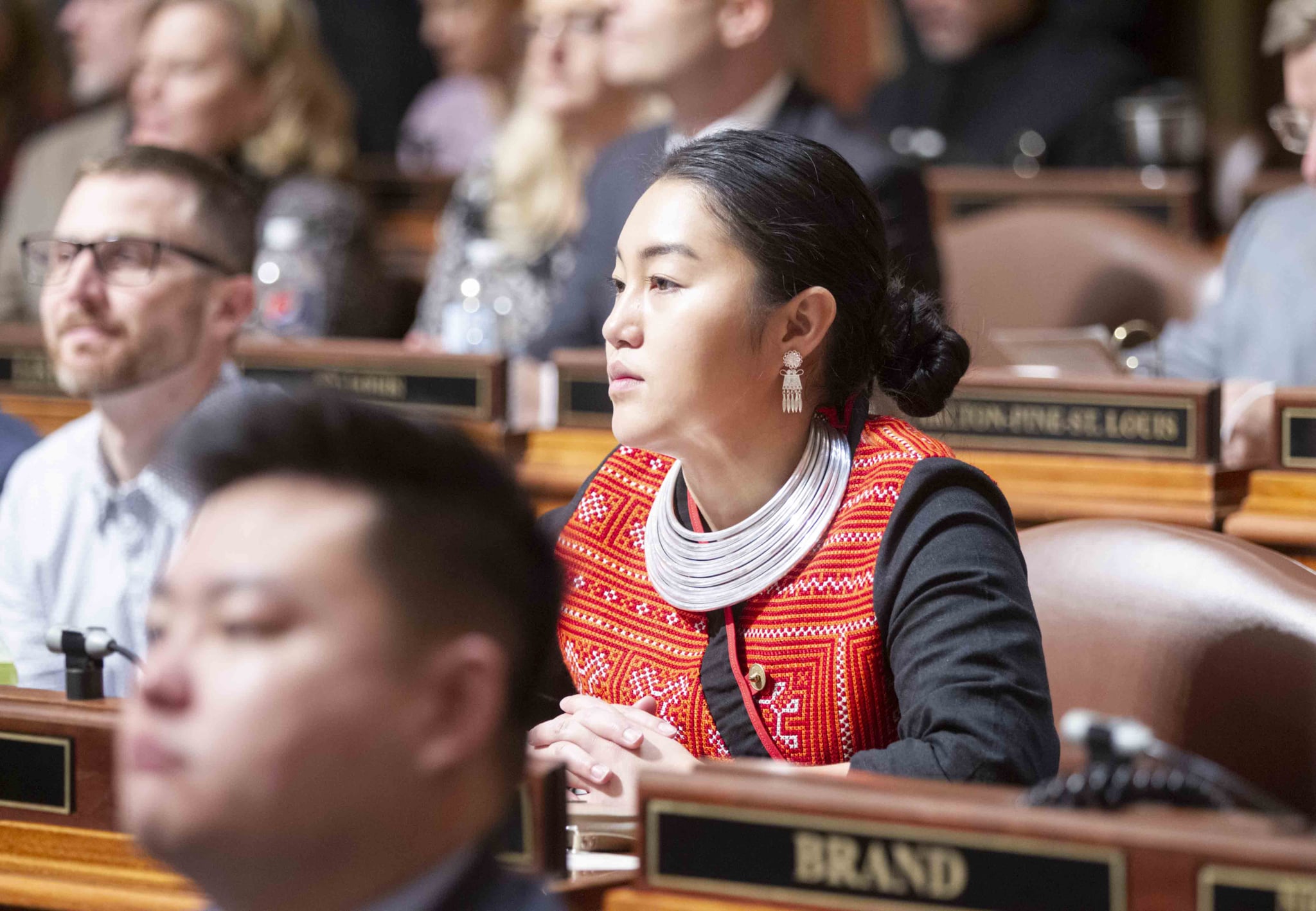 As a Hmong American, Minnesota Rep. Samantha Vang knows what it's like to be statistically significant — but feel invisible — in her hometown. Her political journey started in high school, when she joined a grassroots campaign at the request of her niece and nephew. This set her on a path to become one of the few Asian American organizers in Minneapolis, and eventually one of the youngest legislators in her state. She stays in politics for her Hmong community.
According to The Washington Post, there are at least 83,000 Hmong American voters in Minnesota and Minneapolis is home to the largest Hmong population in the country. Vang used her political position to help them get engaged. "We had to teach people how to vote, we had to interpret them, we had to basically hand-hold them on how to be engaged," Vang told POPSUGAR. "It was a learning curve and realization for me to say,'Wow! The Hmong community has so much potential here, yet we're invisible from mainstream politics.'"
Vang, now 27, has been a Minnesota state representative since 2019. She represents District 40B, which includes the Brooklyn Center area — a city that's become the epicenter of conversations about race and police brutality in America since a cop shot and killed Daunte Wright on April 11. Vang said she wouldn't wish the experiences her district has gone through "on anyone else," but out of this tragedy, she observed her community band together to become stronger.
Despite not having many "touchpoints" in the city where people can gather, neighbors were determined to help each other. The local high school became a donation site where people organized food, groceries, and supplies for protesters. "That was the place where people can gather and get the help that they need for basic essentials," she explained. "I think with this tragedy, the community has come out stronger . . . that has changed how we look at one another." Brooklyn Center's "shared pain" became an "everlasting bond."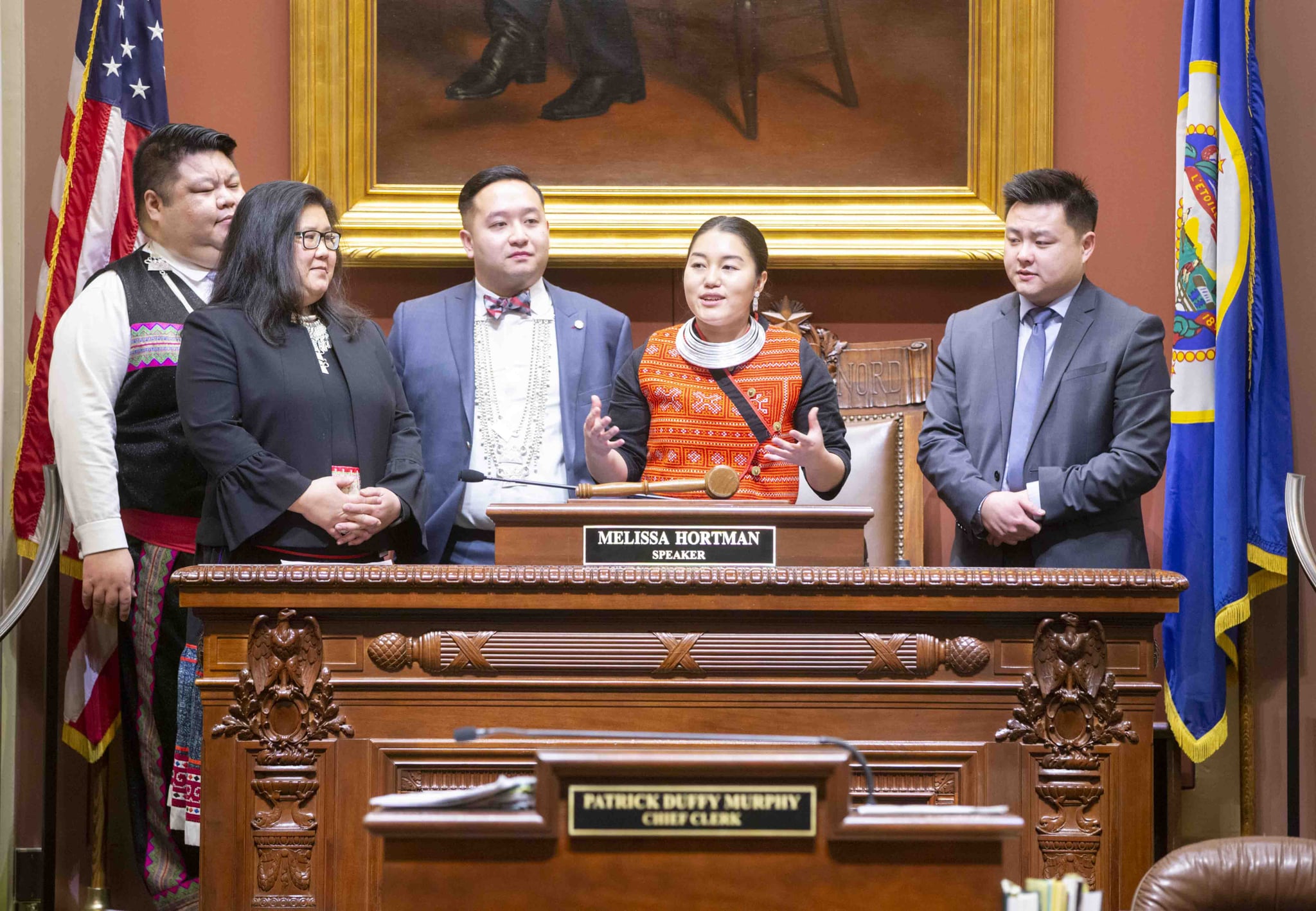 Outside of her hometown, Vang finds valuable support in other Asian American politicians and women of color. She won't claim victory on her own, and instead, credits a "strong support system" for helping her get elected to office. "We really can't do this all alone," she said. "We have to have a community behind us."
Historically, the Asian American experience in this country is fraught at best, but over the past 18 months, targeted COVID-19 racism (Vang calls former President Donald Trump's "China virus" labeling a "turning point") and the Atlanta spa shootings have made for seemingly endless tragedy. Out of this darkness, however, Vang foresees power. She expects Asian Americans will get even more involved in politics after the trauma of 2020 and 2021. "We're starting to be more assertive and insert ourselves in those conversations," she said. "We cannot step down, we cannot be silent anymore. We have to remain engaged and we have to be vocal on our narrative and make sure that we share our truth out there." Vang fears if the community does become silent, it will only leave the door open for more tragedy. "I can only see the Asian American community taking up their story and their narrative back."
There aren't many Asian Americans in politics at the moment, and even fewer who are in their mid-20s. Of the thousands of state representatives, Asian and Pacific Islander Americans make up less than 200 seats according to the Asian Pacific American Institute for Congressional Studies. Vang sounds reenergized when asked to address other young adults who might be interested in getting involved in the legislature, like herself. "Young folks have so much potential to drive the narrative of where legislation should be," she said, using student activism around gun violence as an example. "That has really brought the attention of many legislators. Especially here in Minnesota, that was what brought the [Democratic–Farmer–Labor] majority back in the House in 2018 because we were in the minority prior to that."
Vang's advice for these young folks? Vote, volunteer, and get involved. "I do hope to see more students of color or youth of color," she continued. "Of course there's inequities in engagement, in the election process and whatnot. But even as one of the youngest legislators in the Minnesota house right now, I'm often the only lone young voice in the room. We have such great potential, but we're not realizing that yet. I want to encourage young folks to be informed and to be engaged and to vote. Because at the end of the day, legislators, we know who votes for us, and right now the young folks are not quite realizing their voting power yet."
Source: Read Full Article